Not since primary school have I sprinted my way to a podium finish (and that red ribbon is still a prized possession and yes OK it may have actually been the sack race). I'm not fast, never have been. But anyone who knows me will tell you, I'm stubborn, I'm persistent and I'm a survivor. Despite my incessant chat, I don't actually like people that much. Team sports are not for me. I like to pick my company and I like to test my limits. So running an endurance event has a certain appeal for me. If all else fails I can out stubborn runners who are much fitter than me.
Anyway, back in 2014 my good friend Tanya ran this mythical beast of a race called Ultra Trail Mont Blanc. The race is 100 miles, 10,000 meters of elevation through 3 countries all whilst circumnavigating Mont Blanc. Tanya's nuts, inspirational, but as I decided at the time a) she was certifiable and b) I was never, repeat never running 100 miles.
Entry to UTMB requires a minimum of 15 points from a maximum of 3 approved races in the previous 2years. For me this was would equate to 3 100km race. Race entry is capped at 2300. You must also be lucky enough to get through the draw.
For the ladies who've given birth more than once, you will understand the special type of amnesia that takes hold. You forget the pain and the hurt and the hours of agonising labour almost as soon as the baby is born. You fall pregnant again, you're excited, a little nauseous maybe, but you start planning and preparing for the happy arrival of your new born.  But then there's the moment that you go into labour for the second time and you find yourself remembering and wondering why the hell you decided to do this again.
Ultras are like that, you plan you train you get nervous, the race hurts but then you have the medal it's shiny and pretty and the pain is forgotten, (cleverly the medal/ buckle or gilet doesn't cost you a tank load of money- unlike the children).
Following a disastrous Ultra trail Australia(UTA) 100km 2016, during which I rolled my ankle and hobbled to the finish, my strange logic dictated that I should find something harder to do. I fancied Alpine challenge 100km. So, I talked my friend Dominic into it and we trekked off to Victoria for the weekend to enjoy all the Victorian Alps could throw at us.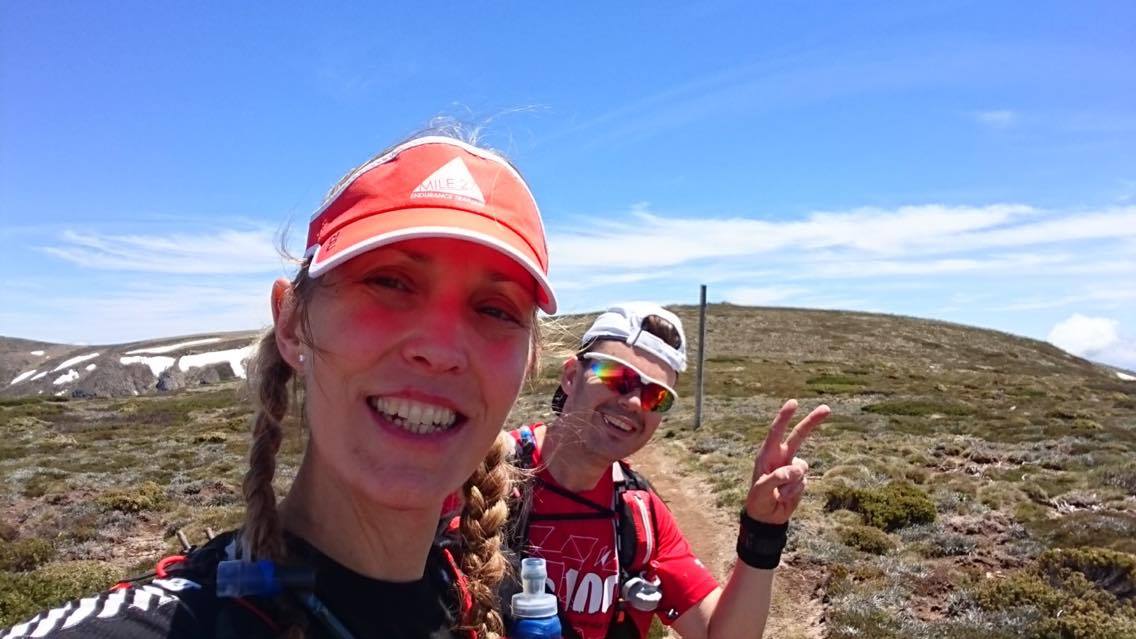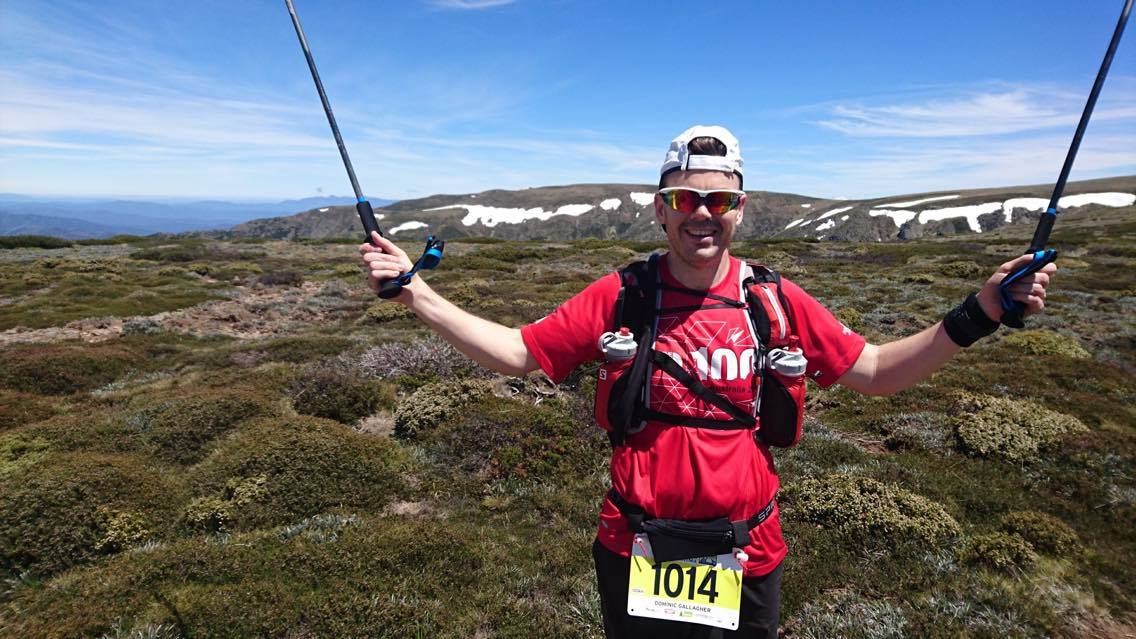 At around this time I began to hear murmurings of a group of runners from the Northside Running group (NRG) entering UTMB. Tanya had mentioned plans for a repeat visit. I was becoming more interested.
I knew going into Alpine challenge that the race was a qualifier for UTMB. I was curious to see if I could earn the necessary points for UTMB entry, not expecting to, and only half thinking I'd enter even if I could get through the draw.  There was also the small issue of persuading the family who I hadn't really mentioned it to yet. Would they want this to be how they would spend their 2017 holiday?
During Alpine challenge, I started to think that I really do love the mountains. I really enjoyed the race and by the time we left our new friend George (a participant in the 100-mile race) at the turn off for the Miler, I secretly wished I was taking the Miler turn off too.  Add to that Rocco talking about UTMB only 5mins after finishing Alpine Miler and I'd decided I was going to enter the lottery. (No one gets in the first year they apply apparently).
Seems my entry was successful! Some sweet talking with the husband and the payment later I was in.
My fantastic coach Scotty Hawker tried not to choke on his green smoothie when I told him, (I have no idea what he drinks but I'm sure its ridiculously healthy) and he very politely agreed that it wasn't impossible for me to complete. I knew I was going to have to train my arse off.
I signed up with Matty Abel at DBA runners for strength work and found myself a great physio. Pete and Elliot at the body mechanic kept this old girl going even when bits of my body started to complain about the training load. Thank you fellas.
Fast forward through a lot of training, hills, more hills and even more hill repeats later and I was as ready as I was going to be. Special thanks to Tanya, who is an amazing runner and friend and I really wouldn't have done half the training without her (I really can't thank you enough). Brook, Nikki, David, Byron, Russ and everyone else who put up with my endless chit chat and the odd trail tantrum – thank you.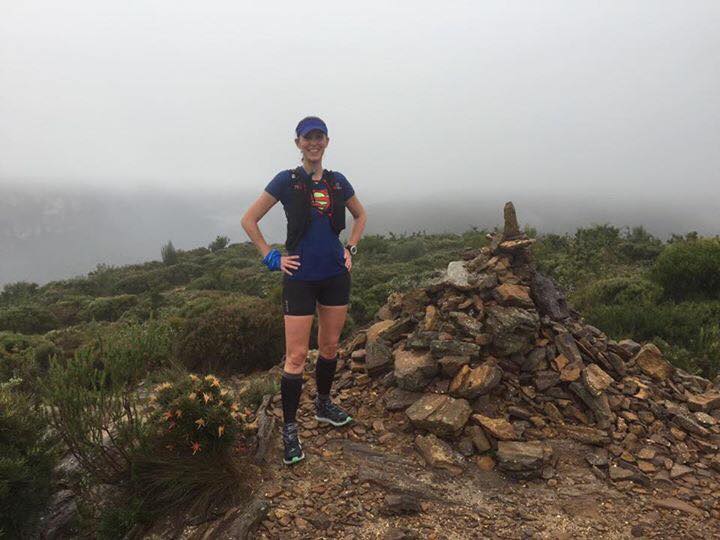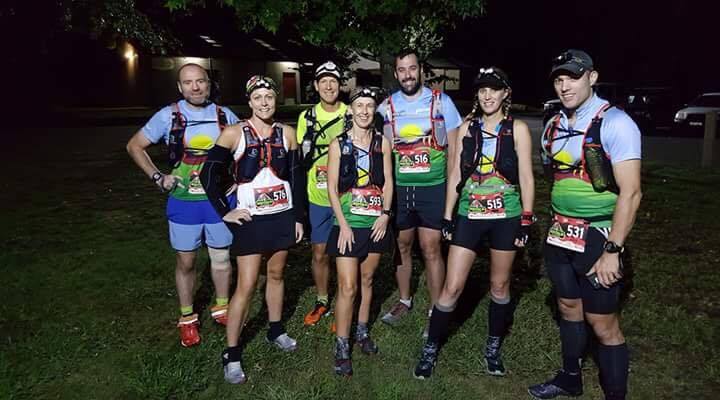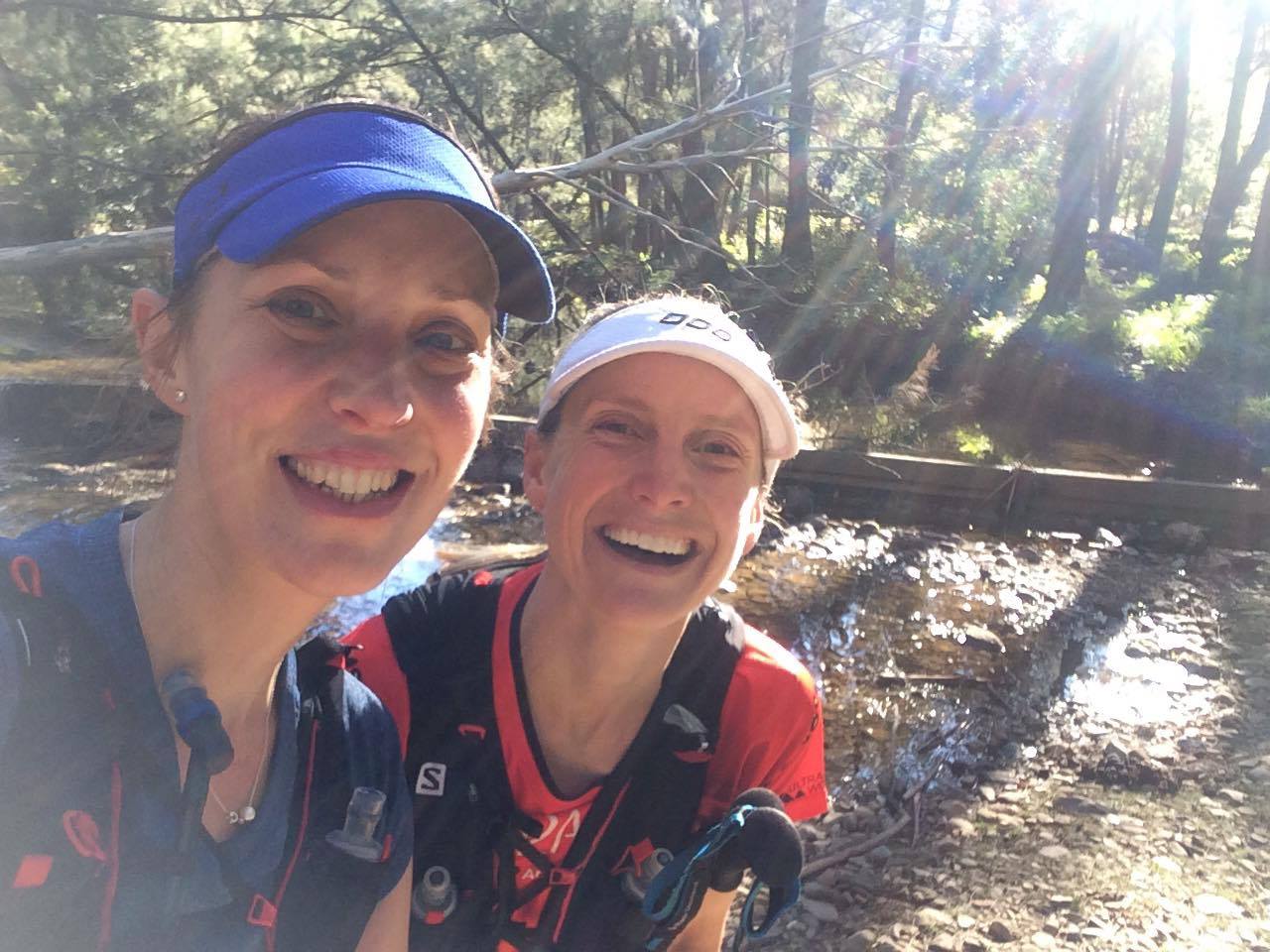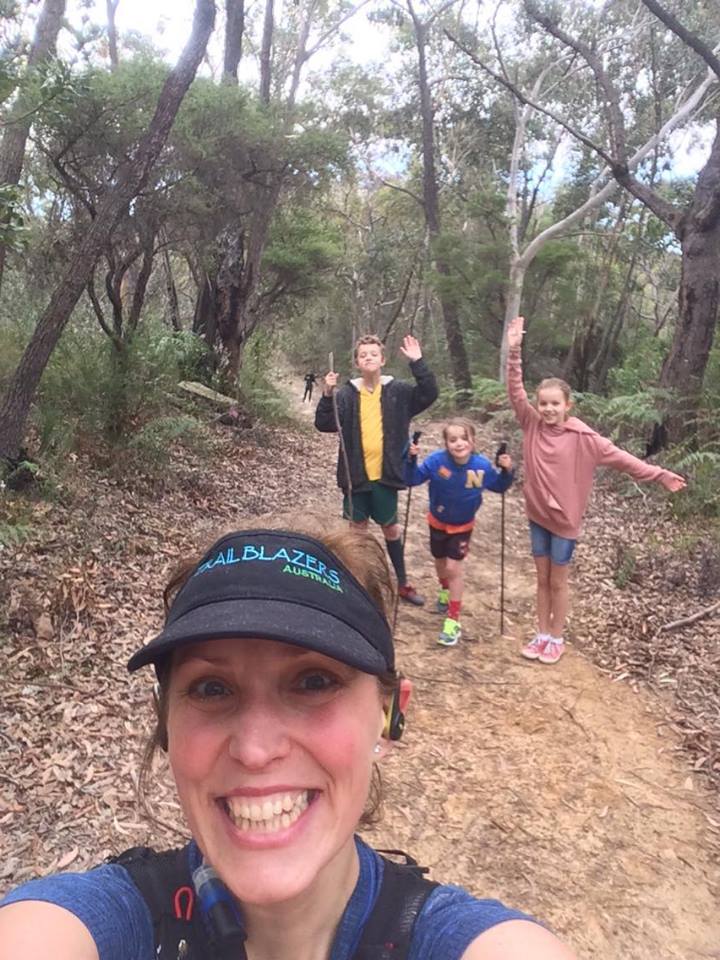 Chamonix
After a long trip with 3 exhausted grumpy children and an only slightly less grumpy hubby, I found myself in Chamonix.  I love my children but jetlagged kids are not fun and I will confess to briefly considering moving out of our Airbnb into whatever hotel had spare rooms. Sensing that this would be bad for family relations I toughed it out and placated the kids with macaroons, cheese and Orangina. Beer and cheese kept Steve happy too.
The lead up to the race was fabulous, the credit card got a bashing at the expo on more than one occasion and I don't think I managed to go into Chamonix once without bumping into at least 2 or 3 of the Aussie posse.  I really should have rested more but there was too much to see and do, plus I had to balance rest with making sure the kids had a good holiday.
The Race.
I'm a bit slack and one of the last of our group to write their report. So rather than repeat everything they've already said I pulled together the table on the next few pages.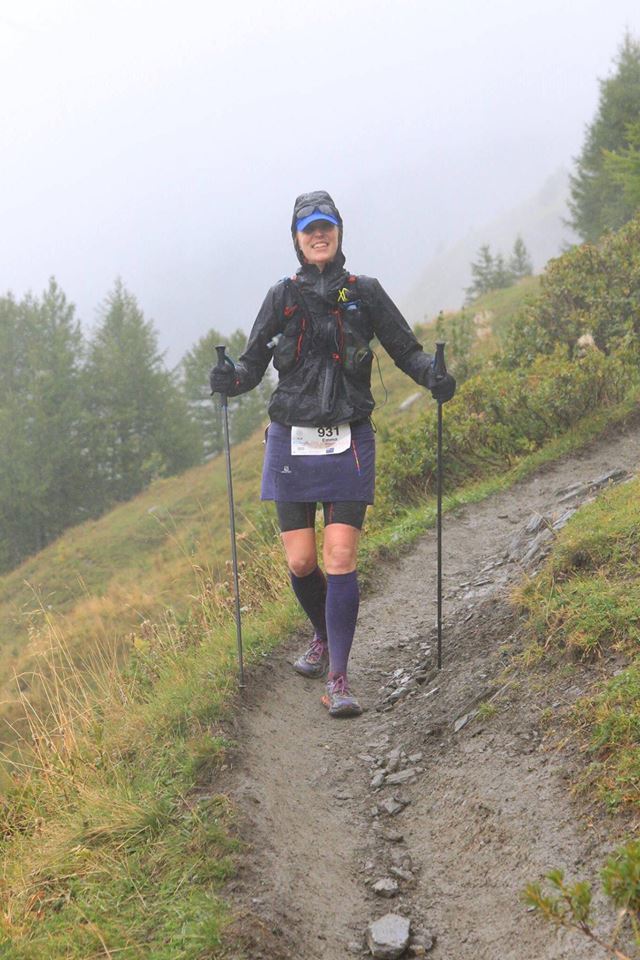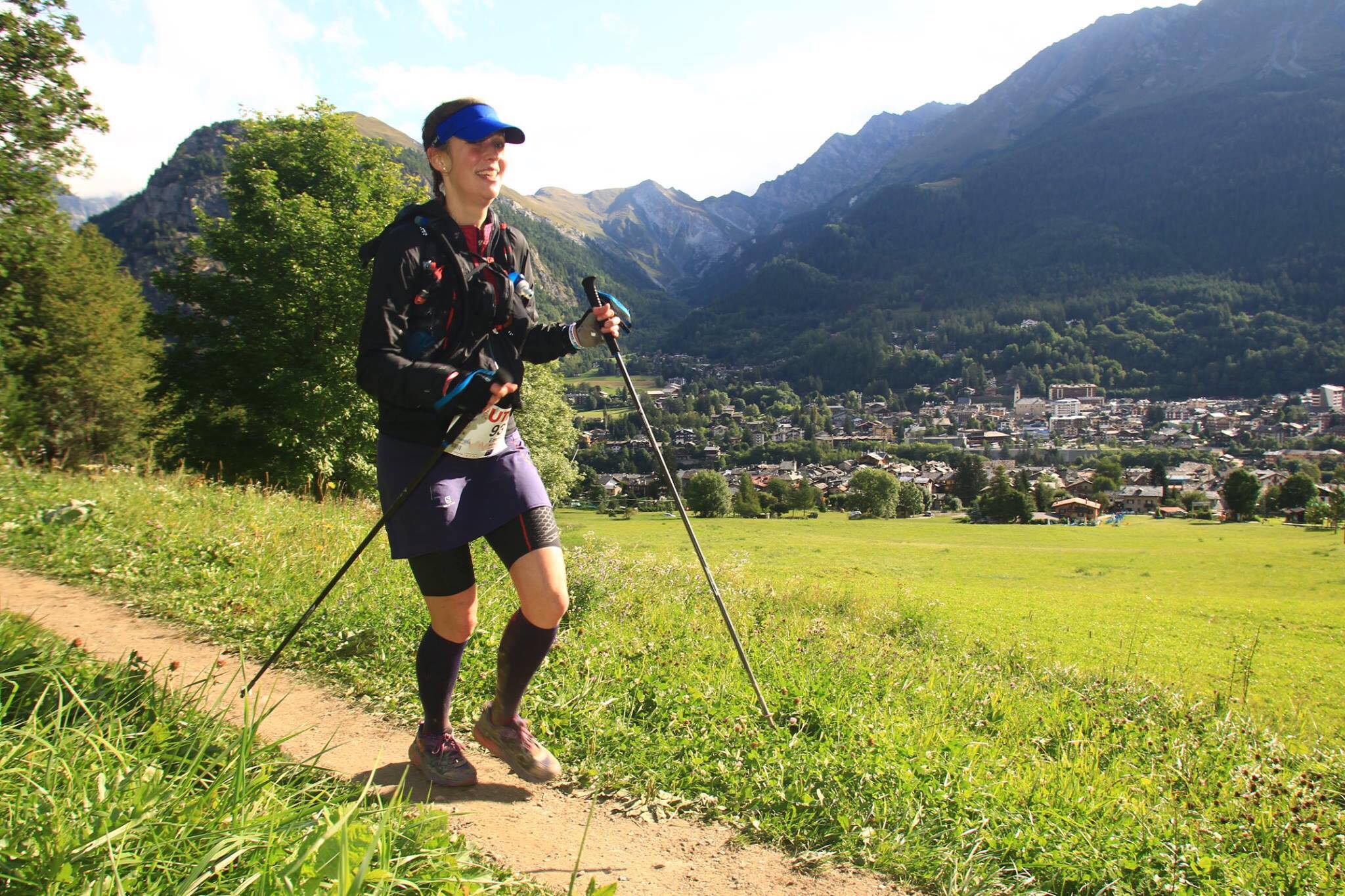 Kit
The weather was utterly miserable at different stages of the race. It poured with rain, it snowed, the fog was intense and the mud was worse.  I've struggled with the cold in recent years but I knew my thermals were good and I purchased a spare one for the drop bag.   I was bought up to believe there is ''No bad weather only bad kit".  After UTMB 2017 I'm not sure I still agree. The mandatory kit was extremely important and not something I would scrimp on, I used every last thing I carried.
Items I literally wouldn't have survived without;
Black diamond poles
Salomon Bonatti rain pants. (I love them)
Salomon rain jacket
Ronhill windproof mid-layer
Ice breaker thermals
Hanz waterproof Gloves (although the addititon of thin merino liners would have been better)
Salomon 12L pack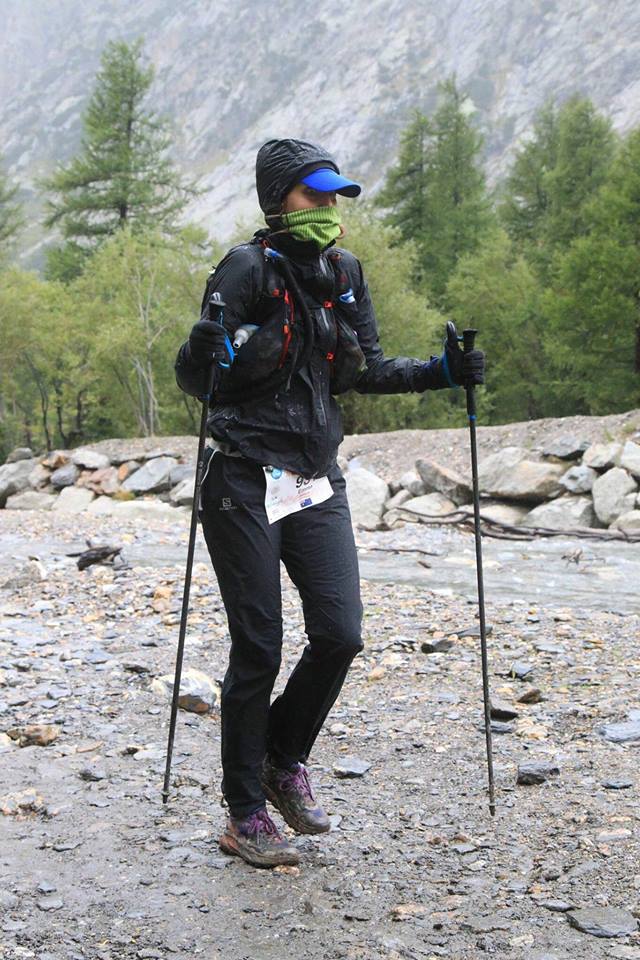 The People
To be able to share this experience with the great group of guys and girls from Australia and particularly the NRG group made the whole trip really special.  I'm not a member of NRG but I was welcomed to the group with open arms, these guys rock!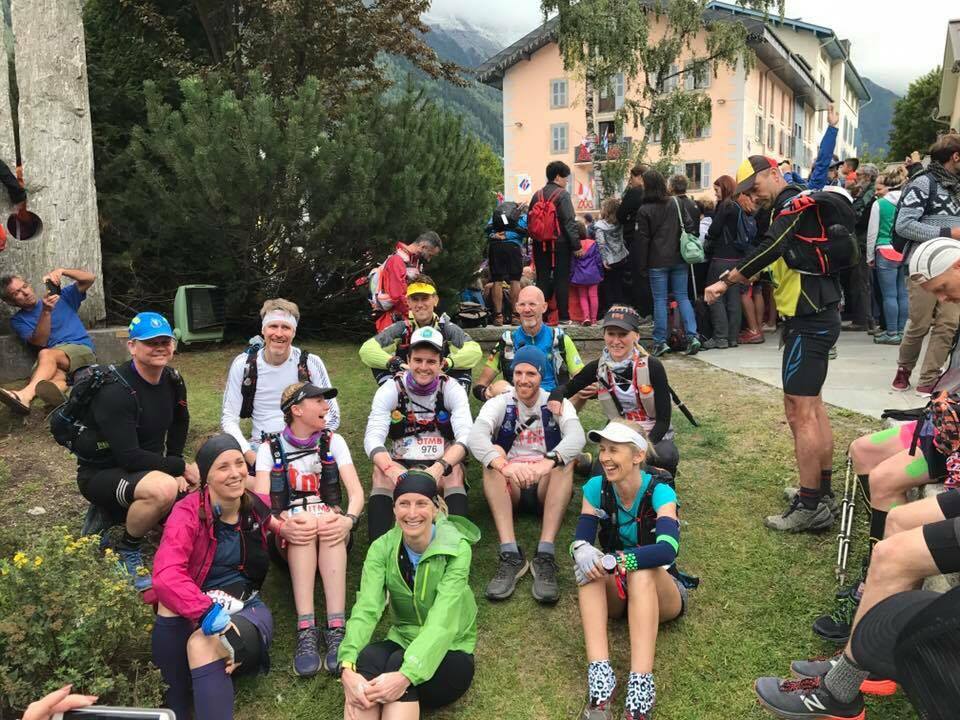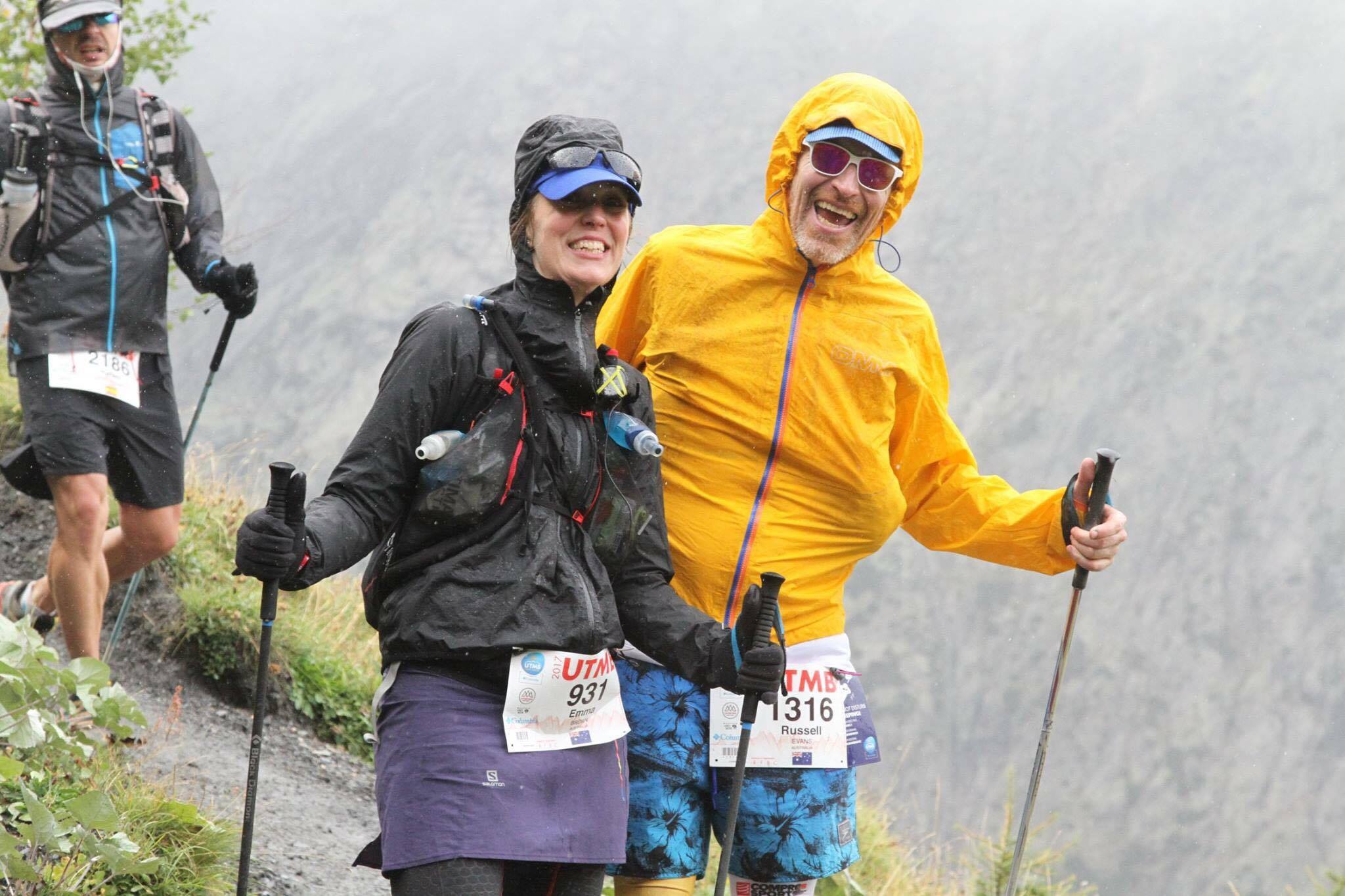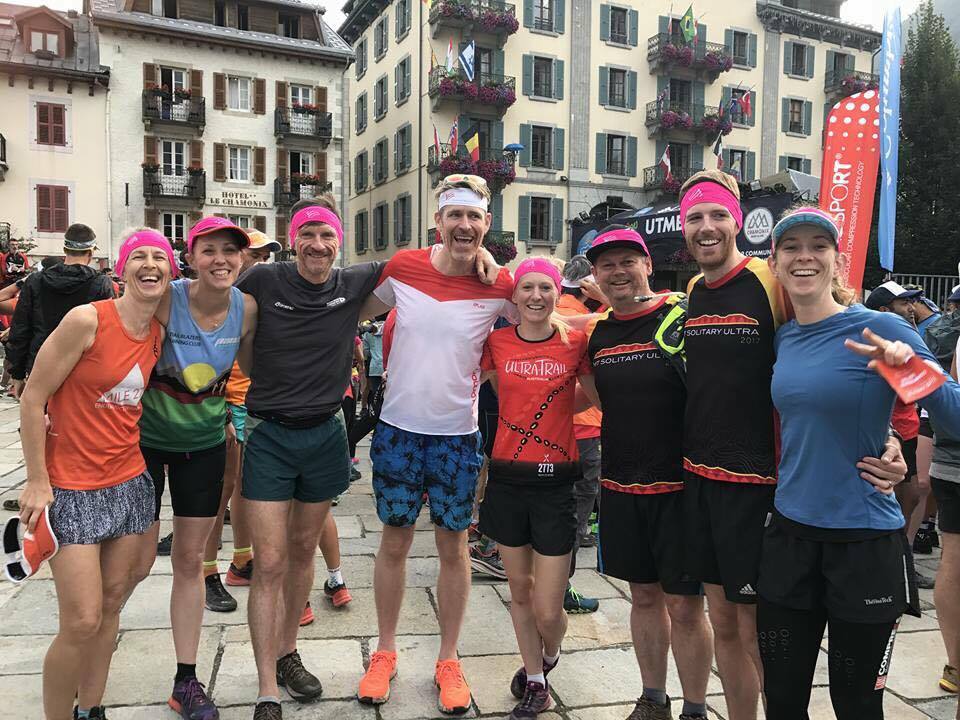 My family were amazing. Steve managed to negotiate the official buses, with all 3 children in tow, to meet me at Courmayeur, Arnouvaz and Vallorcine. After missing me at the finish of this year's UTA he managed to, not only get to the finish, but to position himself and the children such that they could run across the finish line with me.  I was crying before I saw them but if you look at my finisher's pictures I'm balling. It was an amazing feeling. I hope that they are as proud of me as I am of them.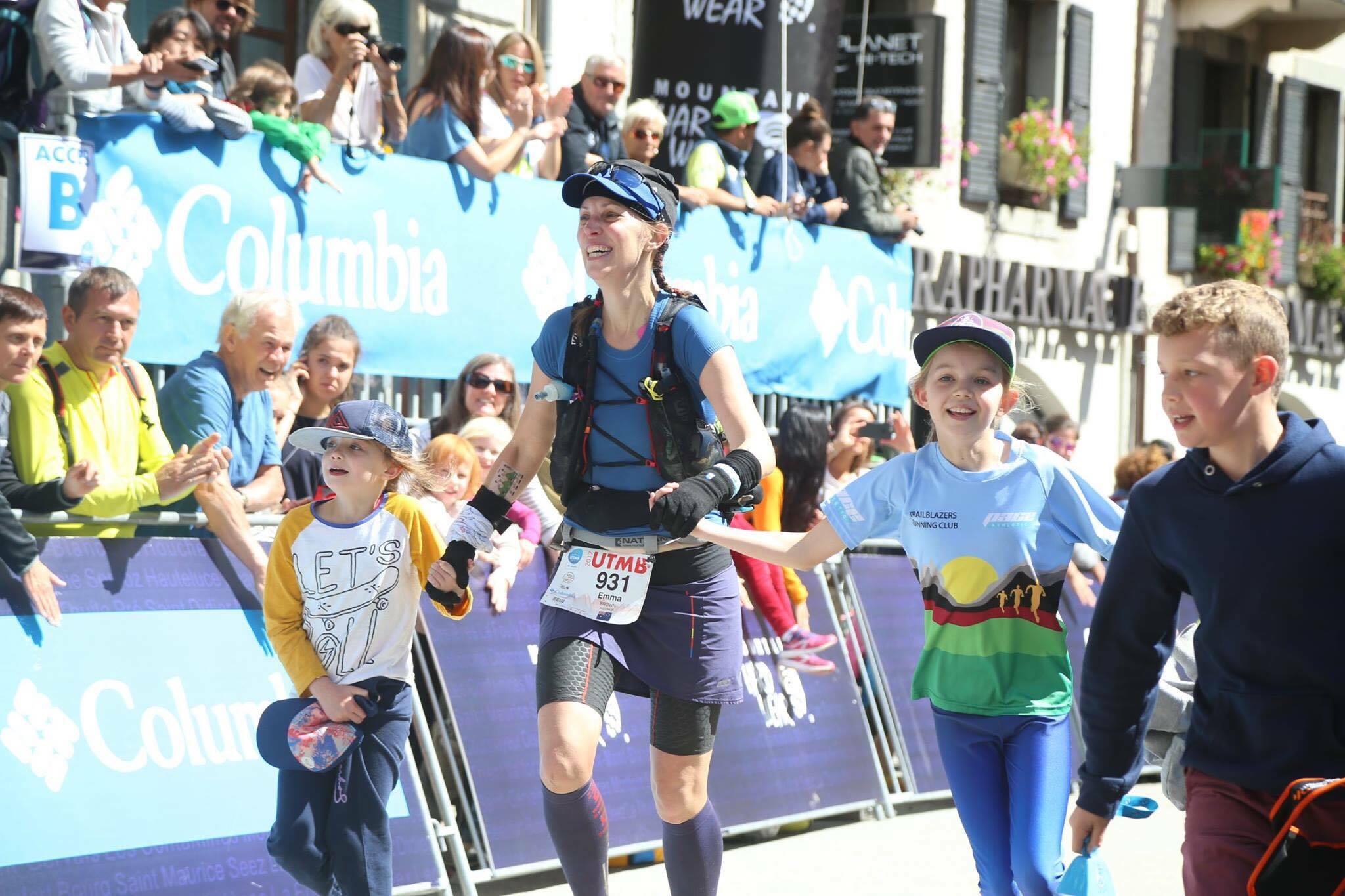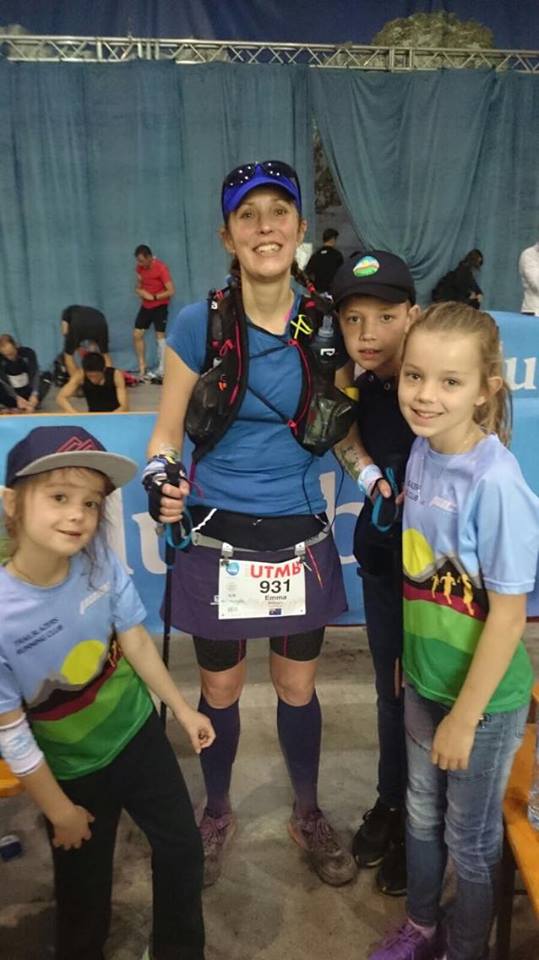 The people made this race for me.  I like to chat with other runners most of the time. If I go quiet I'm either struggling or focussed on getting to the top of a climb.
Tanya and I had agreed to run to Les Contamines together and we did see each other a fair bit at the beginning. Tanya is insanely fast downhill and I prefer the up hills. I would push on up the hill, knowing that she would catch me on the downs. This worked pretty well, but at some point, during the first 30km we became separated.
Given that not everyone speaks English, I was a bit apprehensive about how I was going to while the hours away with no one to chat to, but a ski season in Quebec and some high school French enabled me to speak to a few of the locals. I also met a great English girl called Emily who I stayed with until Courmayeur. She went on to beat me by 4 hours, so maybe I did go off a bit fast.
Russell was one of the group from Australia and someone I had trained with before we left. Russell and I saw each other at almost every checkpoint.  A few times he said "What are you doing up here? No seriously Emma, what are you doing up with me?" I wasn't sure how to take this.  In training Russ had been a stronger runner and he's definitely faster than me over 100km. I was worried this meant I was going to blow-up soon. I decided to just keep running as I was because I felt pretty comfortable.
Obviously, the blow up was in the post though, because the next time I saw Russ I was dying on my arse. It was the one and only time I fleetingly thought I couldn't make it. I felt so sick, shaky and utterly broken. Russ said that there was nothing he could do for me and that I needed to get through it on my own. Tough love, even if he did head out of the checkpoint with me for a little while. Of course, he was right, it's all about mental toughness at this point and I had to get my shit together by myself. I took some ginger and shuffled out of the checkpoint, thinking that would be the last time I saw him.
Poor Russ, like a bad penny I kept reappearing.  Eventually at La Fouly after the trauma of Grand Col Ferret and sleep deprived, I'd worn him down. He agreed to us sticking together through the second night and that we'd reassess our arrangement in the morning. For me this was great, it felt good to be in this together and I found thinking about how someone else was feeling and trying to keep our mood up to be a great distraction from my own discomfort.
Other than my briefly snapping at someone outside Trient, who wouldn't pass me, despite breathing down my neck, I can honestly say that I felt positive for the rest of the race. My body didn't quite agree. My knees had been screaming at me since the descent of Grand Col Ferret.
On the downhills, I was trying to preserve my quads, which by now was pretty pointless. They'd deserted me long ago. I think the knee pain was undermining my confidence in my balance, which is not that great at the best of times. Downhills were painfully slow.  I didn't want to slow Russ down (something that I thought about a fair bit) so I made sure I pushed hard on the uphills, calling back to check he was still behind me.  On the downhills Russ would go ahead and this seemed to work well.  When he fell asleep dreaming of storm troopers I woke him up and when I told him how little I'd eaten he made sure we stopped to take gels. I think it was a fair partnership. We would probably have run certain sections quicker on our own, but equally we would have been slower on others.  Mentally staying together definitely gave me an advantage and I hope Russ feels the same.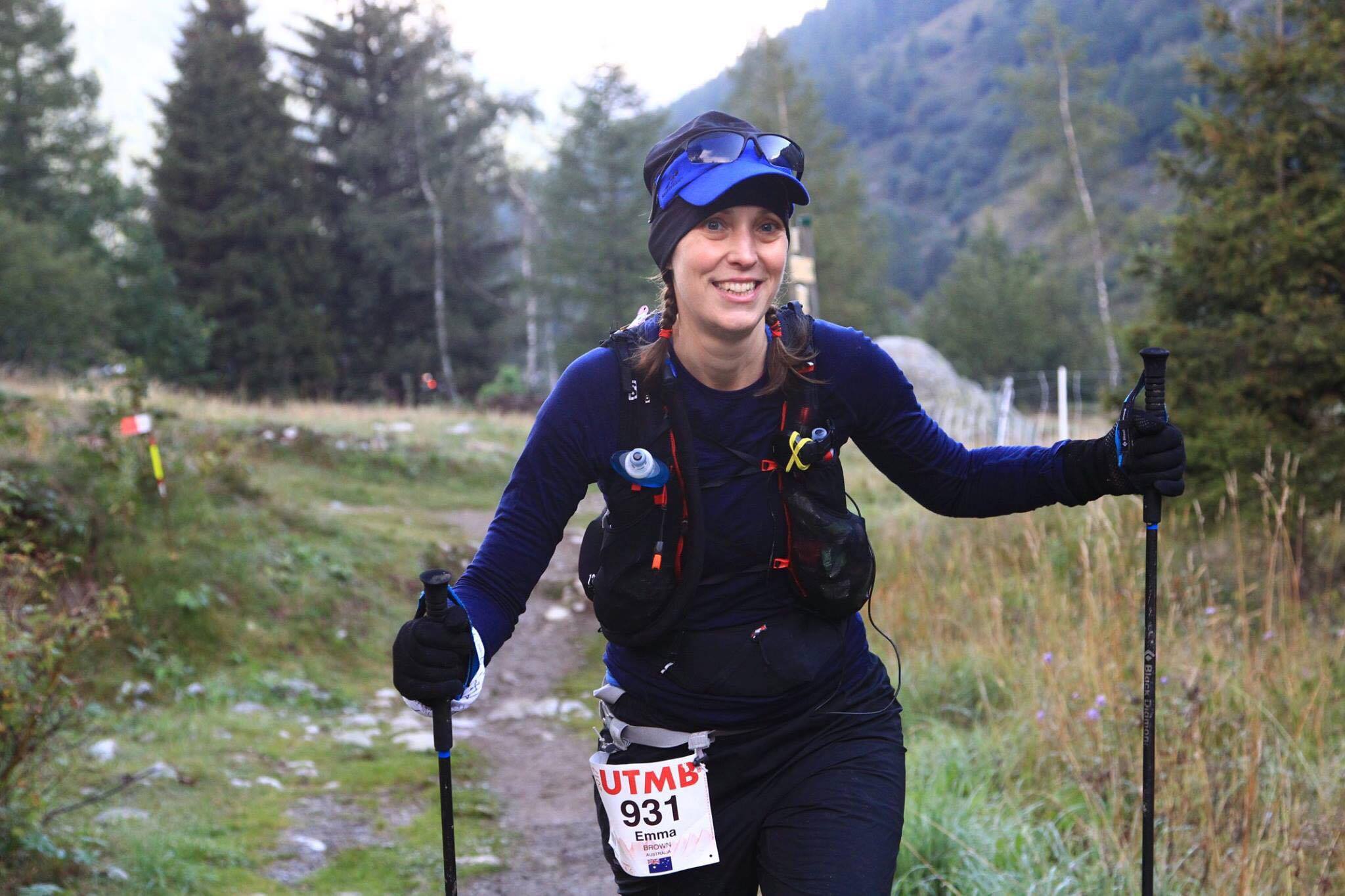 Sleep
Early on I was anxious about the prospect of hallucinations.  I'm a bit of a control freak, I hardly drink alcohol and I don't like the feeling of not being in control mentally. I decided that I would try and stay ahead of the sleep monsters. I tried to sleep at Arnouvaz. It was a complete waste of time.  I wasn't tired enough, it was daylight, I was wet from the rain storm and the checkpoint was really buzzing with activity. I just got cold and had to waste time getting warmed up.
Later in the race, I was hallucinating.  Not badly, but I was seeing shapes, mostly animals, in the shadows, the mud and the trees.  It was like when you look up at the clouds and can make out familiar shapes. I kind of got used to it. I was seeing snakes in the mud, but I knew they weren't there so just ignored it.
The only time the visuals got a little weird was when we went through a wooded area that really did have carved animals by the side of the track.  (At least I asked Russ and other runners and they said they saw them too!). I was surprised at how well I could function on so little sleep. Perhaps I have the kids to thank for the sleep deprivation training?
I eventually slept at Champex Lac, by which time I was desperate for sleep and had no trouble passing out on a wet stinky mattress for about 20mins.  Later I slept with my head rested on my pack on a table in Trient. I felt surprisingly good after 5/10 mins. "Refreshed" would be a bit strong, but I felt human again.
Fuel
I didn't eat enough, nowhere near. I struggled to eat on the climbs, partially because of the cold, I couldn't feel my fingers to open the zips on the pack, and partially because I didn't want to break my rhythm. I'd taken tailwind (powdered carbohydrates) which was dissolves, but the cold temperatures meant that I wasn't as thirsty as normal, so I was getting fewer calories there too. Later I was in a calorie deficit hole so big that the thought of eating made me feel sick and I ate nothing for hours.  Each aid station had hot sugary tea and salty soup. I could stomach these and made sure I had both at each aid station after Grand Col Ferret.
Start to Saint Gervais

''I'm really doing this!''

Saint Gervais to Bonhomme

"Will this climb ever end?''

to  Lac Combal

"Speaking French (badly) with the locals''

to Courmayeur

"'Loving life''

to Refuge Bertone

"'Kill me now''

Feeling
Nervous, excited
No climbs like this in Oz
Cold, determined, strong
Mostly feeling strong
Impending doom

Vomitty & Pathetic

Loved

The crowds,
Conquest of Paradise (off to war music)
Running with the Aussie Posse

The stars aka head torches for miles.

The Sun coming up
Meeting another Chatty English chic
Lac Combal – Stunning

View from Mont Favre
Seeing the family at the checkpoint

Absolutely Nothing
Low Point

The last few km of the climb.

Head torch battery change.
Impending frost bite … numb and then burning fingers

Frustratingly crap downhill technique to Courmayeur.
Quads hate me
Finding the loo at the checkpoint

All of it
Nutrition
…erm …whoops
2x SIS gels, tailwind, a bit of banana and sugary tea
2x SIS gels, tailwind, a bit of banana and sugary tea
1x SIS gel, tailwind, coke, banana, date bar
Ginger
Terrain
Shortish but bitey hill – setting the tone
The longest climb known to man.
Single track up
Steep switchbacks down to Courmayeur
Steep Switchbacks up forever
Weather 
Temperate
Dark and Baltic
Warming up
Sunny and warm
Warm