#UTA2017 Race Report.
(Disclaimer – I have still only had 3 hours sleep so pardon the swearing).
It was very fucking hard. The end..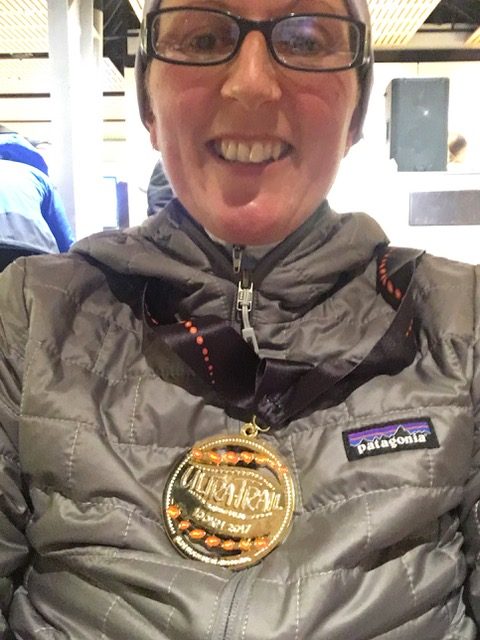 Yeah right – thought you would get away with a short report! Ha! Never.
The race had course changes due to the weather this year. I was very Zen about it (very un-like me) as you cant control the weather or decisions that the RD's and the authorities need to make to keep people safe.
It was cold and wet when we started, but eventually it became beautiful and sunny and clear. The night was perfect running weather.
I stuck to my race plan that Andy had sent me – slow in the first half and concentrate on passing others in the second half.
Start to CP 1 – just went with the flow –
The landslide had a conga line, but it was a chance to eat and rest.
CP1 – CP2
Tarros Ladders – there was a 10-15 minute wait just to get down to the ladders. I get vertigo, so opted to go around on the diversion track, which turned out to be the same time. Plus I had warmed up again.
The 50k men's pointy end of the race tore past us just after Tarros ladders. Holy shit they can move.
The didgeridoo players were just before CP 2 – this was one of the only reasons I wanted to do this race, to hear them play in the race. Chills down my spine hearing them. So cool! Had a headache that was getting worse, but could not get any pain relief until CP 3 so had to suck it up.
CP2 – CP3
Had a really low spot because of said headache, running along Megalong Valley Road. Was hanging for the CP for panadol and my running poles.
CP 3 was a good quick transition.
CP3 – CP4
Left the checkpoint with Jen and Ingrid, which was lovely. (No cows in the field this time). Ingrid and I hiked up to Nellies Glen together. It was hard work, but everyone else was suffering too! Heard some interesting burps…. So decided to rate them – as you do when you need to keep occupied. Some random lady in a blue onesie was handing out choc chip cookies just before CP 4 – oh they were awesome. Going to have those again in a race!
CP4 – CP5
Ingrid's support crew of Bek, Janis and Sharon helping me out with massages and checking that I had what I needed made transition easier. Thank you ladies!
Now this is when I knew it would be tough. The course changes affected from CP4 – finish. I was heading towards the longest distance I had ever run, and was not sure how my body would cope. Left the CP very positive and moving in the right direction. Sunset was happening just as I came around Echo Point, so the views were spectacular.
Came into Gordon Falls Reserve and got the best group hug ever from Bek, Janis and Sharon- seriously that was awesome!
Hailey and Roger, said that they would meet me on course – and there they were at Gordon Falls Reserve with liquid black gold – a can of coke. My ITB was beginning to act up, Roger gave me some tips on how to deal with it and off I went into the darkness.
Ran into Tim somewhere out the back of the golf course and he walked up with me back to his car and we had a great chat.
There were runners coming from both directions and I felt obliged to let the faster ones who were returning from the out and back loop, go past first. I think this slowed me up quite a bit having to always get off the track.
Coming out of Wentworth Falls, I had been looking out for Adam (actually looking for his trail gaiters as I was looking at the ground most of the time) and I found him! It was lovely to see him and get a hug.
Then it was the slog down the road to CP5.  It was at this point (apx 72-73k), that I knew I would be reduced to walking the rest of the way, due to my left ITB, so I made sure I was really power hiking and not just walking.
I could hear the CP before I got to it and was really looking forward to sitting down! Except when I got there, there was a 3k out and back before you could enter the CP. There were many swear words at this point. That was mentally tough. So I sucked it up and got it done.
The Summit Sister cheer squad were there and it was lovely to hear them! Saw a snake crossing the road. Yes a snake, it was 8C.
Sally met me at the CP and looked after me very well and made sure I was compos mentis. I was very surprised to find that I was 2 hours ahead of schedule. Threw on my warm clothes, my toes were aching, but there was nothing I could do, so gave them a quick massage and walked off into the night.
I spent most of this leg by myself, which suited me just fine.
Then my headlight died with about 8k to go.  I had forgotten to check my back up light batteries, but it was working so I dropped it to low lumens to conserve the batteries and kept moving. I had forgotten to pack spare batteries into my pack at CP 5. I turned my phone to flight mode, to conserve its battery so that I could use the torch I my phone if needed.
The stairs were horrid. I could only go down diagonally with the right foot first and am now sporting a large blister on my left foot.
I have never been so glad to see Leura Forest. It was then 4.8k of just slogging it out. Furber stairs were hard. There were a few tears shed here.
You can hear the finish line before you can see it. It's torture. Roger was working the microphone at this point, and when my name was announced, he started up a cheer, which I could hear but legs just would not work. Eventually after the last 5 stairs, my brain engaged that it was the finish and people were waiting for me, so I started a jog and eventually crossed the line in 21hours and 6 mins.  It was just after 4am (I had no idea of real time as my watch died at 76k) and I was not looking at my phone. It was so lovely to have people I knew around me.
More tears were shed, Roger has video that is not repeatable here, which basically said I'm never doing it again. Nothing could top that experience.
I felt in the early stages of the race that I could go under 20 hours. Apparently I was on track for that most of the day, but was de-railed once the legs died. I think with a longer training base, it would have been achievable for me, even with the extra stairs.
Now for the bit that is most important. I would like to thank (and in no particular order) the people below for helping me to achieve my goal.
Andy DuBois of Mile 27 – 10 weeks ago, after Tarawera Ultra, I contacted Andy for coaching and he got me to this race. I can't thank you enough. The training you set me, made a hell of difference.
Garry Luke of Muscle Therapy Australia – best masseuse ever!
Kathy Widjaja of Aequilibrium – all those body movement classes – my glutes thank you!
Dr Adrienne Leahy of Spine and Health Crows Nest – my spine thanks you!
Paula Shingler of Running Right – last minute physio and scones and jam and cream really helped.
Julie – my running partner and therapist.
Cass – Friday mornings have improved out of sight thanks to world peace and coffee.
Summit Sisters community – you all rock!
Bek, Janis, Sharon and Sally – you are the best support crewers ever.
Hailey – for the texts and the liquid black gold AKA Coke.
Roger – the shiatsu massage really unlocked my back – it was the best. Can I have another one please?
AROC Sport – without you guys, this legendary race would never exist. Thanks for the superb organisation, in what would have been one of the hardest situations to work in this year. Your volunteers and staff are the best.
My friends and family who all support from near and far via Facebook .
And finally, my husband Adam and son, Alex. Thanks for putting up with me, early mornings, early nights and a sometimes tired and crabby wife and mother.
What I wore
Summit Sisters t-shirt
Moving comfort bra
Fabletics ¾ pants with handy pockets down the sides of the legs.
Zensah calf guards
Feetures socks
Hoka Stinson 3 ATR's
Patagonia cap
Buff's of varying different styles
Patagonia R1 fleece jacket
Salmon Bonatti waterproof jacket
Nathan Vapour wrap pack
(Sheesh I'm not very loyal to one brand am I?)
What I ate from my pack
Carmen's muesli bars – mostly the more nutty ones
Chicken in a biscuit
BBQ shapes
Clif bar
Chips
Farex pre-made baby food
From CP 2 I had Nuun or Hydralyte in my water.
Panadol osteo at CP3 and after CP 5 – said headache was gone with about 13k to go …
From the checkpoints – Banana, watermelon, soup, bread, cheese and ham scrolls, a lolly, a chocolate chip biscuit, a bit of brownie, pot noodles, a chocolate bar from a random runner at a CP, coke, black coffee with 1 at the Fairmont , chips.
Recovery (so far its 24 hours in)
2 magnesium tablets before the race
Soup and chocolate milk at the finish
Blister popped at First Aid so I did not have to deal with it
Shower as soon as possible
Sleep for an hour – gentle rolling with the stick
Trying to move normally rather than the ultra lurch
Car drive home – stayed awake and kept my legs in different positions
Warm Epsom salt bath and then icing the knee
More good food and some chocolate
9 hours sleep – means I'm awake at 3am but hey that's when all the best race reports are written.