(Adam Connor) This is actually the second guest post here, I'm still working on the first! We often say the true heroes of our events are the ones who spend those extra hours on the course. It's very apparent here that Clayton and his team show an unusual amount of grit and determination. An amazing story…….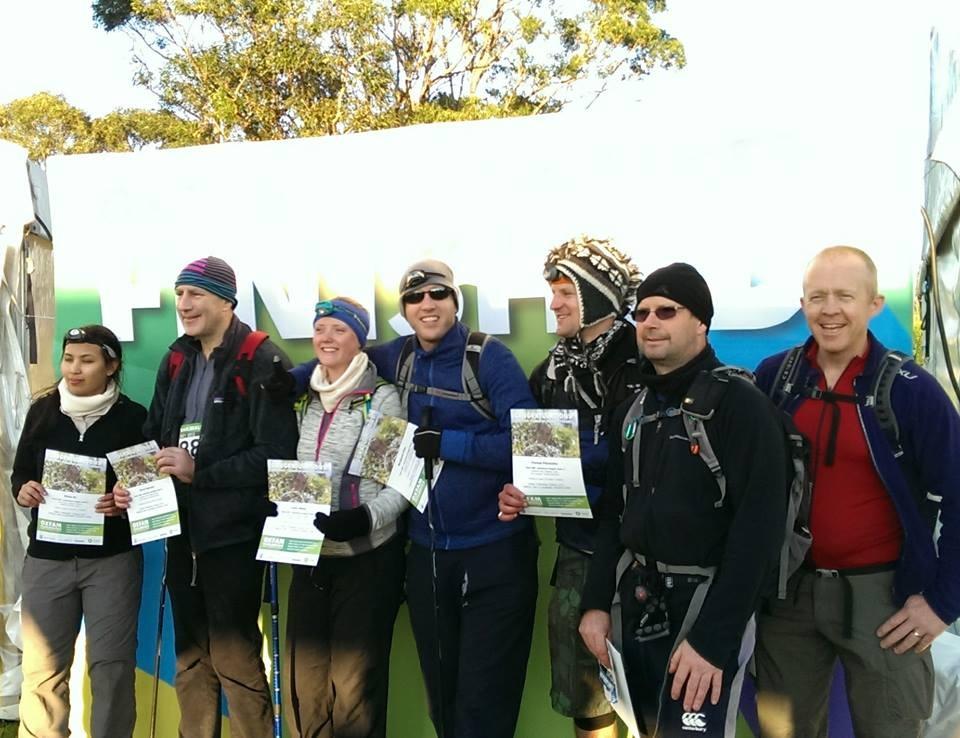 Disclaimer: You know how it all ends, it takes a while to tell the story of a 45hr trek, so feel free to jump to the end (at times we all wished we could have), or trudge to the end and re-live the adventure with me…
Well, just what is it like to go on a non-stop 45hr trek through the Australian bush with a bunch of strangers and no sleep (for 50+hrs)? Especially when it was only planned to be 32hrs, with no specific Oxfam
training (i.e. long walks) at all, no special planning or preparation for 45hrs on the go, I was entering off the back of fitness from TNF100, some speedy training for the City to Surf, and two successful cracks at Oxfam 2 years earlier. Nothing can really prepare you for 45+hrs straight, except just
jumping in and doing it.
So, let's start with the late last minute ring in request via Wilson from the NRG committee. Not yet met this famous NRG runner, but will be hunting him down on my next club run.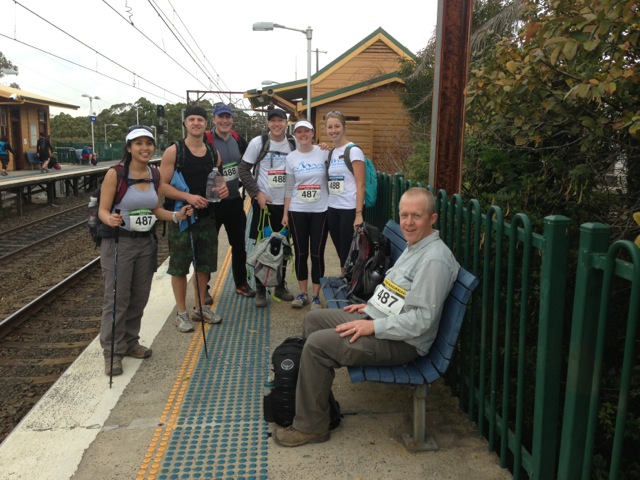 Earlier on in the year I had considered doing Oxfam again, I began sniffing around the singles board, kept an eye on what teams were looking
for who, and who was looking for teams, what pace teams were aiming for that had lost team members. I was thinking 24hrs being a suitable goal.
But I was also battling sore ankles (& eventually black toe nails) that came and went mysteriously. I wasn't prepared to commit to an Oxfam team
until I had worked out what was wrong and resolved it. Turns out my new shoes I wore on the TNF were half a size smaller than expected. Ankle and
other injuries now resolved I went for the bait on the NRG Facebook page and jumped into a team at the last minute (with my old shoes).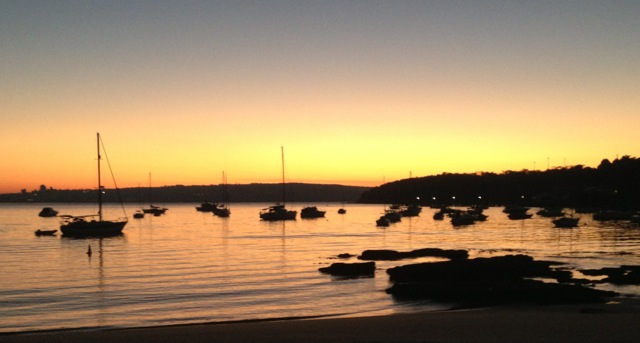 Met my new team mates (actually two teams) at a restaurant in Crowsnest on
the Wednesday evening, less than 36 hours before the start. So no time to train with them, it was straight into taper, rest and carbo loading. They were the Adventure Angels Teams 1 & 2. Hailing from the personal fitness company "Fitness Angles" (clients, friends & other ring-ins), run by Laura.
I was looking forward to a quick trek with some fellow fitness fanatics and was happy to
offer my 2 x experience with various nebulous and random tips.
The day came, we had a civilised start at 10am. I caught the bus to Chatswood, train to Hornsby (was intending Berowra), another train to
Hawkesbury (that did not stop at Berowra), I arrived nice and early to enjoy some bacon and egg rolls, a good coffee, bit of a stretch, and a short wait for my 2 teams.
Off we went, start pace was relaxed, no fear of sweating too early on the first climb for me. Heading up the hill was the first of numerous amazing sights – another teams walker carry a back-pack hanging from neck height to less than a few inches off the ground & wider than he was; guess they did not meet their support crew first, they must have had the entire teams
support gear in the suitcase with shoulder harness (or he was a Ghurka).
Suspecting the latter there was no good natured ribbing as we trudged past, and then they trudged past us, and so it was until Bobbin Head with
these guys (we'll meet up with them again later in the story).
A relaxed easy pace saw us arrive at CP1 around 2:30pm. Burgers all round; Elisha nailed two of them, just in-time as they then ran out of burger
buns. Hence an insentive to climb that first hill slightly quicker if you want more burgers. We left CP1 after half an hour; a quick turn-around from my previous two CP1
trips; time to make up time.
I made a de-ja-vue prediction earlier in the week: helicopters in the air halfway to Berowra waters. I'd been on that section of track 3 x and we'd heard noisey choppers all 3 x; so a fourth? Yes, another noisey chopper, just one, but bang on schedule & location.
CP1 to CP2 continued slow and easy, it's the toughest stage of all. Ben and his sore knees were holding up well, playing it slow and careful on the downhills, a raging bull on the up-hills. We were treated to a
beautiful sun-set heading down into Berowra waters, it was going to be head-torch time by the time we got to the Berowra Waters road & ferry crossing. Much earlier on the trail than the last 2 x. But I figured that
the night would last just as long whether you walked it, ran it, or no matter how early it started. I was covered with head torches. I've done it twice and we were going with head torches this time much earlier, so the
suspicion of two full nights on the trail was beginning to dawn on me.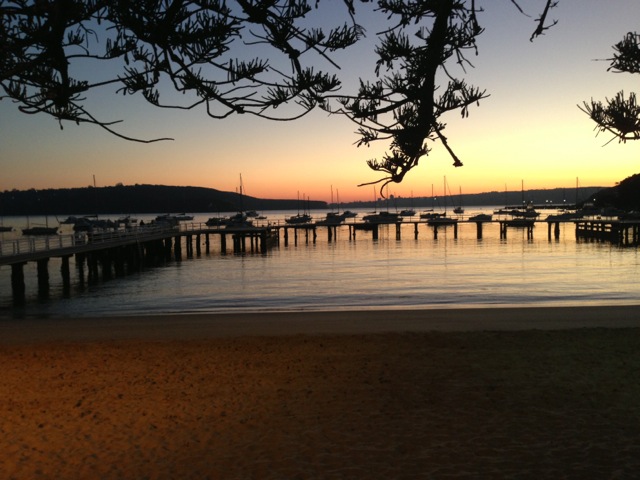 Arrived at CP2 at 8pm to a near empty carpark. Less frantic than I recalled, more relaxed, much warmer, no change of clothes required for me
(wasn't sweating at all), and they still had sausages this time (thanks for leaving some Adam but I was well fed by my support crew)! The Oxfam
volunteer lamented to us she had cooked over 2000~ sausage sammies that
day, and there was still plenty left over, but she was finished!
CP2 closed at 10pm, we left at 9:30pm, the first hint of the trail sweep monster closing in on us was becoming apparent.
CP2 to CP3 was dark and late. Tide was in and we had to take our shoes off to cross one section, brrrr. Woke the feet up anyway! Laura was playing tunes from her iPhone via a beat-box attached to her back-pack as we skirted around the swampy bits. Theme song for the trek (for me) was "Wake
Me Up" by Avicii. It's still stuck in my head, I downloaded it from iTunes, sad I know!
We soon encountered our friends with the TMNT back-pack; only this time they had 2 torches between 4 of them, one torch was attached to a walking
stick (sharp pointy end almost getting me several times), the other was grabbed from the counter of a BP petrol station (or 2$ shop). But hey, they were ahead of us and (for some reason) not really wanting us to pass. The ultraristic side of me wanted to part with one of my spare torches and give them a boost, normally I would; but we'd be in for the long hall for
two nights ourselves and I hadn't tested my Nao over one night let alone 2 so decided to keep my spare for my spare to myself or my team mates. In
the end they kept close by and sauntered into CP3 not far behind us. It was also a full-moon and plenty of ambient light.
Approaching Bobbin Head, we got to the bottom of the hill into Apple Tree bay. Was cold down at water level, I stopped on a flat top table and snacked on some chippies. My first mistake of the trip. Seems starch and
simple carbo-hydrates get snapped up and amplified by the melitonin the body uses to generate sleepiness. within 15 minutes I had gone from wide
awake to the "fog of dispair", I was walking asleep. Kept awake by nailing the downhill into Bobbin Head, sat on some cold concrete steps to wait for
my team mates – who I could see at the top of the hill. I blinked and there they were, right beside me. Feigning the lack of suprise (as I tried
to work out how they got to me so quickly), we trudged into CP3 for a mighty fine dish of chicken soup and bread. It was 3:30am, only 6hrs to get here.
A good strong mocha from a sachet (sorry Paul, sacrilige I know, but it worked, blame Da) cleared my head for the new section of track for me, the
Gibberong trail. The team was holding up well, Ben hobbling along on sore knees still, Elisha making steady progress, our endurance cyclist hanging
with the peleton; and the rest of the crew, tired but still cheerful.
We headed off from CP3 at 5am (closing time was 7am), about 4-5 hours behind schedule now; but two hours ahead of my first Oxfam. Sun-rise somewhere along Gibberong; a climb up into Nth Turramarra; along to the
Sphinx where we were met by some fancy dressed Oxfam helpers with yummy dark chocolate, and then on down into Warrimoo creek. Tom, Meg and I took the quick / fast option up Warrimoo hill climb and then practiced our "bush hollahs" to communicate to our team taking the more leisurely pace. Dust and lack of air in the lungs made for a tortuous attempt at bush communication; more like a stuffed bush turkey than anything useful.
The constant "are we there yet", or "we are halfway, aren't we!" to CP4 were getting less easy to fend off with double-speak – "yes, only 4km to
go – and 3 hills". Tom and Meg had gone ahead to stretch their legs again, I – with short legs and (normally) tight hamstrings can't walk all that quick (which is why I run nowdays) – so gave them a head start and then
jogged to catch up, and onto CP4 where we waited for the rest of the crew to arrive "imminently".
Somehow Oxfam Control decided to call me and ask where our team was on the
trail; "At CP4 waiting for the rest to arrive and we'll check in". He didn't know there were two teams walking together; they had only noticed 3
of 4 people arrive at the CP but not check-in straight away, leaving, in their mind, one person alone on the trail. I was quick to add we were two
teams. Seemed to work, but either way these guys are great and onto it with looking out for the teams. Team note: stick together, we had only split on this end section to have a stretch and free the mind.
Time for a team talk. The trail sweep monster had been spotted earlier, St Ives was closing at 2pm, it was 1pm. We might be in danger of both teams DNF'ing. Elisha & Tom bundled themselves off to the first aid tent for a check and pit-stop repair job. I had to do my part to convince everyone to
delay any thoughts of dropping out with the promise that the next stage was 80% downhill… It worked.
We past the sweepers (they heading into CP4, us to CP5). The team with the two torches and the TMNT back-pack (shed earlier) cruised by, but were not
likely to beat the closing time, but hats off to their effort! We made CP5 just in-time to enjoy the warmth of the late setting sun. Trent and Ryan &
Annemarie arrived to cheer me on. Trent and Ryan did their reliable "don't let daddy sit, sleep or eat" routine. Meg had decided to pull the pin, but
then I saw her putting her warm trail walking vest back on, so decided I did not need to try and convince her to stay with it. You tricked me & escaped!
CP5 to CP6 was a classic "death march". Nite-time, familiar trails to me that just dragged on and on. A quick yell to Ben – "you have a ration of
12 strides before stopping again" – worked, we were off with big long walking sections between rests or stoppages. Arriving at the flat firetrail along Middle Harour creek before CP6 the dreaded "fog of
dispair" hit me again, this time it was un-shakeable, in-penetrable, caused probably by the chippies at CP5, no-doz had no effect. The only cure – which randomly entered my head (never encountered this ever, so had no set strategy) – was to run, fast, cold air-flow over my face, all the
way to CP6 with Tom. Was either that or fall to the side of the track (which might have been into the water) and sleep. The team was not too far
behind.
Again we were treated like kings at a banquet by our totally amazing support crew of Kate and co. We consistently gave them plenty of time to
setup, cook, layout the cutlery, wine glasses, pluck & bbq the chickens. Thank you guys for your patience!
"Fog of dispair" cure was still desparetly needed. If it returned my ability to finish the event was going to be in serious question. Physically I was solid. No blisters, no joint, ligament, muscle pains, nada. This time it was 2 x no-doz, a full cup of full strength sachet mocha, pieces of dark chocolate, held back on the amount of food eaten,
avoided simple carbs, dropped a layer to feel colder. But was thinking "was that enough"? Then I remembered one of my nebulous tips to the others
earlier in the week: when you cross a creek you might need to dip your head in to wake up. I looked around and saw a cold tap over in the distance. It was mid-night, 6deg, water was freezing, but never felt so
good! Wide awake, just like an eskimo after rolling in a glacial fed river. But I wasn't convinced, so I drank lots of cold GU re-hydration
water. There ain't going to be any sleeping with constant stops to water the trees every 12 strides, so I hung at the back on our trek to CP7. The
end was in sight, downhill from here.
Arrived CP7 around 2am after enjoying the Natural Bridge track and gloriously last single track uphill, we had a good 1hr rest and small feed, and we were off at 3am heading to the finish.
The walk along the tarseal streets was hard on the feet. A stop at Chinamans beach facilities was very timely, and then the stroll along Balmoral beach as the sun rose was simply amazing. The smoke filled haze provided amazing colours for lots of photos.
On my first Oxfam I ran to the top of Middle Harbour steps; this time I wanted to catch the actual sun-rise. Tom was with me, video in hand to capture the craziness, I turned by GPS / Strava app on for the first time,
and off we went for a quick & fast run up the 194 steps.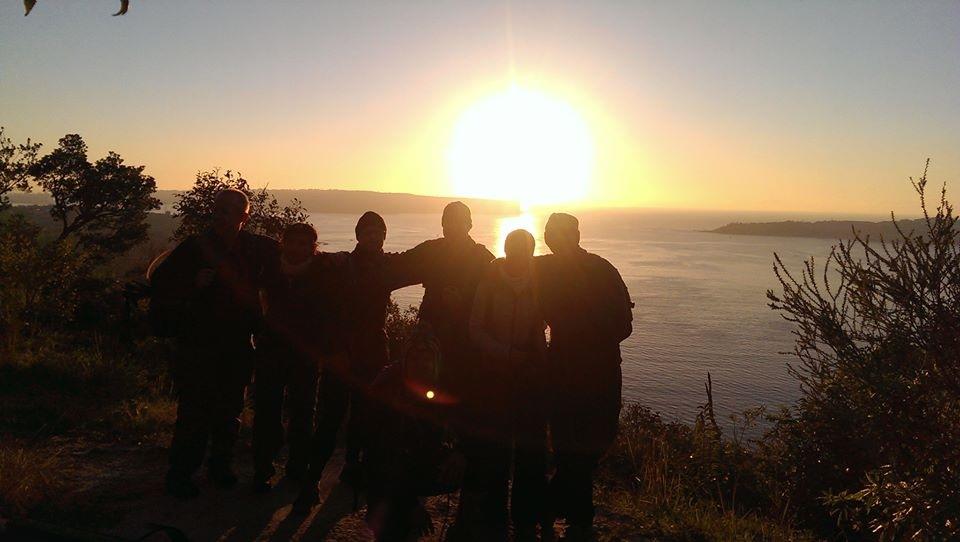 Snapped the stopped button on the GPS just as the sun-rose and my iPhone went flat
before I could take the photo! Never mind, Tom and Chris had cameras to catch the majic moment. The team quickly joined us and the support crew
(who were not there really) for the team photo against the warm glow of sun-rise. Truely a magic moment.
All that was required was a short stroll basking in the warmth and glory of a well earned finish to the finish. Even with the clock counter ticking
toward 45hrs, the team held form and sauntered over the finish line in 45hrs and 5 mins.
Bloody awesome team and support crew, and well done to all!
& Yes, I'll be back again.