*Big change this year is I have decided to also include gear from Kathmandu. This is for a number of reasons- they sent me some free stuff to try out, they are actively trying to support the trail running and fastpacking communities, and there are stores all over the place so people outside of Sydney can buy stuff. They also have pretty reasonable prices on a lot of stuff and are almost always on sale….
I do occasionally get free stuff from various suppliers and I will always try to be open and honest about this. I'd like to say that freebies don't get better reviews but who knows? I think the best way to deal with that is to let you know, and let you decide if I've been bought off by evil corporations.
I really recommend you speak to one of the local shops like Pace Athletic, The Frontier, Fast Gear or one of the camping stores (mostly around Kent St in Sydney. As you know they are big supporters of ultra running in general. Go and see them or one of the other local shops for your gear and keep that essential local knowledge available!
Check out the Facebook groups- official, and come to our  training runs each Saturday between Six Foot Track and UTA100.
I've seen a lot of discussion on various sites about the mandatory gear for UTA100, so I thought I'd share a few insights I gained over the last 7 years of doing this race in the hope that it will help some other competitors. Following is a list of the gear taken directly from the event website with my own explanations and links etc. It will be updated if the gear list changes, or if someone provides an interesting view that we should share here. Description of the mandatory item from the official document in Bold italics, my explanation below that-
1 x long sleeve thermal top (polypropylene, wool). Cotton, Coolmax and lycra garments are NOT suitable. Compression garments and thermal compression garments are NOT suitable. Compression garments may still be used in the race but they are in addition to your mandatory thermal top and do not replace it. Refer to 'Thermal Garment Requirements' link for more information. Refer to this link for an explanation.
Kathmandu have a long sleeve top in their 'Ultracore' range, or Patagonia do a Capilene Midweight top if you're feeling rich!
I'll be using a Patagonia one that I've had for ages, it's worn really well and still looks good. Which is important when racing…..
Weight 220g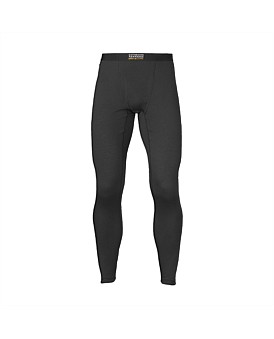 1 x long leg thermal pants (polypropylene, wool). Cotton, Coolmax and lycra garments are NOT suitable. Compression garments and thermal compression garments are NOT suitable. Compression garments may still be used in the race but they are in addition to your mandatory thermal pants and do not replace it. Refer to this link for an explanation.
I used a pair of polypropylene thermals I had purchased for a trip to NZ. Fairly lightweight, these were purchased from Kathmandu– they are from the Ultracore range- link
Weight: 173g
1 x Waterproof and Breathable Jacket with Fully Taped (Not Critically Taped) Waterproof Seams and Hood. The breathability must be provided by the material itself and not exclusively by mesh panels. Minimal underarm vents are allowed if the jacket material itself is technical and breathable. Large mesh panels, even if covered by flaps are NOT permitted. A premium jacket would have a waterproof rating of over 15,000mm hydrostatic head and a breathability MVTR rating of 20,000g/m²/25hrs however much lower ratings are completely acceptable. Any non-membrane jacket must still be in very good condition with waterproof coating intact. The jacket must fit you. Plastic rain ponchos, wind jackets, water resistant jackets are NOT suitable.
This is probably the item that causes the most discussion. You should get a good one, as there is a lot of weight to be saved here. My Mont jacket weighs 450g, the Salomon Sense Flyweight is apx 120g. Race Director Tom Landon Smith has flagged that in future he wants to enforce a stricter international standard for 'waterproofness', this is not currently being enforced, but you can see from the above description that he is serious and you should pay attention to those specs, they may save your life. It must have a hood AND actually fit you. Yes, people have tried to get through check in with child sized items to save weight. Don't do it. I can confirm that the lightest jacket that ever met the spec is the Salomon Sense Flyweight Jacket at 120g. These are now discontinued and they were a limited release- I'll probably delete this reference next year as you can't buy them any more. I recommend going up to the Montane Minimus 777 which weighs 140g or the Salomon Bonatti at 190g. Why? Because the Minimus contains Pertex fabric which is much more breathable- and this will likely be the absolute minimum spec sometime in the future. I'm sure the Minimus will probably last longer too! In 2011 I used a Mont jacket (not Montane- different brand) which weighs about 450g, so you can save a lot of weight here. Kathmandu have a great option in the Zeolite jacket which is also Pertex and substantially cheaper than the Salomon and Montane, and only weighs 150g.
Just remember that some of these jackets like the Kathmandu Volans can't be worn with a pack on top as the pack rubbing will destroy the fabric and make your $400 jacket into 20c worth of plastic. If you think you might need to wear it, consider buying one that will go over the pack- although you'll probably be swimming in it!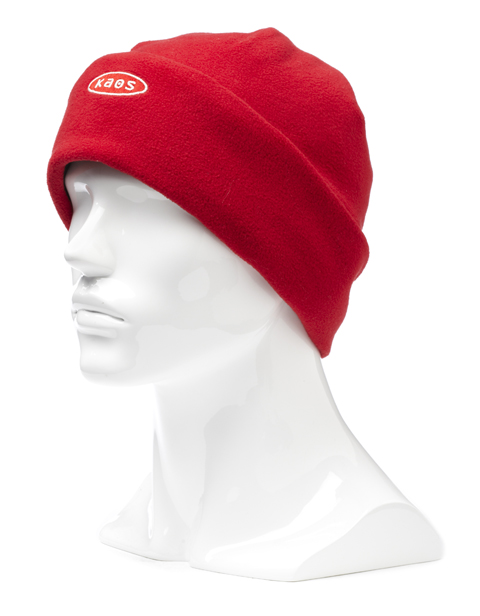 1 x beanie, balaclava or buff. Beanie, Balaclava or Head Sock (Buff)
at Trailwalker 2010 I was given a buff about the halfway point, and it was the most glorious feeling to be putting on something so warm- it has a drawstring so it can be made into a beanie, and I'm going to use that instead of the achingly expensive snow beanie pictured above. Remember you lose a lot of heat out of your head, and it's going to be bloody cold. If it's reasonably warm like 2012-14 you might get away with a light fabric buff, but in 2011 it was soooo cold- beautifully sunny but < 6 degrees centigrade. Yes, that cold.
Weight: 46g
1 x full-fingered lightweight thermal gloves (polypropylene, wool)
I have some Icebreaker gloves for this purpose, in case it gets really cold! These gloves stayed in their packet, as I have a personal preference for non sweaty hands, and covering them up makes me very sweaty. The best compromise I have found here is some old leather weightlifting gloves that have an open mesh back (cheap from eBay)- they are not full fingered so I have to carry the mandatory gloves as well. Lots of protection for your hands if you fall, but not too sweaty. Remember fairly early in the race you will be going down some stairs with nasty rusted iron hand holds. But the Icebreaker gloves are glorious, and Kathmandu have a similar design which is cheaper- I have those too and they are good.
Weight: 34g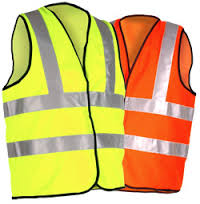 1 x High-Visibility Safety Vest that complies with Australian Standard AS/NZS 4602:1999 – D/N Class for Day and Night Time Wear. It must be made of a combination of retroreflective and fluorescent materials. This is not a running vest but a workwear vest. The vest must have either AS/NZS 4602:1999 or AS/NZS 4602:2010 or AS/NZS 4602.1:2011 as well as Class "D/N" on the tag. The vest must be clearly visible from both the front and back, even when wearing your backpack so you must have an oversized vest that covers your whole torso AND your backpack (your race number must still be visible on your front and over the top of your vest). Vests can be purchased at hardware stores, workwear stores, the UTA shop or Race Check-In. Refer to 'Suitable Vest' link for images. UTA100 runners must carry the vest at ALL times whether they need to wear it or not. The item is weather dependent for UTA50. For specific details of when you are required to wear your vest, refer to the Competitor Briefing document which is available one month prior to the event.
I borrowed one of these from my wife's work. You might have contacts who can loan you one of these, or you can buy them from Bunnings/ Masters Hardware etc. Not expensive, but make sure it meets the specs- and it needs to go OVER your pack so you can be seen from behind at night- get a large size. If you buy a running vest with reflective steps it probably won't comply- remember this item must comply with the Australian Standard…… Remember it's the reflective stripes that allow the night rating. No stripes= doesn't comply.
READ THE RULES– UTA100 runners must carry this the whole race- I had a mate penalised 2 hours because of this last year.
Weight: 155g
1 x headlamp- Test your headlamp on bush tracks at night prior to the event to make sure it provides enough light to both see the track and the course markings. Make sure batteries are new or fully charged and you have enough battery capacity / spare batteries. Note that waistlamps are not permitted as they will obscure your race number.
* My main light here is the Petzl Nao. The new version released in 2017 now outputs up to 700 lumens and has lots of options, the big bonus being it has regulated output- this means that as your batteries wear out it will keep a constant light output- your light doesn't get dimmer over time.  People who prefer the Ayups because the have a waist mounted battery can buy a waist belt for the NAO battery too, but i've never found it too heavy. And it can sense how much light is available and dim itself, saving juice.Both of my Nao batteries are programmed to last around 14 hours, which means I could run for days without running out of juice, but you may prefer to blind people instead. Nevertheless, I will be carrying a spare battery in case of emergency. The Nao will be in my drop bag at CP4 in a fast year, if you are a 16.5+ hour runner you will want to have your headlamp in your CP3 bag.
WARNING-
1. If you use these Petzl lights, be aware that they are NOT fully charged when all the lights are on- you should either use Petzl OS to check or leave them on charge for a while AFTER it looks like they are full……
2. MOST of the complaints I see about these lights can be fixed by reading the damn manual. I have literally lost count of the number of people who have told me the batteries don't last long, the battery cable hits their ear, the AA backup source isn't good, they don't know how to switch from Constant to Reactive, etc. I find myself having the same conversations with people who are happy to spend $200 on the headlamp but won't spend 30 minutes learning how to use it properly- trust me- you'll love this thing if you do!
The tiny Kathmandu torches I have carried during the day for the last few years are no longer available, so I'll carry some little torches randomly found in drawers around the house for the daytime sections
*I have spoken to the Race Director (in around 2014 or even perhaps earlier) about whether a hand held torch is ok rather than a headlamp, and he agreed it was ok. He couldn't see why you would want to use a hand held torch if a headlamp as available (me too) however it will pass. Weight: 30g  (light until CP4).
Weight: 187g (Petzl Nao with battery)
*Remember- waist lights are now specifically banned, see above.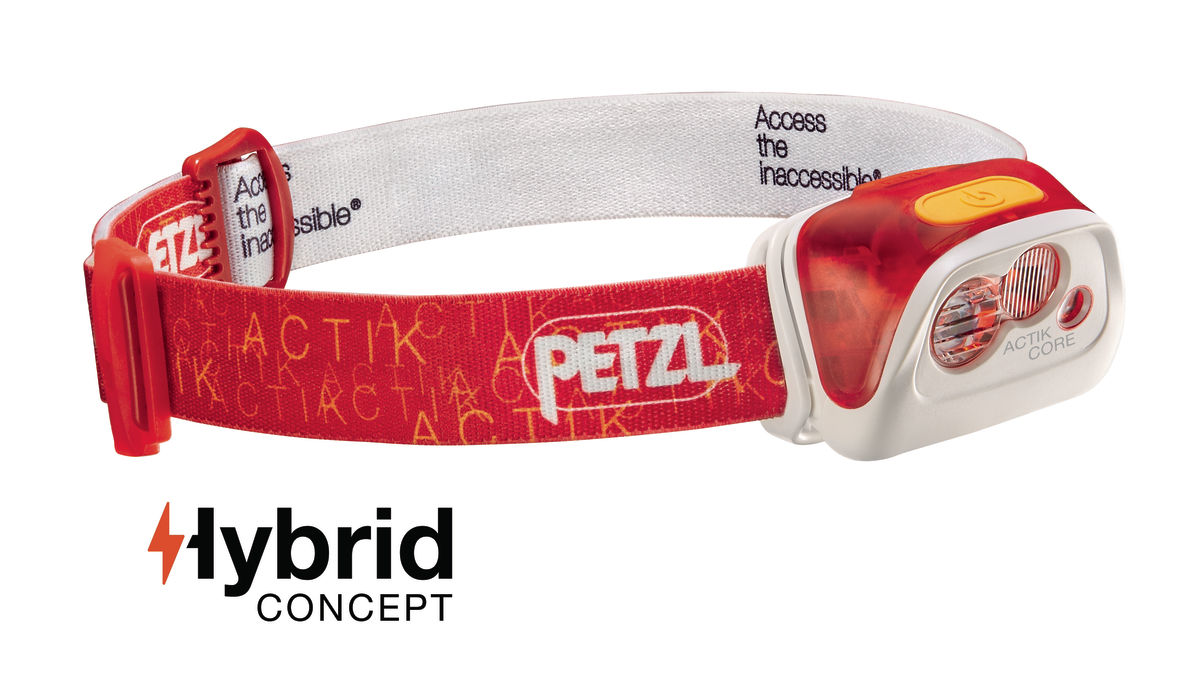 1 x small backup light- Sufficiently bright to see course markings while walking in case of headlamp failure. Petzl Tikkina is perfect.
* I will use a Petzl Actik Core for my backup light. it is perfectly ok for an event like the North Face 100 as your main light as it has 350 lumens (and a 7 hour burn time at 100 lumens), but I'm lucky that my wife works for the local distributor so these things breed like rabbits in our house. Weight: 10g (light until CP3).
Weight: 82g (Petzl Actik Core including battery)
1 x Mobile Phone in Working Order with Fully Charged Battery Mobile phone coverage over the course varies from excellent at most escarpment / cliff top locations to non-existent when in deep valleys or when directly below cliffs. Generally you can get reception on hills and ridges across the whole course especially when you have views directly to Katoomba. We strongly recommend you have a Telstra phone. If you need to buy a new phone or a pre-paid SIM card or borrow a phone, Telstra is preferable as it works on approximately 90% of the course. Optus works on approximately 50% of the course. Vodaphone works on less than 30% of the course. For specific details of phone coverage on the course, refer to the Competitor Briefing document which is available one month prior to the event.
*Yes Telstra aren't my favourite people either, but my phone is with them and the network is pretty good. I will be carrying an iPhone 7 Plus which luckily no longer needs the  Lifeproof waterproof case but I should think about some drop protection…..
Weight: 188g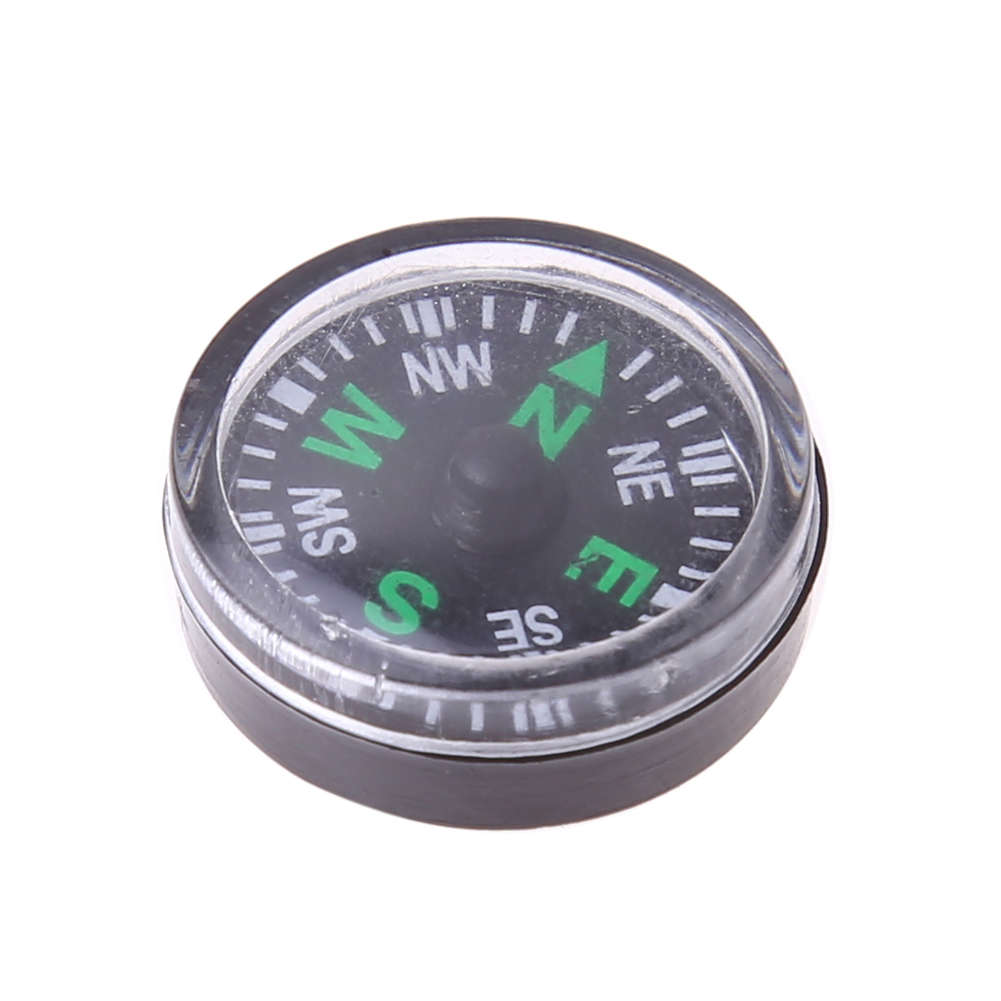 1 x Compass- Used only in the very unlikely event that you get lost. While we recommend a good quality compass such as the Silva Field 7, you can bring any compass as long as the magnetic needle will settle quickly and will point to magnetic North. A waterproof watch compass is allowed as long as you can calibrate it and know how to use it. An iPhone compass is not acceptable as it is not waterproof and the batteries may be needed for making emergency calls.
Smallest compass I have been able to find is these at 12 for < $2 , being totally honest, some of them don't point North as quickly as you might like. Buy a set, save the ones that work properly, chuck out any that don't meet the spec, give a few away.
Weight: <10g
1 x whistle
*most Salomon packs seem to have a whistle built in, so I have 3. You should either borrow one from someone who owns a Salomon pack, or buy one from a toy or sports store- Rebel Sport will have these, or order something like this which has whistle, compass and backup light all in one, or this which is locally available and has the compass and whistle…..
Weight: included with pack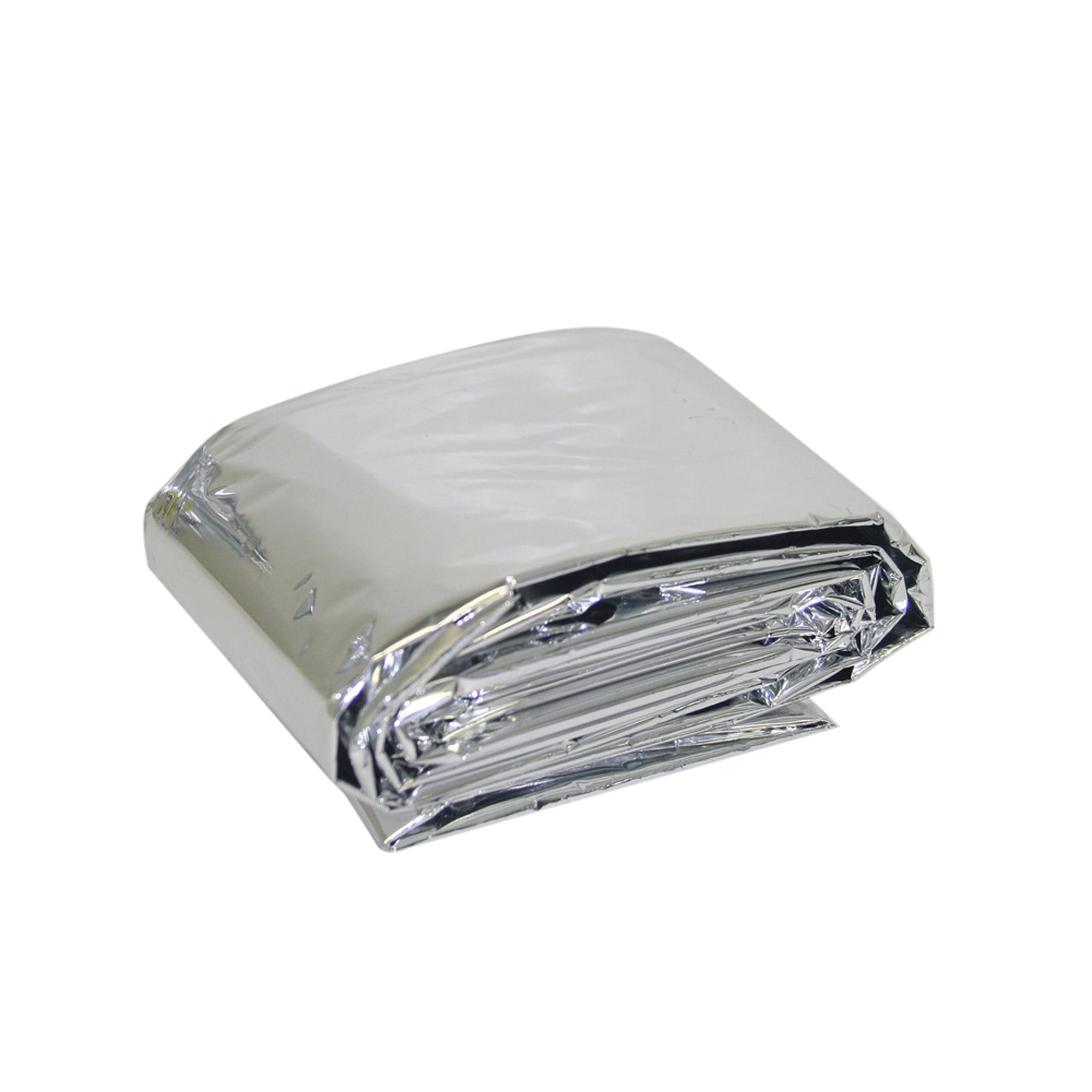 1 x emergency space blanket, light bivvy sack or equivalent
* Salomon Advanced Skin 12 v3 packs have these inside, or I bought one from Kathmandu. Hint- Khatmandu seems to always be on sale……
I also had to buy a 'Space bag' this year to meet the mandatory gear requirements for Tarawera. Yes, I do own at least one of everything……
Weight: 55g (or included with pack)
Compression Bandage (Minimum Dimensions 7.5cm Wide x 2.3m Long Unstretched) The wrapping should list 'heavy weight cotton crepe bandage' or 'heavy cotton elastic bandage' or 'heavy weight elastic support bandage'. This item is used for the treatment of sprains or snake bite. Generally the pink coloured bandages are suitable and the white bandages not. There will be compression bandages available for purchase at Race Check-In (mostly as a service for international runners). Refer to 'Suitable Bandages' link for images.
I asked, but never got to the bottom of what makes a suitable compression bandage- common sense says that it's the elastic in the bandage that will provide the compression. Supplied by my wife from our medical box, but you can buy these from Chemists. At Tarawera they require one of these that is self adhesive, so now I have one of those too… Although I haven't asked, I would suspect that in future years they will want you to have the self adhesive version as it doesn't require any fancy action to get it tight…..
Weight: 45g
1 x lightweight Dry Sack This is to keep the compulsory clothing dry (multiple NEW Ziplock plastic bags work well for compressing your clothing and being able to see the item through the plastic; useful for random gear checks). Sea to Summit Ultrasil dry sacks are also a good option (refer to the 'Ultrasil Dry Sack' link)
You don't need to buy a Dry Sack if you put everything in individual zip lock sandwich bags. I also wrote on the outside of each bag what the contents were, and found that I never had to look far for anything. This is important and could save time when you are cold and mentally shattered.
In 2017 I used a Sous Vide sealing and suction machine to individually pack each item. This worked really well- you need to label each item- and it had the added benefit of enabling you to use a smaller pack than you would otherwise, and centres the weight closer to your body
Weight: 3g each, you'll need about 10 of these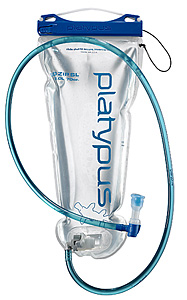 Capacity to carry 2 litres of water (water bladder or water bottles)
I no longer use a bladder for this race because I know that I can get through each section with only 1.2l of water if I drink enough at the checkpoints. I will be carrying 2x 600ml Powerade bottle and 2x 500ml Salomon soft flasks. The soft flasks will be folded up and wrapped with a rubber band, stored in an obscure pocket. That gives me 2.2l of fluid capacity and only 122g weight. Nice
*Warning- your needs will be different- figure out what you need to do so you don't run out, because that is horrible.
Weight: 122g
2 x bars / food portions. You need to start each leg with 2 food portions and can eat these during the leg.
* When you pull everything out of your pack after the event, you probably won't remember why you have 2 squished muesli bars at the bottom. These were your emergency food items. Equally important- if you get into trouble, don't forget they are there!
2014 update- this is probably the only rule loophole that isn't yet closed. You could theoretically take no extra food portions and claim you had an emergency and ate them. You most likely would not get in trouble for this, but don't be an idiot- take extra food! I often finish an ultra with enough food to take me another 50km. Ahem.
Weight: 39g (muesli bar) Weight: 33g (packet of Gu chomps)
1 x Ziploc bag for personal rubbish
*Oh no! You've just added 3g to your running weight! Don't worry, you'll sweat it out.
1 x set of maps and course descriptions (provided by organisers). At registration, you will be provided with one set of maps and course notes.  You will need to protect these from getting wet (using item below)
* provided on A3/ sometimes A4 paper, you will put these in a safe place and forget they are there. It's unlikely you will refer to the maps- the course is very clearly marked. You won't get lost- but don't forget where your maps are- there was a gear check mid race in 2012 and we had to show them to scrutineers. Weight: 62g (I weighed another competitors handout from 2010)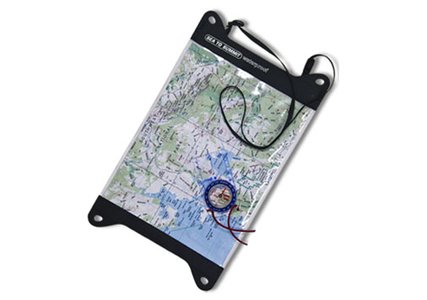 1 x waterproof map case or any other way to keep your maps protected such as map contact
*The best of these I've seen is by Sea to Summit, but it isn't quite a full A4 size. I have a Sealine one that is big and bulky. The Sea To Summit should be available from most of the camping stores around Kent St in Sydney, Weight: 128g (Sealine from 2011).
Weight: 53g (Sea to Summit 2012)
Note– as suggested by Andy Hewat, you can put your maps into an A4 sized ziplock bag. This will pass a gear check, and weighs a lot less than a map case. Honestly, you won't need to use your maps during the race.
1 x long leg waterproof pants Must be waterproof but does NOT require the same specs as the waterproof jacket, i.e. does not need taped seams, does not need to be breathable but does need to be durable.
* I bought mine from Rebel Sport for about $40,  they are Team brand. You can get some for about $20, but they were non breathable plastic and looked easy to rip, and very heavy. The Rolls Royce here is the Salomon pants pictured but they are about the same weight as the cheap Team branded ones, but will probably last longer! You may not have to carry this for the whole race, see the explanation below.
Weight: 191g
1 x 100-Weight (Minimum) Long Sleeve Synthetic Fleece Top 100-weight fleece is equivalent to 214gsm Polartec Fleece. Must not be made of wool as you will mostly need this item if it is wet and just above zero. If it were guaranteed to be dry weather for the race, a woollen fleece would actually be preferable. The fibres of a synthetic fleece will not absorb water whereas the fibres of a woollen fleece will hold water and make you feel colder and clammier. Also once a woollen fleece is wet, it will never dry out for the rest of the race. Refer to 'Sample 100 weight fleece' link for a suitable example.
 100 weight polar fleece is not very heavy. You may not have to carry this for the whole race, see the explanation below. An example of a 100 weight fleece top here, but I actually ordered this 200 weight one here because it was lighter and cheaper. Remember- if you buy a fleece top without a full length zipper it will be more difficult to get on when you are cold and tired. Get a full length zipper version.
Weight: 346g
1x Course Map & Course Descriptions PROVIDED BY ORGANISERS IN YOUR RACE PACK. You must protect these from getting wet using your waterproof map case. The course map is A3 and in colour (double-sided for UTA100, single-sided for UTA50)
No extra info needed for this- make sure it is in a waterproof package and chuck it in your pack- you won't need it EXCEPT if you're asked for it as part of a gear check, so know where it is. Yes this has happened. More than once.
1 x A5 Participant Emergency Instructions card on waterproof paper PROVIDED BY ORGANISERS IN YOUR RACE PACK. The card is A5 on waterproof paper
self explanatory. Don't need to memorise it, just know where it is if you get in trouble. Weight: 6g (pretty sure this info is on the back of your race number, so I weighed one from another race). Yes that probably makes me a bit nuts.
1 x full box of waterproof & windproof safety matches AVAILABLE FOR COLLECTION AT RACE CHECK-IN. 
1 x firelighter block for emergency use only (Jiffy Firelighter provided by organisers).  You will need to provide your own zip lock bag or container.
*pretty self explanatory- there will be a table at check-in with these items on it. Grab a small amount and stash them in a zip lock sandwich bag that you have brought along. You'll need a couple of extras for this and following items. Weight: no idea, say 30g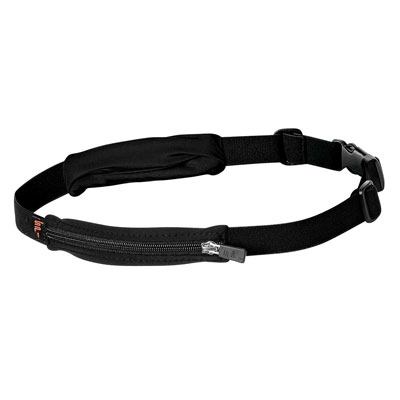 1 x Race Number PROVIDED BY ORGANISERS IN YOUR RACE PACK. Must be worn on your front, over your belly or chest and be visible at all times over the top of your outermost layer of clothing such as waterproof jacket, high-visibility vest or other garment (safety pins are also provided in your race pack). The race number must NOT be worn on your pants or leg. The race number has a single disposable timing tag already stuck to it's rear side. Do not fold, bend, cut or pierce the race number as you may damage the timing tag. It must be worn as is, unfolded. A recommended method of securing your race number is to use a race belt which allows you to easily have your number visible over the top of your outermost item of clothing. You will need to provide your own race belt if you choose to do this.
*remember if you aren't near the front of the pack you will most likely experience a few weather changes during your event, and you'll probably want to change clothes. If the extra fleece and waterproof pants are declared mandatory during he race you could be changing both your bottom and top clothing, meaning that the best way of having your race number visible at all times is to have it on a race belt or a SPI-Belt. Don't buy the Spi-Belt with the little things to hold gels on the side. These will wobble themselves out and you'll not only run out of food, you could be disqualified for littering. Seriously, these are a dumb idea, but you can keep salt tabs or a gel or two inside the Spi-Belt pockets.
Weight: 60g (SpiBelt with 2 pockets)
1x Timing Tag for Backpack (Bag Tag) PROVIDED BY ORGANISERS IN YOUR RACE PACK. This is a disposable timing tag which needs to be secured to the back of your running backpack (a cable tie is also provided in your race pack). Due to the bag tag, it is preferable not to swap backpacks during the event but if you plan to do so you will need to have your own side-cutters or scissors to cut the bag tag cable tie off the first backpack and your own spare cable tie / zip tie to attach the bag tag to your second backpack. Refer to 'How to attach your bag timing tag' for images.
Here is the explanation of these items- the waterproof pants and the fleece taken directly from the mandatory gear list here–
You will only be required to carry the waterproof pants if weather conditions are wet. A decision on whether you need to carry the pants from the start or if they need to be left with your support crew or placed into a specified drop bag for use during the event will be made at 4pm the day before the race and publicised at the 4:30pm Friday Race Check-In, at the Race Briefing and via the event app and event Facebook Page
There will be two different scenarios, based upon the weather, for what you will need to do with your 100-weight long sleeve synthetic fleece top. A decision on whether you need to follow Scenario 1 or Scenario 2 will be made at 4pm the day before the race and publicised at the 4:30pm Friday Race Check-In, at the Race Briefing and via the event app and event Facebook Page
SCENARIO 1. The fleece top may be compulsory from the start if weather conditions are expected to be bad.
SCENARIO 2. If not made compulsory from the start, the fleece top will be compulsory to carry from CP4 from 4:30pm and compulsory to carry from CP5 from 7:30pm. Depending on your speed, you will need to have your fleece available at either CP4 or CP5. Please read the following recommendations and decide which option will guarantee you have the fleece top in the right location for when it becomes compulsory:
a) You will definitely be departing CP4 well before 4:30pm so you should put your fleece into your CP5 drop bag. Note that 75% of runners who made it through CP4 in the 2016 event departed CP4 before 4:30pm.
b) You will definitely be departing CP4 after 4:30pm so you should put your fleece into your CP4 drop bag.
c) You will be departing CP4 around 4:30pm or are not actually sure what time you will departing CP4; either put the items into your CP4 drop bag and carry them from CP4 regardless of the time OR have two fleeces with one in your CP4 drop bag and one in your CP5 drop bag. If you have a support crew, it will be easier for you as they can have your fleece available at CP4 and at CP5
Other things to remember- If there is any discrepancy between my explanations and the official line, the officials win. No arguments.
There will be at least one random gear check- usually two. Don't try to skimp on any of the mandatory gear, it could ruin your race if you have to wait for a crew member to drive one to you- which is the best case scenario.
All of the outdoor shops seem to be on sale right now (Kathmandu permanently!) and I saw some of the mandatory gear at great prices where they all cluster around Kent St Sydney.
Recommended items via UTA website:
Vaseline, Body Glide or other body lubricant
Sunscreen
Cap or sun hat
Spare socks
Spare headlight batteries
Additional warmer clothing at supported checkpoints
A spare headlamp in case your main light stops working.
More substantial first aid kit (sterile dressings, roll of strapping tape, blister care such as blister block patches, Compeed or Fixamol, antiseptic wipes, painkillers, and any relevant personal medications).
External battery charger for your phone
Going to the Toilet on the Course
An issue of great concern is toilet paper and human faeces being left visibly on the track. There are toilets at Scenic World, the start at Queen Victoria Hospital and one toilet at the emergency aid station. If you have tricky bowels we suggest you buy a Go Anywhere Toilet Kit ("Wag Bag") from an outdoor retailer. We encourage you to purchase one of these kits as we simply cannot have people leaving faeces and toilet paper in this pristine environment. Remember Leave No Trace!
The Go Anywhere Toilet Kit is a portable, waste collection system that turns solid and liquid waste into a hygienic, odourless, biodegradable substance. The waste collection bags are pre-loaded with non-toxic Poo Powder which treats up to 900g of liquid and solid waste allowing for multiple uses. The Poo Powder contains a decay catalyst that controls odours and breaks down solid waste into a spill proof, bin friendly substance.
After using the kit, carry it with you to the next checkpoint where there will be a waste bin for disposal.
GPS Trackers
For the purposes of live tracking of the top runners, the expected top 15 male and top 10 female runners in the field will be asked to carry a GPS tracking unit. The GPS unit is slightly bigger than matchbox and weighs 72 grams. The units will be handed out at the race start line.
I'll do another post soon about the non mandatory items you should consider……….