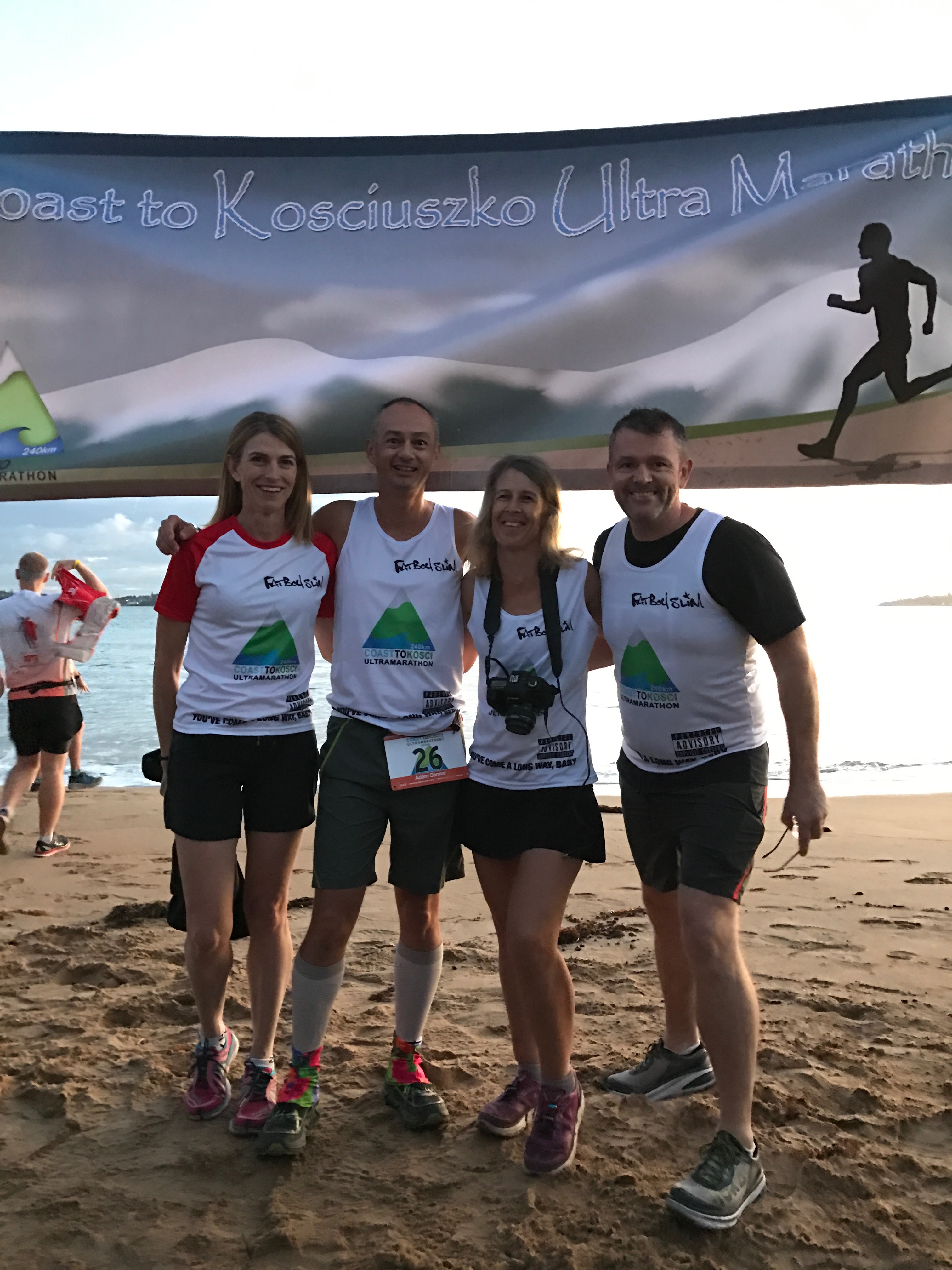 C2K weekend is basically a hippie love fest for self flagellators and their mates.
There, I've said it. Now that I've said it, I'll also state that I never want to be anywhere else on that weekend in December.
This story started in September last year when I found out I had missed out on a spot in the race. It was a harsh but fair decision and I decided to redouble my efforts to get into the race. Luckily five of my other friends from NRG had earned a spot but unluckily only three of them made to the start line- but all three did exceptionally well and the bug was working it's way round in the minds of other NRG'ers!
This year when the invitations came around another five NRG'ers were picked and luckily I was one of them. The bad part was there was suddenly scramble for crew members. But my secret weapon was Piera Kohout who had been asking me for race dates since before the race date was even announced. I also managed to get on board Tanya Carroll who is very calm, a great organiser and a great runner. The final member of the team was Tex Whitney who is a mate from a long time back, and I knew he would fit in with no problems. All three of them are very well organised, experts in their field, calm under pressure and exactly what I needed in team.
As none of my crew had crewed before for this race, I tried to make sets of instruction so that everything would be easy for them. In fact I probably make things more complicated than they need to be, and didn't spend enough time training them on the use of all the bits and pieces. Apparently I sent them into meltdown when I asked for an espresso- I'd provided a machine that works in the car but the instructions aren't all that clear……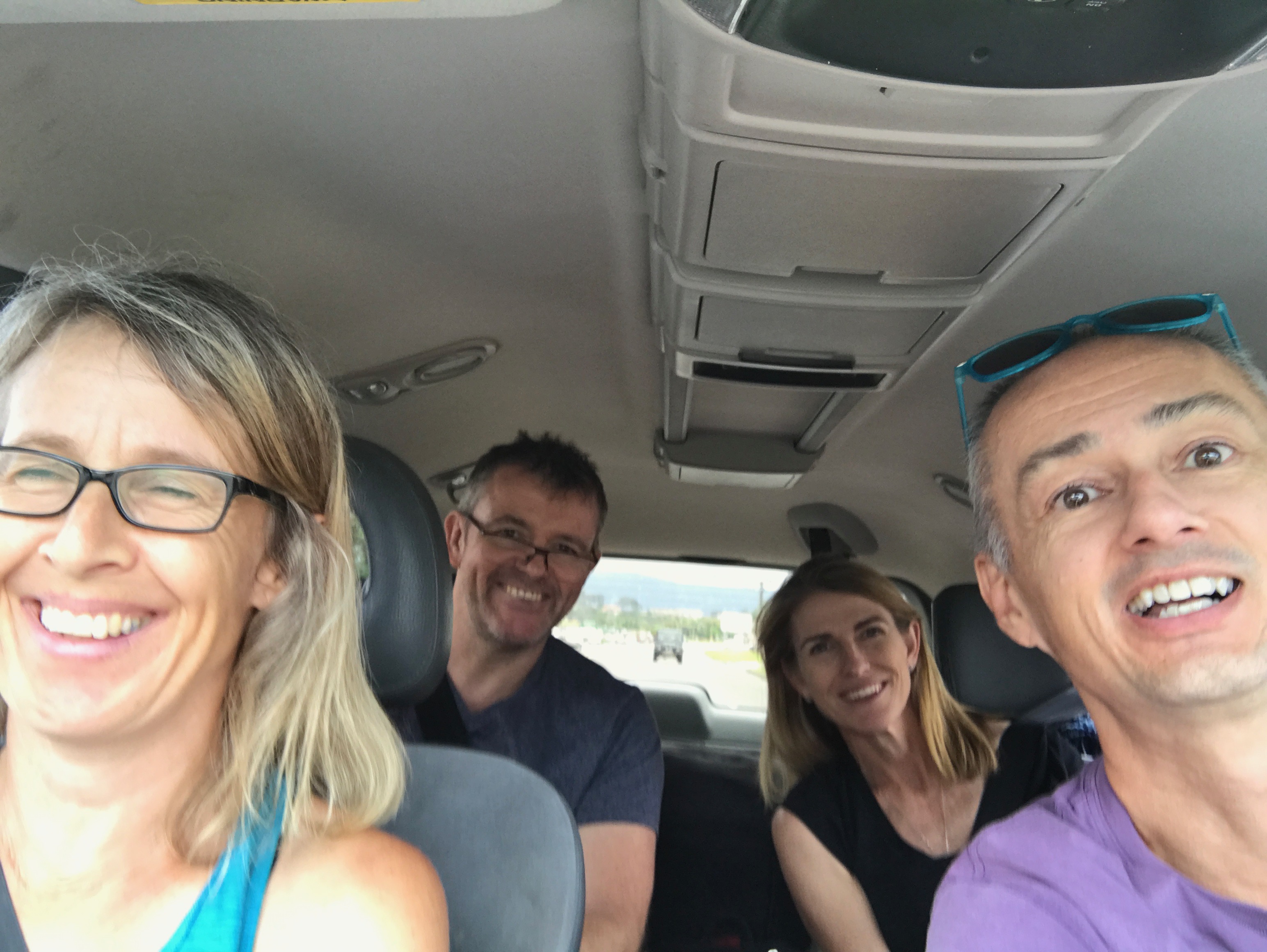 The trip down was uneventful and quite fun through Berry and had some fresh doughnuts. Dinner with Jane Trumper and Hailey Maxwell and their respective crews was fun, although sitting in a pub and drinking soda water was an experience I could probably improve upon.
Thursday we started packing the car and organising things and suddenly it was time to mark the course for Cossie To Coast, the 7km fun run for the teams. Went down for a nap and asked to be woken up at 4:30pm for a 4:45pm race start, but didn't realise until we got there that about 60-70 runners had assembled. True to form there were some appalling costumes, but since you can't have fashion without victims I will state for the record that Lucy Bartholemew looks better in that dress, sorry George…..
After some stern words about running over Billy Pearce's C2K race markings I sent them off in a colourful and chaotic cloud of dust.
But you came here for a different race, didn't you? OK after the crew race we went to the Eden Fishermans Club where the pre race event was held upstairs for the first time- I think this worked really well because we didn't wait too long to get fed and the food didn't appear to run out before being replenished! Well done to the organisers, I'm not sure why a move from downstairs to upstairs made a difference but it did appear to work.
Home to our cabin for an early night but of course I couldn't sleep. And then I dreamed about not sleeping- to the point that at 4:15am when my alarm went off I was actually dreaming about being on a bus and late to the race. At least I knew I had been asleep because I vividly remember the dream, but I didn't feel rested. We headed down to Boydtown Beach, Got our prerace photos and at 5:30 AM after a quiet countdown by race director Paul Every we were off.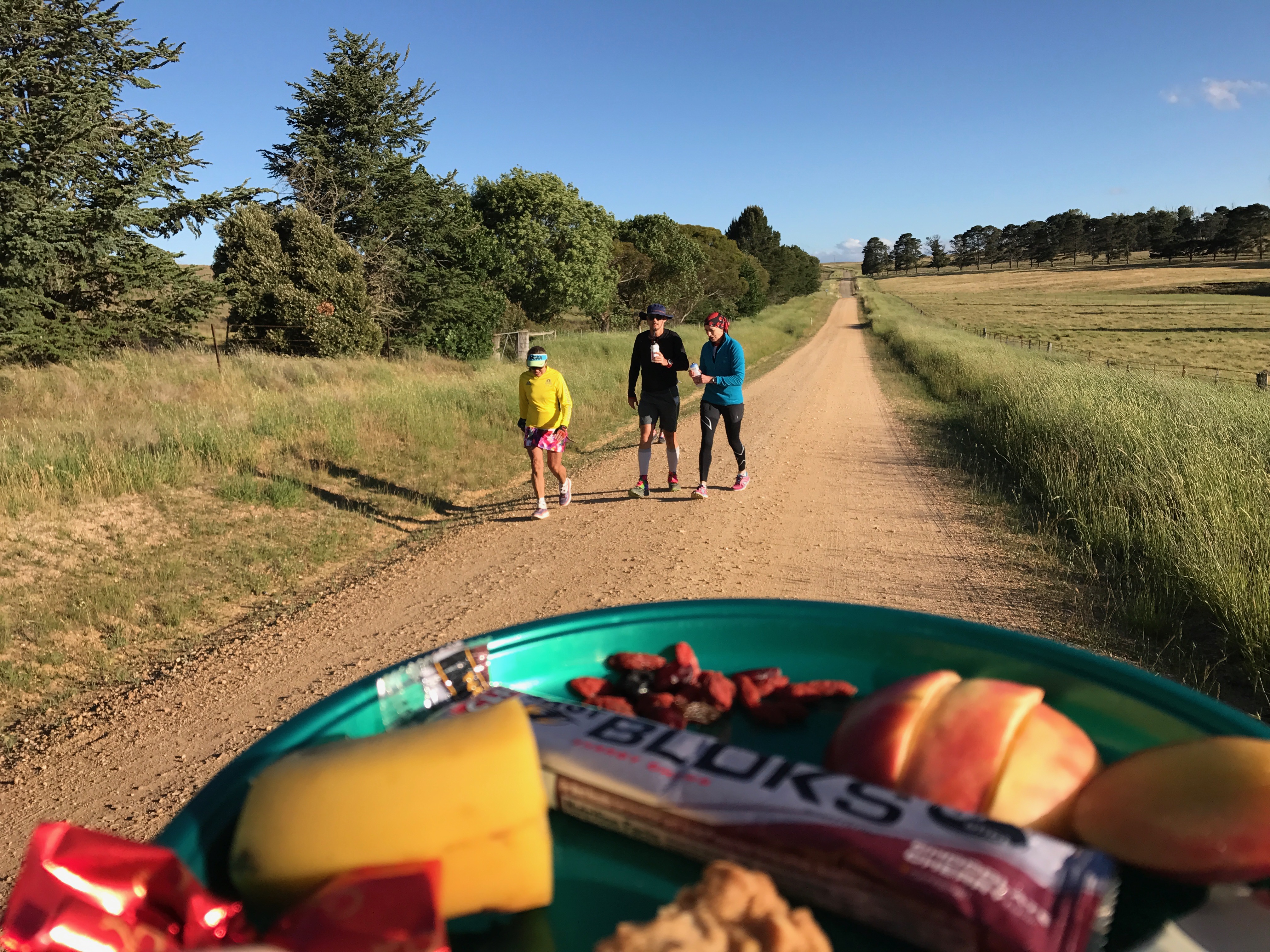 My planning 2014 have been very simple. I knew that if I ran the first 100 km in under 14 hours, that I could walk the rest of the race without being too close to the cut-offs. This time I had a very sternly worded email from my coach (that included a few swear words so I knew he was serious) that said 'don't allow yourself to think that you can simply walk from the 100km mark' Great advice. The new plan was to do the first 100km in about 14 hours and push on a bit harder during the night where is there are some very boring bits. But I had kind of forgotten about the death march up from Thredbo River…..

And that's the way we did it. A very easy first 100 km came up in 13 hours and 50 minutes- just about perfect. I was very pleased about the way we pushed on during the night time sections where I would typically have walked. And we made it to Dalgety (148km) in good time in good condition. Whilst I wasn't overall any faster in this first 100 miles (to the bottom of Beloka Range), my body had held up much better than in 2014. I did getting very tired towards the end of the night I'm told my crew that I wanted 30 minutes rest in the car before it got light. They weren't happy about this but I jumped in the car, had a short rest, and got up again feeling great in only 15 minutes. I had agreed to have some noodles going up Beloka range which was a mistake in the first place however what made it even worse was the water the noodles were made with was merely warm and not hot. Poor Tanya had to deal with me saying 'this is possibly the worst most disgusting thing I had ever in my life'. But we got a laugh out of it and perhaps some poor hungry piece of wildlife has a better opinion of half crunchy noodles than I do. At the top of Beloka there is only about 17km into Jindabyne but it does seem to take forever, we went from brisk early-morning sunlight to full on daytime while still approaching Jindabyne.
Jane always says the race starts at Jindabyne. We got refreshed, had a couple of coffees and set off for Thredbo River. I had refused the offer of deodorant from my crew- which was a bad mistake I was to later learn. Probably a bad mistake for them to accept my refusal! Through the river I had a little mental collapse, I was just unprepared for the next 10 hours of climbing, however I decided to break it up into smaller chunks and that did make it mentally manageable. 5 km to the park entrance, 20 km to perisher, 9 km (ish) from there to Charlotte pass.
Not much to say about this except it became grim and grimmer during the day- and we really needed our fly nets. Tex stayed with me for a good part of this and we manage to communicate communicate via grunts for hours on end. We had a few bright moments when Rebecca, Gavin, Jess, and the Tailwind bus came past and decided to try to cheer it up. It didn't really work but there were a few moments of hilarity in amongst the terrible grind. Of course Rogers team getting past meant that Roger got past as well, luckily by that point his brain was only going about five times the speed of mine because I didn't have the strength to murder him for his terrible jokes.
It was fantastic to finally get to Perisher, Because from there it is only around 10 km to Charlotte pass. Unfortunately around here I lost any ability I had to run and it must have been pretty horrible watching me grind out those last few kilometres. I think I still have a lot to learn about keeping up the pressure later on in these long races. Poor Piera and Tanya had the job of keeping me company in these sections and it must have been horrible. Piera was entertaining and trying to get me moving faster, Tanya was quietly encouraging. I'm not sure either method worked because I was being a stubborn old man but thank goodness they were there to stave off the mental buzzards that were circling above.
At Charlotte pass my crew sat me down for 5 minutes, got me changed had mandatory gear ready and went about things like Formula One pitstop. It was fantastic to watch. Joe Hedges spotted me sitting down and blew through like a man on a mission. He been in all sorts of trouble overnight and was now looking like coming good. I knew he would, but there also went my chance of not being the last NRG person….
We left Charlotte pass at exactly 7 PM. We slipped down from an approximately 39 hour finish to around a 40 hour finish. And then it all went Pete Tong. Only a couple of hundred metres from Charlotte pass I found that I couldn't lift my left leg any more. We had to send somebody back to get my poles because I hadn't thought I would need them. When I got them all I could do was rest on the polls and use my hips to swing my left leg forward. I was going as fast as I could but kept on looking down my watch and seeing 24 to 26 minutes per kilometre. I can see my crew in front having quiet conversations with each other urgently discussing what to do. I have to admit I'm not very flexible and some of these situations every time they came up to me and said 'you'll have to go faster if you want to finish' I'd reply 'you just want me to go faster so you can be off the mountain quicker'
Sometimes I'm not one of the worlds fastest brains hey…..
At one point I was only travelling at 1.2km/h and it was starting to look like becoming a very long night. I never thought I wouldn't make it, but later calculations showed just how close we were.
Piera had decided I needed drugs, but in the rush to make sure we had all of the mandatory gear, nobody had thought to pack any. So they were desperately asking other runners coming off the mountain if they had any. Wayne 'Blue Dog' Gregory once again became my saviour when he admitted he had Panadol Osteo. I think Piera may have ripped them out of his hands while demanding I take 2 immediately. Now I don't typically take headache tablets or anti inflams etc. so I didn't really expect these to do much. I stand (walk) corrected- Tex says that within 7 minutes I was walking better and within 20 minutes had almost regained full motion. It's a miracle!
So we pushed on to the summit and met a few more runners on the way. It was like Pitt St trying to get across the ice and line up to take our summit shots.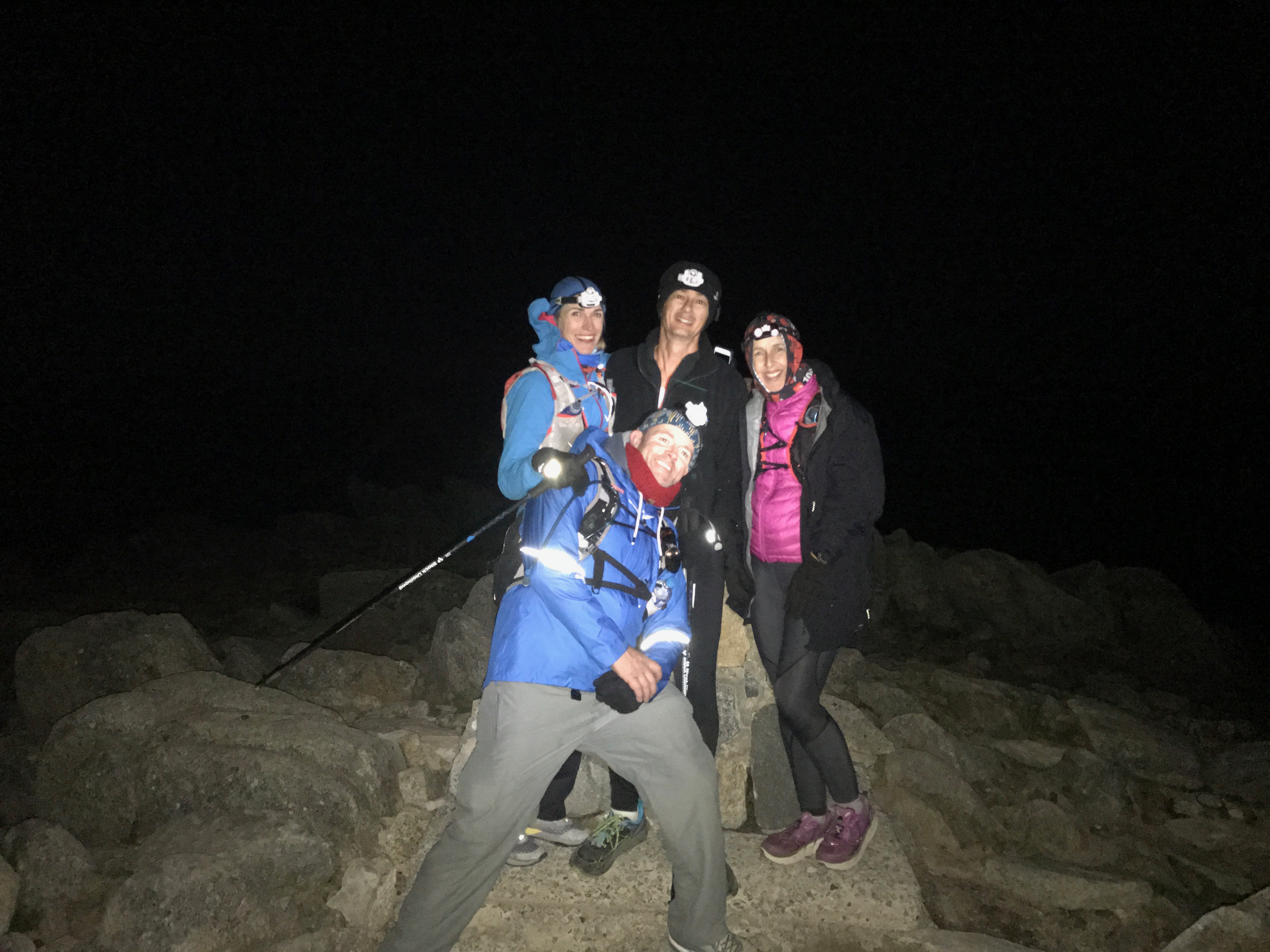 on the way down I actually handed my poles to Tanya and could almost run! We had summited at exactly 11pm, meaning it had taken us 4 hours to ascend. If it had taken 4 hours to get back to Charlotte Pass we would have finished at 1am, only 30 minutes before the cutoff. While I NEVER thought I would not finish, doing those sums on the way down was very sobering. The injury had come out of the blue, but it was real- it took a few days before I was able to fully engage my hip flexor again.
Garth Mcinerny suggested that I may have caused it by engaging my glutes up the big hill and some weakness pushed my toes out to the side causing the flexor issue (I think). This does make sense because in some video you can see my left toes flick out- I'll have to watch that in future.
On the way up I was having some minor hallucinations- the ice underfoot was moving (interesting rather than dangerous) but on the way down those carefully constructed walls in my psyche were crumbling down at an increasing rate. I had issued a number of crew commandments in my guide, one of them being 'don't lie to me about time or distance- if it's 5km of 50km, just give it to me straight'.
But we had one person join us for the final ascent who hadn't read the notes! I was very grateful that John had come along but I'd been trying to hold in my lingering madness and despair. Unfortunately after about 50 'nearly there' 'not much longer' and 'not far now' some of them escaped and I whimpered 'I NEED to be asleep. I can no longer be conscious' and in the last 4km the trees started to turn into faces etc. The bonus being some quite interesting art installations that apparently were put there specifically for me. Anyway, the worst was when we got to the finish line- I turned my headlamp off so Tex could get nicer finish shot, and of course the lack of light suddenly meant that my mind could make up whatever the fuck it liked, and so it did.
There was a bit of Keystone Cops with 'Adam, the finish line is over here' then me heading off in the opposite direction, I thought we had it all worked out when I did finally spot the finish line, but of course I then had to try to climb over the invisible barriers. Someone on the finish line very helpfully showed me that they weren't there and I shuffled across the finish line at 1:08am Sunday, 2 days after starting. Four hours up the mountain, 2:08 down. A quick hug from Paul and Diane (yes those hugs make it all worthwhile!) and we made the long drive down the mountain to a well deserved sleep.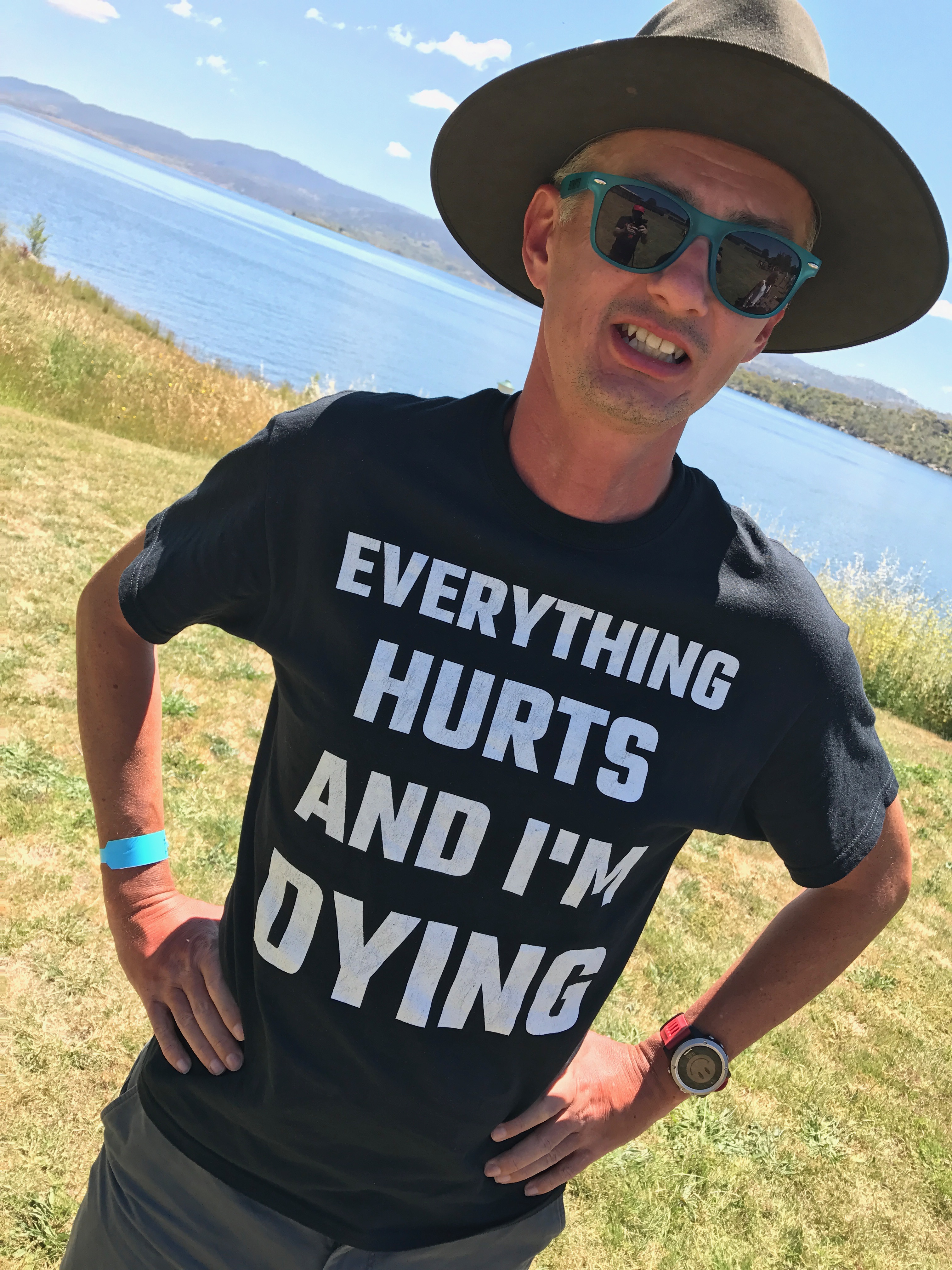 I need to point this out- Was never in danger from the hallucinations, the bad ones were merely a product of me turning off my light and I had a team of people around me to prevent problems. I'm relating the story because it is funny, not dangerous.
The next morning was filled with people telling me how terrible I looked and how worried they were that I wasn't going to make it- just as well I didn't have them as crew!
Anything I can say about my team will be inadequate but I will try anyway- they dealt with every situation with grace and equanimity. I basically promised them a sub 40 hour finish and when it all went to poo, they went above and beyond in trying to keep me moving. I suspect Piera probably suffered from my bloody mindedness the most. She obviously took my health very seriously and I knew that if I did as she said I would be ok. But she also tried to make me go faster when my lizard brain was saying no, and no matter what logical explanations I had for slacking off she's probably seen it so many times in her job- I should have tried a little harder!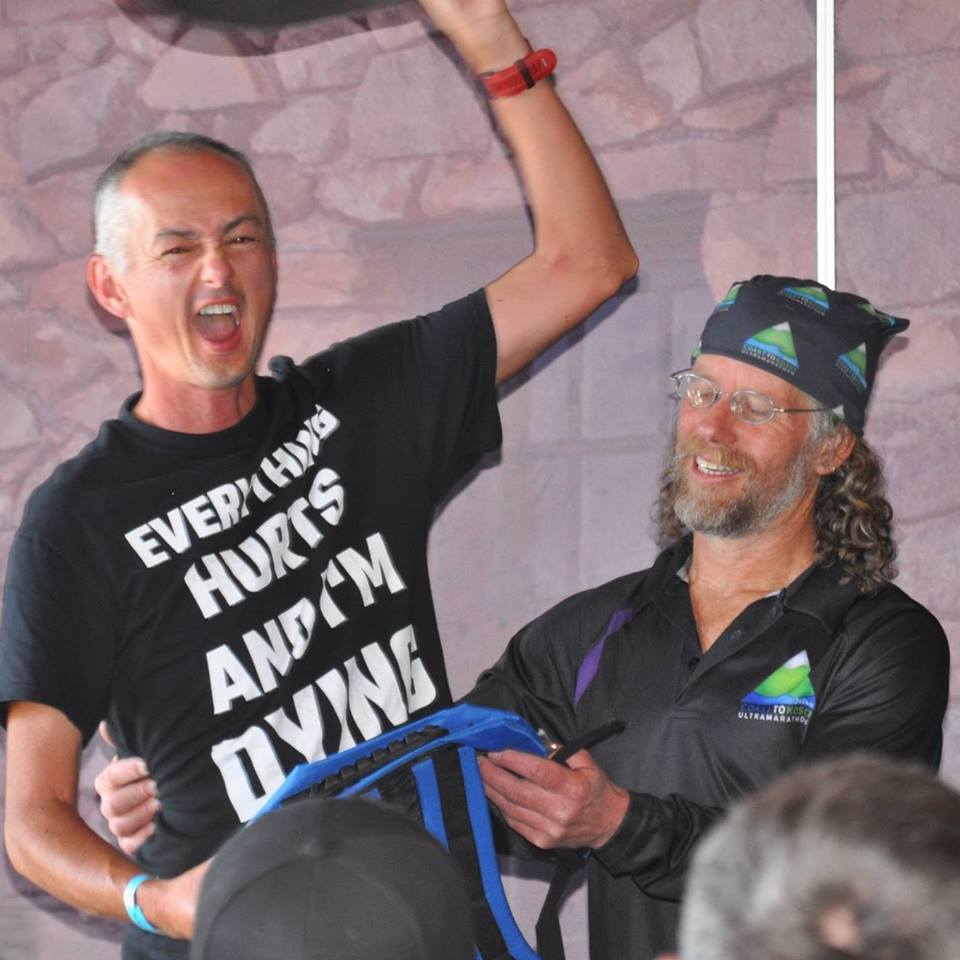 I finished in about the right place- if I had pushed a little more, not had a hip flexor issue or any number of other excuses I could have finished with Damon, Jane, Roger, Matt, Joe or others. As it happened, I needed to suck up my pride, admit that sub 40 was just a dream, and get it done. I'm proud to have done that but I'd be absolutely nowhere without that crew- you were wonderfull and I thank you!
Here is my splits, I'll try to update when I track down my 2014 times-
| | | | | | | | | | | | | |
| --- | --- | --- | --- | --- | --- | --- | --- | --- | --- | --- | --- | --- |
| 40 | Adam | Connor | M | NSW | Finished | 06:37:00 | 09:20:00 | 14:53:00 | 21:45:00 | 29:00:00 | 35:08:00 | 43:38:28 |
Could I do it better? Yes absolutely. Getting a bit of mongrel back in those later stages, not making so many rookie mistakes and I think I could take a few HOURS off that time of 43:38. I just need to get permission from my wife…….
Photo Credits- Thank you so much to Tex Whitney, Billy Bridle and Rebekah Markey for the pics!