Coast to Kosci 2016 – Adam Kavanagh
How did it come to this?
With GNW just a fresh memory, the application week for C2K had suddenly crept up on me. I knew we couldn't afford for me to apply and I knew that Kat wouldn't be happy with me applying. However, I am useless when it comes to peer pressure. With the voices of Lisa, Adrian and Geoff ringing in my ears "It would be a shame to waste the fitness…" I applied at the 11th hour, thinking there would be no way that I would get accepted on my first entry.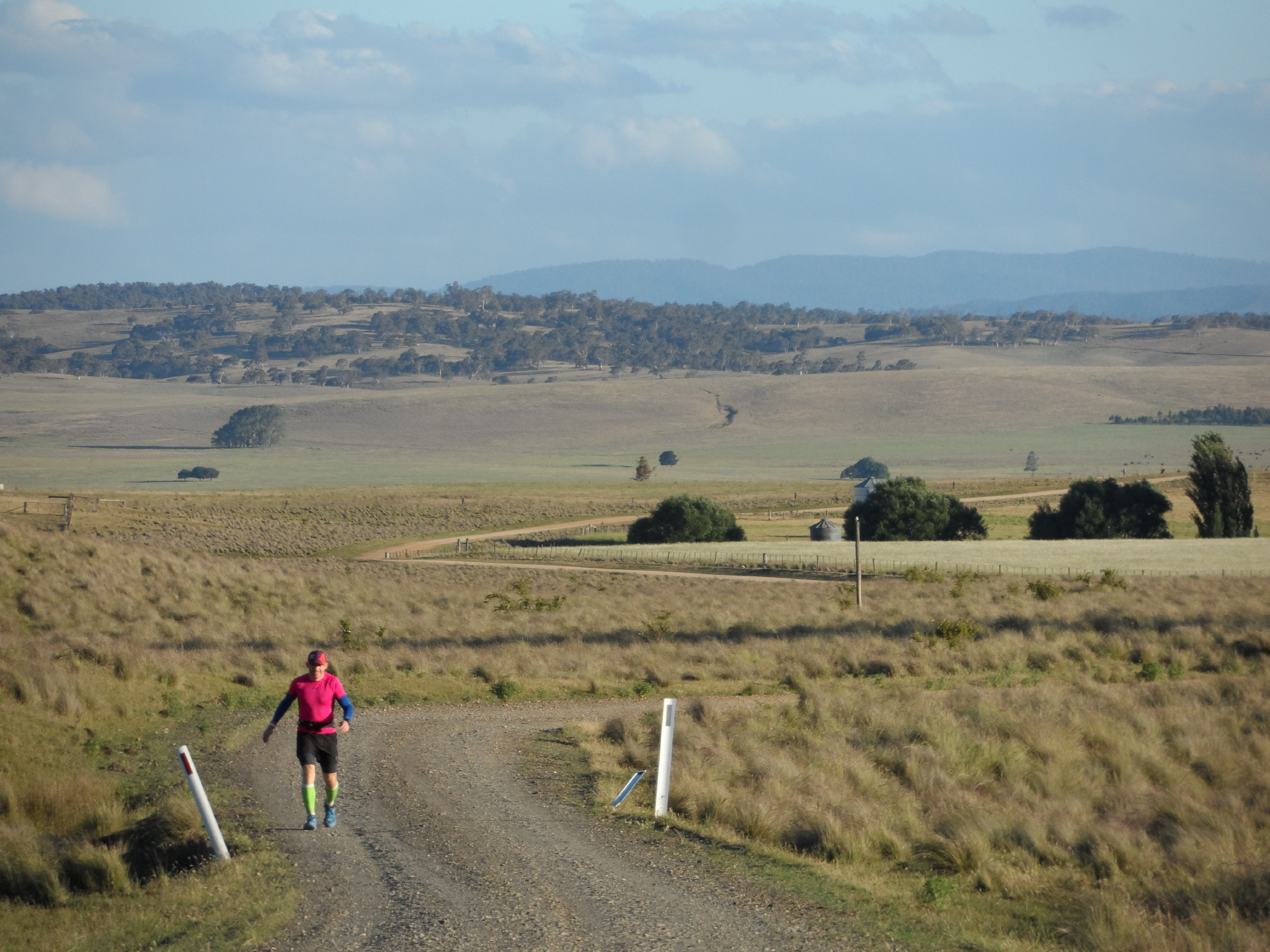 So on the 2nd of October, when the email came in at Broke saying you have been accepted – I was a little bit surprised and terrified, especially as I was nursing a bad lower back that had crept up on me after PT on the 30th September.
Training
Well, that is an interesting concept, isn't it? My lower back was causing me issues sleeping, walking, sitting, and all things in between, so training went right out of the window.
I remember some interesting motivational phone calls from Liz and Adrian telling me what I should be doing. I told them I was doing everything I could based on what the physio was telling me – but more importantly what my back was saying, too.
I know it wasn't enough. I know I should have done more. Which are two reasons that made me keep putting one foot in front of the other. However, I had done substantially more Km each week in the lead to C2K than I had done in the lead up to GNW, so I know I was in a better state because of that. I know that I wasn't helped when 2 weeks before the run I stood on broken glass and badly bruised my heel – not the best prep', there, either!
Race Week
I don't think I slept properly for the week before the run. Everything had been thrown into disarray by Adrian not being able to crew for me at the last minute. Fortunately for me (not him) Dave was in the right place at the right time and he agreed to help me out.
I think I had an easier time of things on Thursday morning than Lisa did sorting her car out. We could have taken the jeep but we would have been nowhere near as comfortable! I was pretty quiet on the way down to Eden. It was a long way, and I certainly got a bit overawed by roads and views once we got south of Canberra.
The pre-race dinner was great, but I was definitely feeling out of my depth with the talent of the other runners that were there that evening. And the support crews. I felt bad that I hadn't organised fancy crew shirts. I had barely organised anything – it had all been done on the back of a fag packet by text. My crew weren't even sure if I'd be running until 2 weeks before! (Nor was I to be fair.)
Race Day
And so the day arrived. Friday 9 December, and we were watching the sun come up on twofold bay. I felt completely out of my depth as everyone seemed so calm and in control, and everyone seemed to be here on their second or third run – I felt like the only newbie.
I thoroughly enjoyed the pictures and the understated atmosphere at the start. I tried to touch the water but there was no way I was getting saltwater on my trainers and wet feet at the start of the run. The fact that we were all going to be going from sea level all the way to the summit of Kosciusko didn't even enter my head – the numbers were just far too big to comprehend.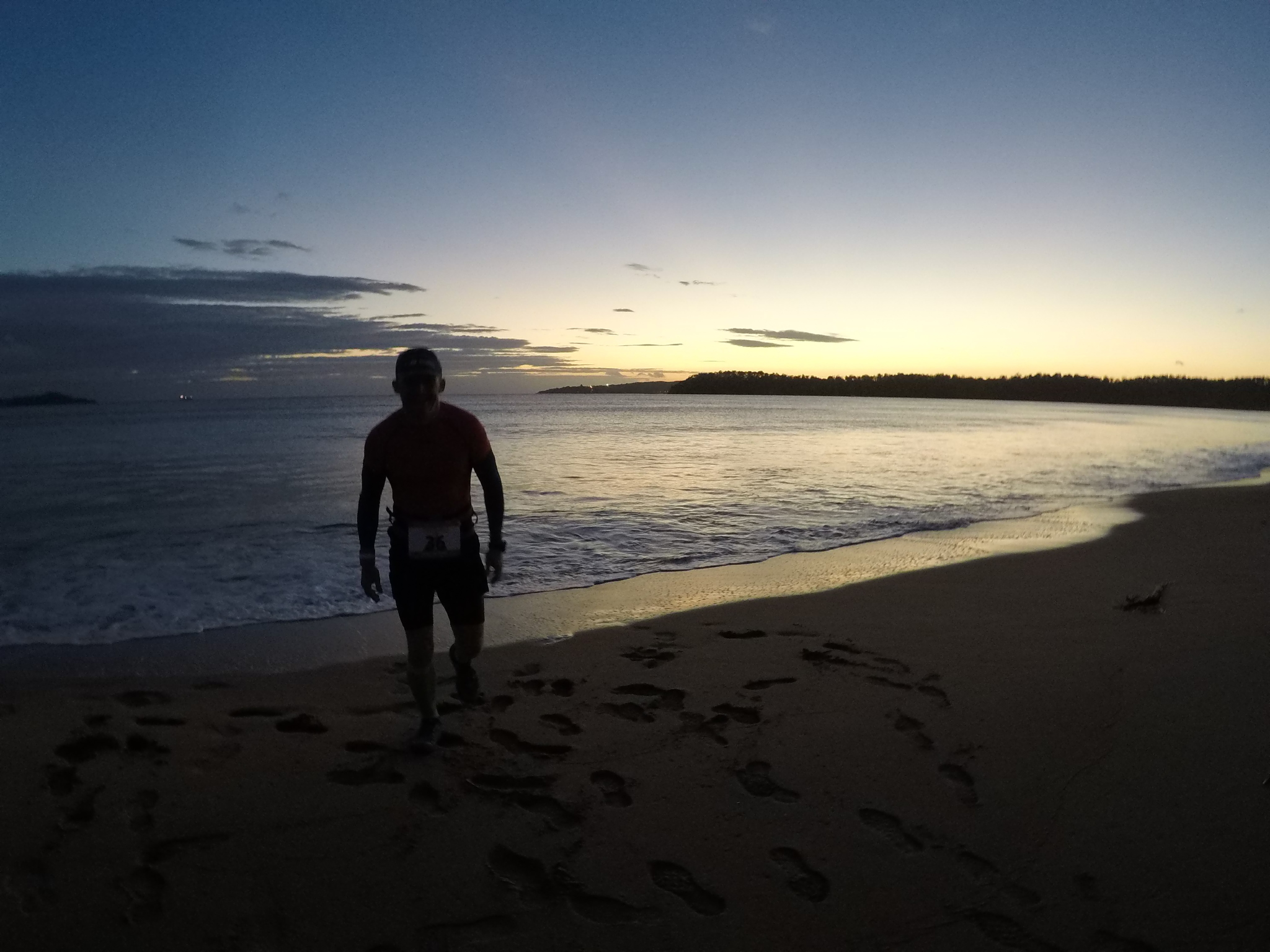 All too soon and yet at the same time not soon enough, we were off, through the crowds of cheering crew and onto the firetrail up the hill. I have to wonder if the crews knew exactly what they were in for when they were cheering away at that stage? I don't think they had any easier time of it than we runners did, with the lack of sleep and food!
I fell in with a group of people pretty early on in the first 24km: Adam Connor, Jane Trumper, Roger Hanney, Pater Caligourili. I had run with Adam before at the inaugural southern highland challenge, and I knew Roger from Hoka. Jane I knew because she had pushed in front of me twice at dinner the night before 😉 Peter was also a newbie with me although I do remember his comment – 'you can virtually coast from GNW to this on your fitness' I certainly didn't believe him, but it made me feel better and slightly less nervous! Roger and Adam surpassed themselves with some seriously un-PC chat which made me laugh a lot. I stayed very silent though – these guys knew each other and I was the newcomer!
We passed Rolland Hassel, and Hailey Maxwell, and then they passed us and that seemed to be the way the morning was panning out, a bit of chat and meeting some new cool people. Jan went passed us on the uphill somewhere and then we caught him back up. Towards the end of the first 24km, we all started to thin out and spread out. Peter and I got into CP1 together – but his crew were nowhere to be seen so he went to the station and I got looked after by the crew. The first of MANY times they would be helping me out.
Everything was going nicely to plan – albeit with only having completed 10% of the race! Although the runners had spread out, it was only by 1-2Km, with several people in that space. It became a really nice feature of the race that I got to see the same crew members time and time again. Rolland Hassel's crew were great, David (Peter's crew) was really great as well and he always made sure to say hello and offer a word on the way past – for the whole race. I think a special mention has to go to Roger Hanney's crew in the Tailwind bus. They were consistently positive and friendly and I saw them loads over the first 30 hours of the race. I didn't see too much of Jane's crew until later in the day when I called SJ Lisa because she looked like her from a distance and I thought I was expecting to see them around the next corner!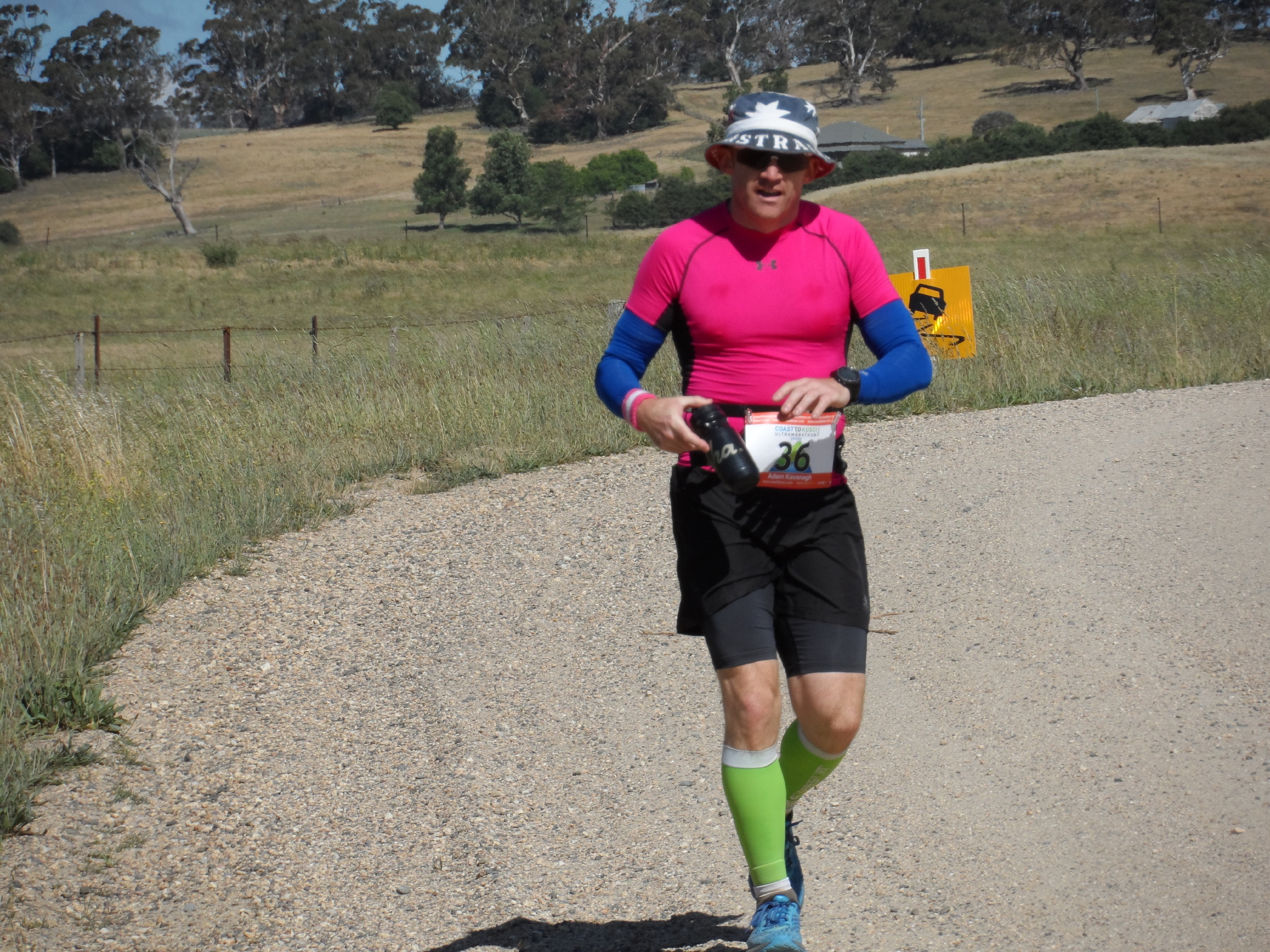 As the day progressed, so did the wind increase – seemingly exponentially. I know that my crew were worried about the fact that I wasn't running with anybody, but I had seen and chatted to people. It also gave me a way to save energy and just focus on the job in hand. It was quite funny how you could pick the vibe from someone as to whether or not they wanted to chat almost 10m before you got to them, or them to you, too!
One of the moments early in the day had me jumping about 6 foot and moving quicker than I did all weekend. About 8 foot in front of me just baking on the track was a red bellied black snake that was about 2m long. He was just sat there looking at me and although I tried to get my camera out, I was too far away by then, and I had to shout back to Roger Hanney behind me that he should probably cross over because of the snake. Did not want to see any more of them through the day – I expected that with all the traffic on course, they would be long gone.
One of the things that crept into my head was the race report where Adam Connor talked about shaving down but not well enough and it causing him some issues. I thought I had shaved down well, but left enough manscaping so as not to cause issues. Oh no. How very wrong I was. I was causing myself some big issues down there, and no amount of Vaseline seemed to be quelling the burning fire in my crotch. Fire crotch for a whole new reason than normal!
The road into Cathcart was a beast. The wind was absolutely brutal and it was right on the nose, as well. It certainly sapped a great deal of energy going into the wind. It was here that I started to see Kristy Lovegrove in front of me. I had followed her into town, but she was leaving just as I got to the pit stop of noodles and spuds and a chance to wash my hands. It was gold. She then stayed resolutely 500m-1Km or more in front of me for the rest of the afternoon. More on that later.
It was after we turned off the Monaro Freeway that the crew dressed up. I saw Liz's skull with an irish hat on and thought "that's very interesting – not very Liz – but very interesting nonetheless." It then took me several minutes to realise that in the impromptu stop, they had all dressed up. I was glad they had stopped though, I needed more Vaseline and sun screen!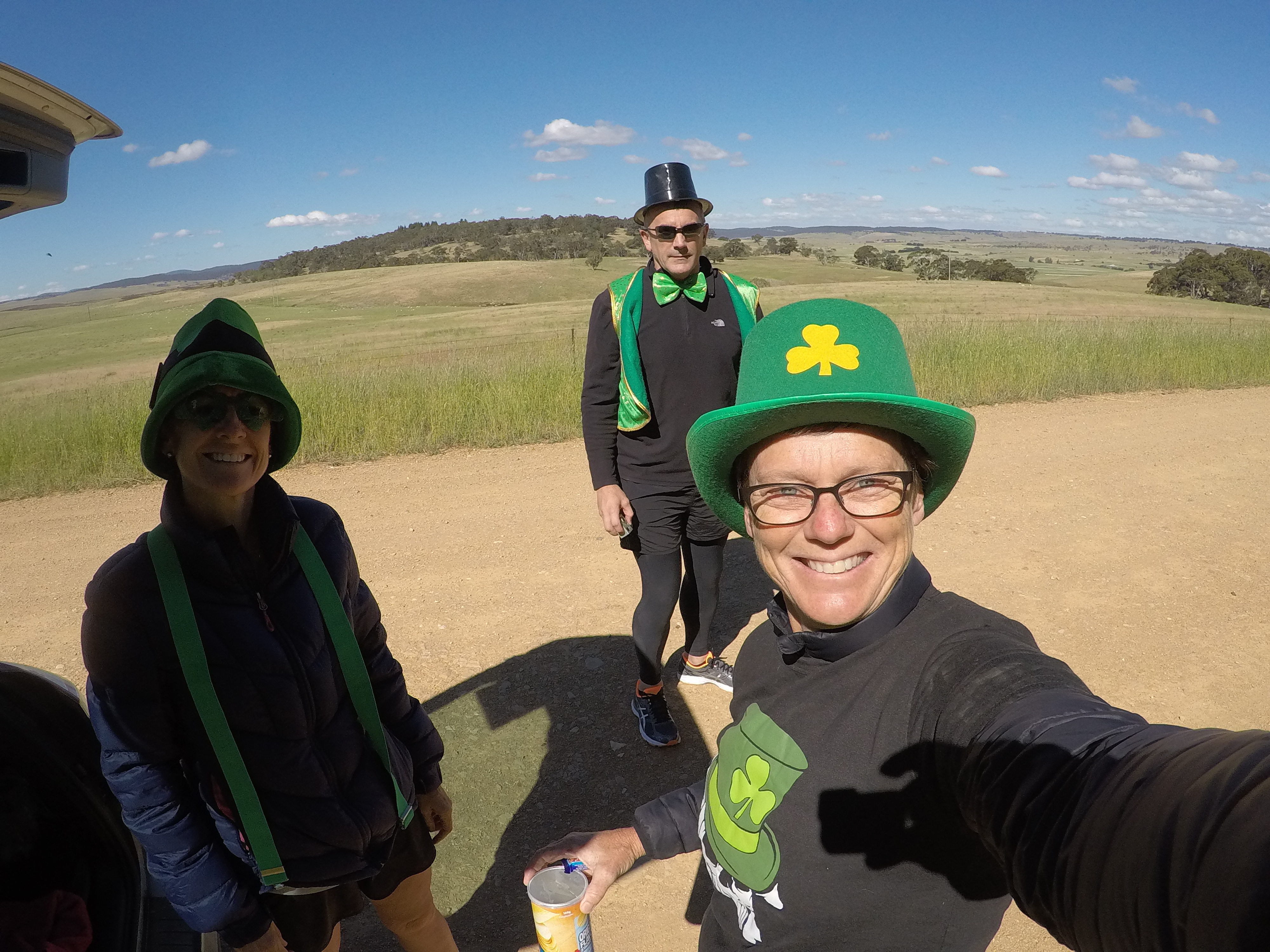 Once the wind died as the sun went down it was absolutely beautiful up there. The views were great and it was really really peaceful. Exactly why I wanted to be out there. I certainly didn't want to be out there amongst the wind and the road kill that littered the verges. That was stinky!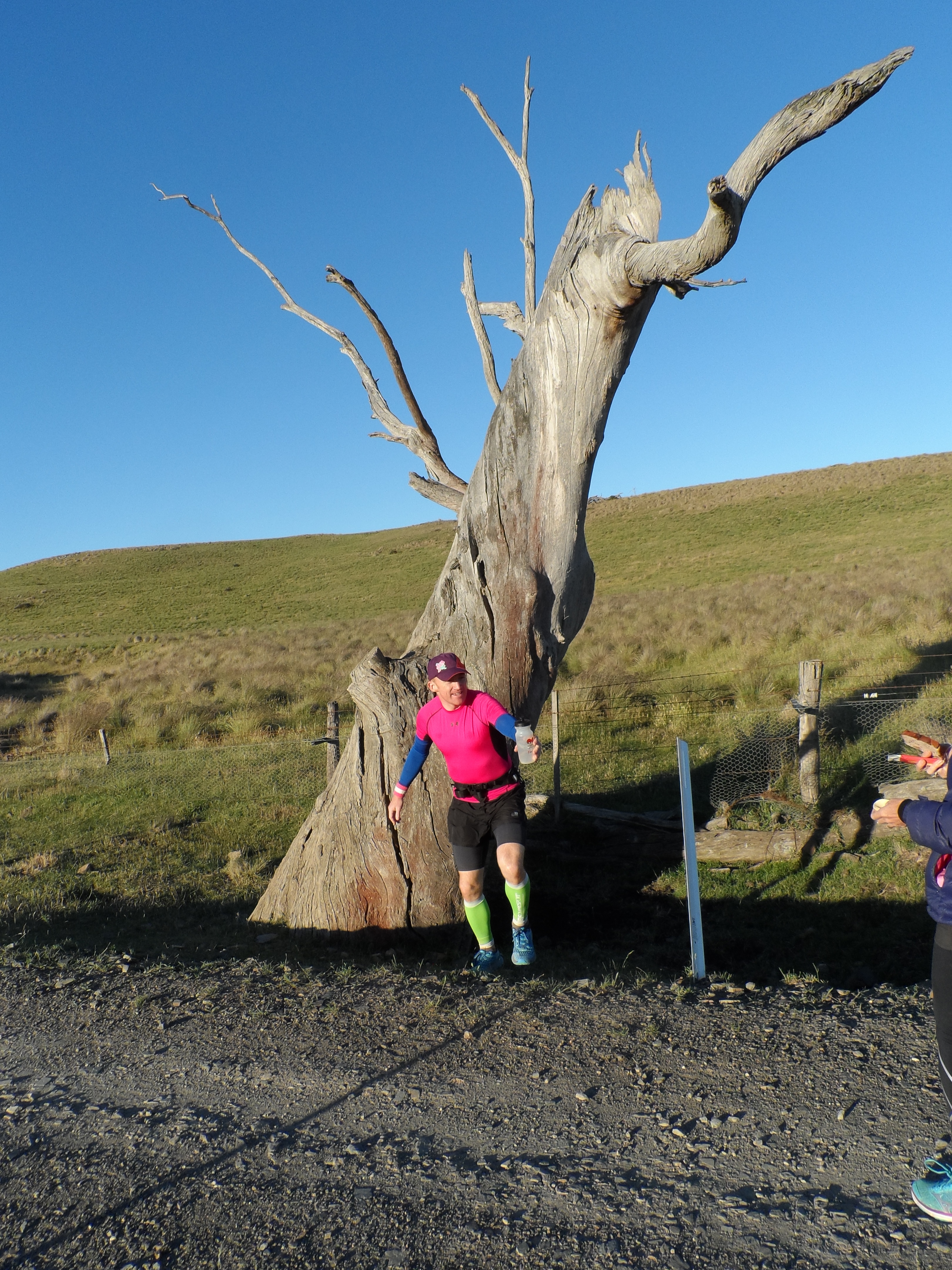 By the time the sun went down at Checkpoint 3, I had somehow managed to pass Kristy – but it wasn't for long. She just flew down the hill after the CP and I remember thinking – I wish my quads could do that. But it was not to be! "Wind her up and watch her go' was the response from her crew when I commented on how quick she was down the hill. I caught Graeme Wye going up the hill – he was suffering from indigestion – and you could hear it from a long way off – they were some massive burps!
At about 2100, I finally got someone to run with me and it was great. I told Dave that it didn't matter if he didn't want to talk – or that if he did and I didn't answer I wasn't being rude I was just conserving energy – I think that is what had done me so well by that stage – saving energy, etc, etc. I told him I'd be quiet and then talked at him all the way up the hill to the wind turbines. Which was a massive problem because I forgot to eat or drink. Until we got to just shy of the top. I was in the wrong clothes, with no energy – big mess up.
This is where I think I started to annoy Lisa – right where she started running with me. Because of my fascination with numbers and planning times and talking things through interminably in my head. I remember one of the things I had been thinking about all day was sleeping at a similar stage to when I did on GNW – 110Km. Lisa let me try a little bit later on than that – but when her and Liz were chatting about people coming – I had to jump up and carry on – annoyed that I'd wasted time. I remember we walked past Nicky Redl at some stage – she wasn't impressed when I made a comment that we still had more than half the race to go. After what Brick had told me at GNW – I'm now a firm believer that the halfway point is actually about the 60-70% mark on longer runs.
At Dalgetty was where I was told I could have a sleep. I was well within my time frames and everything was going well – so the crew were happy that I could have a sleep. The hall was sooooo loud and soooo hot, though. I ended up lying there hating everyone for being so loud and not actually asleep at all. It made me really angry with myself. When I went to the toilet and realized the car crash that was occurring in my shorts – that compounded my grumpiness. Although I at least managed to use the toilet. Lesson #1 – if you feel like crap – do one – it will probably help a great deal.
So when Liz and I stepped off at about 0330, I was not in a very good place at all. It was tough. Every step hurt my chaffed bits; and it started to get cold. I remember telling Liz "All I want to do is cry." "Well just fcuking cry then." Is not quite the response I expected, while at the same time it WAS exactly the response I expected and needed.
As the sun came up, I went through periods where every single part of me was trembling. I certainly considered quitting – many many times. I remember at 0730 thinking – I can be in the car by 0745 and all this pain will be gone by 0800. I also distinctly remember thinking "How on earth can I tell Dave, Lisa, and Liz that I'm quitting because it's tough? 'Thanks for giving up 4 days and driving for hours but I'm just a bit tired and broken – we can chill at a café in Jindabyne until we can check into our hotel for the night and then watch everyone who didn't quit get their akubras.'" I also thought how uncomfortable that 6 hour drive home would be in utter silence. I think I hoped I would have a really bad injury that would then enable me to justify withdrawing when it finally got diagnosed.
Liz just stayed a little bit ahead of me – always out of reach unless I asked for something to eat or drink – which was often. And usually followed by a wee as well. The race doctor had said to drink to thirst – but the dry air and the cough meant that I permanently felt thirsty even when I knew I wasn't. I have no idea how she had the patience to put up with me.
When the roving doctor pulled up alongside me I don't think I was quick enough with my thumbs-up. He leant out of the car and told me that I was fine. That I had hours until the cut off at Charlotte's Pass. That there were people behind me who were also fine and were going to make the cut. That was the final thing I needed. How could I quit 17 hours before the cut off and then look people in the eye when I went home? Time to keep plodding on and see what occurred.
Liz kept me pushing through the remains of the dawn chill and then let me sleep for 10 mins when the sun had come up. Just what I needed. In the driveway of a house. I had to answer the call of nature just across the road. Oh how I wish I had waited a few minutes and round the corner and I would have been in peace and quiet, without getting disturbed… That sleep in the sun worked wonders and seemed to recharge my batteries.
Liz was able to keep me pushing through from there until Jindabyne. Again it was the roving doctor who helped me out. I had sent Dave off 8km to the CP, which was a mistake. Billy the doctor gave us a ginger beer and topped up our water. I also got to use the loo at the lake. Lesson #2 – never pass up a loo. It was at this stage that we went past one of the people who ended up retiring. He was in a bad way and Liz gave him the rest of the ginger beer. His wife asked us about our poles and if they helped our knees to which we said yes. She then turned round to her husband and said "See – I told you so!" Just what I am sure he wanted to hear after 180Km!
The caravan park was another opportunity for a break with a sleep and a feed and calypso ice lollies! By this stage I had found the slather in the car and the Vaseline had been relegated. The slather had tea tree oil in and that was cleaning things up down there far better than Vaseline ever could. Gentle antiseptic worked wonders. I think I would still be chaffed now without it.
I had slowly frittered through my spare time, but it wasn't too much of a drama. Now Lisa had the job of dragging me up from Jindabyne to the summit through Perisher and Charlotte's Pass. There was still 50Km to go and it felt like it as all going to be uphill – until we got there and realised there was LOADS of down hill, as well! Lisa had a job on, convincing me not to sit down every single time I wanted to eat or drink. Fortunately there was absolutely no shade anywhere – so I knew that sitting down in the sun was not the most sensible thing for us to be doing.
And then Liz produced the Umbrella! Shade – on a stick! I think it made a world of difference as the sun was merciless. And wearing a reflective vest didn't help the situation. Oh how I regretted not being able to get a very thin and skinny running one prior to the race…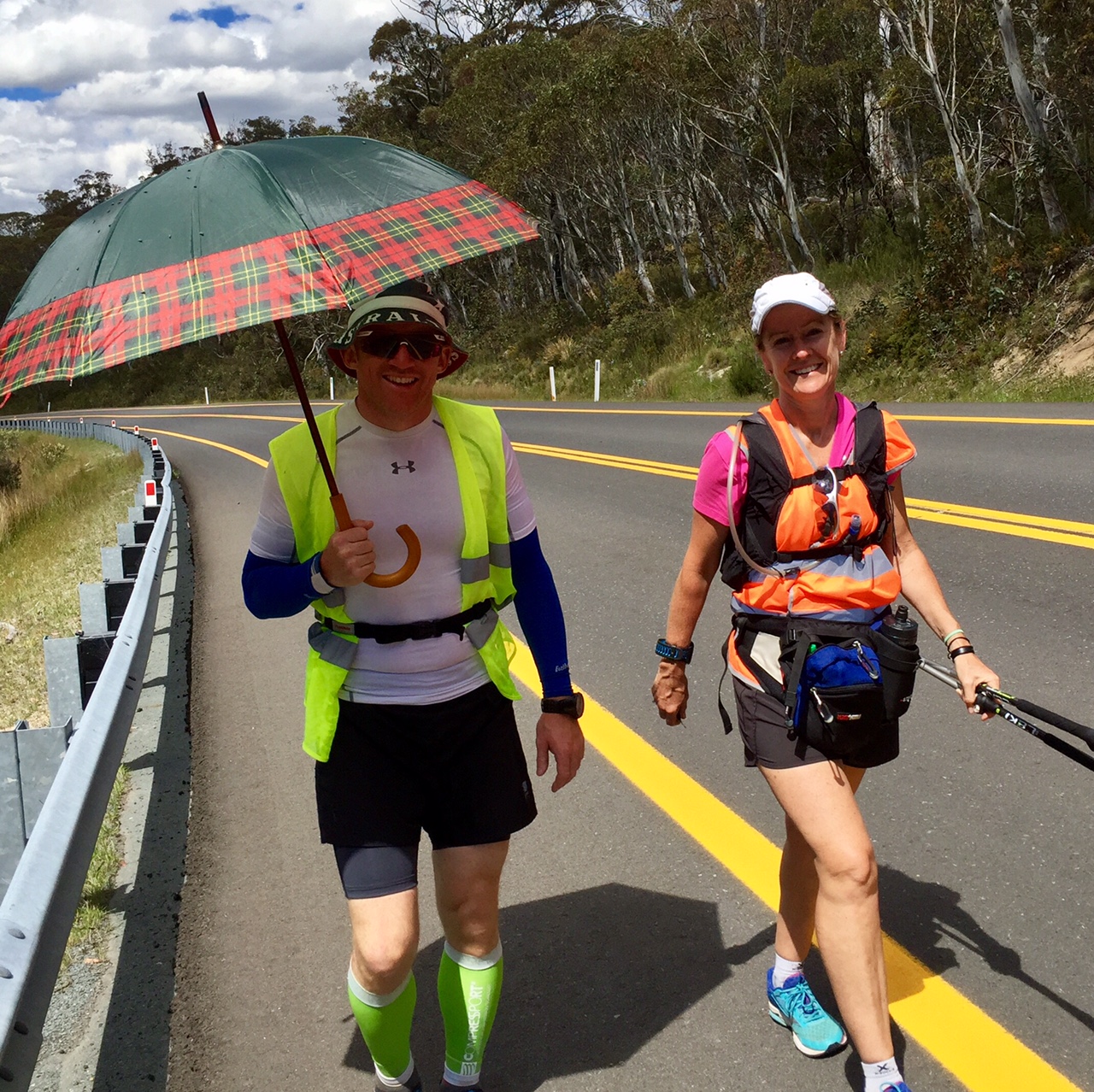 One of the moments that I did find funny was a slight navigational error by the crew. They added another 5Km onto what we had to do. Which came at exactly the same time that Scottish Michael told us the hills were only undulating from where we at that stage – a complete lie! They felt pretty bad about it – but not as bad as Lisa and I did when we saw the two valleys we had to descend into and then climb out of – wish I could remember the name. I know that Diggers Creek was at the bottom of one of them, with a hotel and a lake at the same place. They were tough hills.
I think I actually slept on my way out of the second one into Smiggins. Lisa was reading things out from Facebook and I said to her – "I have no idea what you've been talking about for the past 20 minutes." I was trying to stay awake but failing miserably. We got a good feed in Perisher, which was awesome. And then it was over to Liz to get me up to Charlotte's Pass. I felt bad not getting Dave to run – but I knew that Lisa and Liz would bollock me more than him and give me a bit more tough love. He'd be nice to me – which wasn't what I would be needing!
Just short of Charlotte's Pass was where it started to get cold as the sun was coming down. I had a plan with what I wanted to wear, but it hadn't survived contact with the crew. Dave had taken my ron hill tracksters up to the checkpoint – but I needed warm kit where the car was. I argued with Lisa and Liz and told them what I wanted – but couldn't understand why I couldn't have them! Liz then proceeded to try and pull my merino thermal pants over the swollen legs and trainers. I remember the unseen look on her face when I told her "I told you that wouldn't work" the silence and the pause spoke more than anything. But we eventually got the pants on and I trudged up the road with a blanket around my bum, arguing with Liz about not wanting to look like a hobo.
I think that was the worst behaved that I was for the crew over the course of the run. I think by that stage I also knew that we were going to finish. I knew it was going to hurt, though: my quads were cactus, my right knee was sore, as was my right hip and right thigh felt like it had been caulked. When I told Liz during my low spot (4 hours) she told to politely be quiet when I suggested maybe I had fractured my femur in my hip joint like Lisa's friend had done…
After a bit of too and fro with kit checks and then some questions by the doctor, we were off. Not quite at the breakneck speed that a seemingly crippled Jane Trumper was coming down the hill with a not quite so broken looking Roger Hanney chasing her down. It was a lovely evening on the hill, I was gutted that I hadn't been able to get the crew up in the day time so we could get some snaps with a view.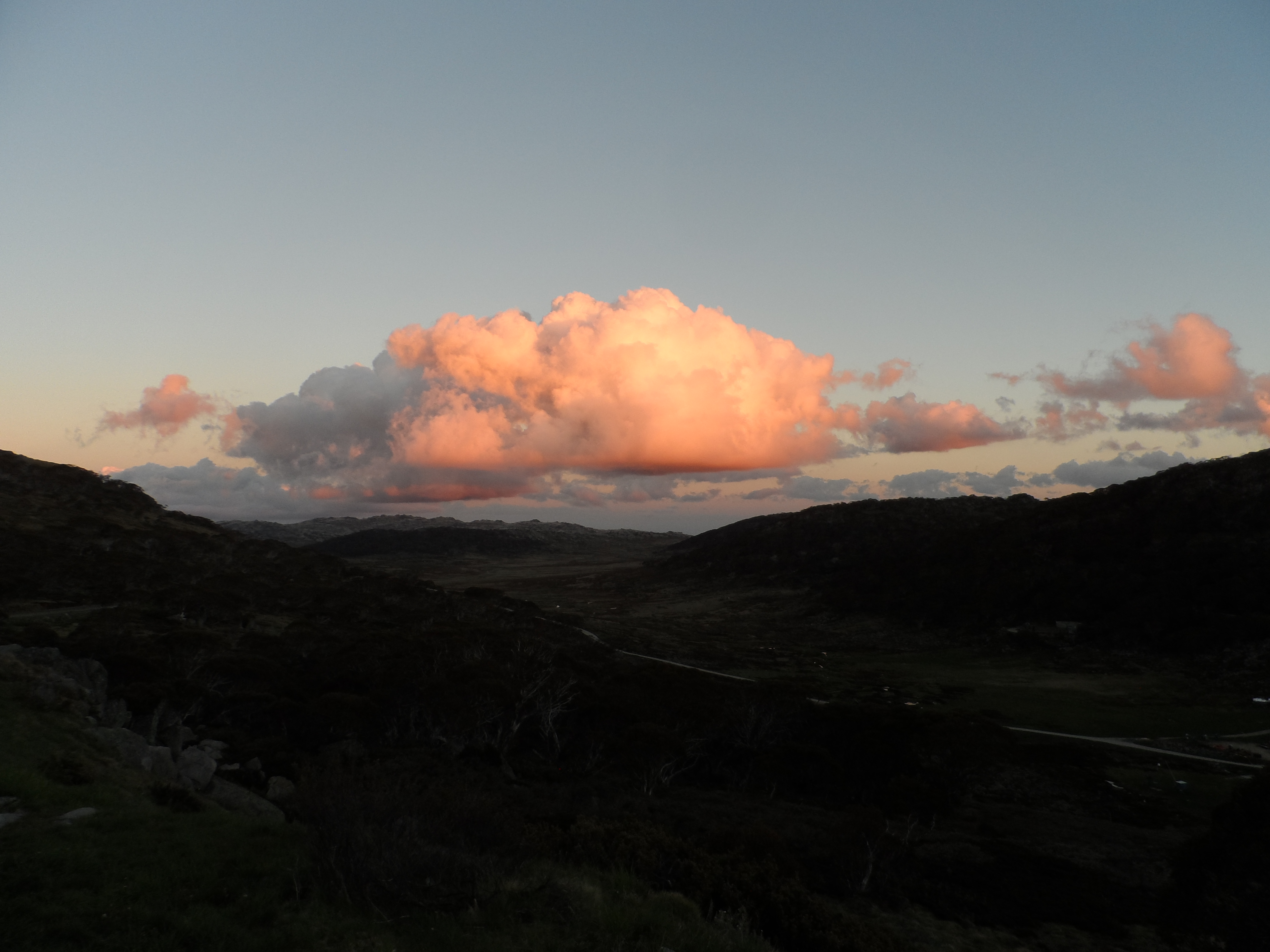 Just before we got to the snow crossing, we saw Jo Hedges and Pete Colagiuri again which was great. Jo and I have now been in a few races together – and apart from CP Ultra – he has finished in front of me. It's great to see people on new runs. Crossing the snow was a little bit worse than it needed to be – certainly for Lisa. I will be honest, there were enough people with Dave and Liz looking after her, so I cracked on. I was really worried she wasn't going to make it across, but I don't think there was ANY danger of Liz letting that happen. I remember hearing Lisa say "I'm going to turn back" and Liz's response was "No, you won't." I knew we were all going to make it when I heard that! It wasn't until the way back that you could see quite how steep the run off from the snow actually was – you would have been sliding a LONG way!
The path after that was circuitous to say the least. A mixture of geo textile filled with rocks, and then smooth slabs. Until finally we got round the corner and there was the Streslecki Monument. The picture says it all – I was exhausted. I couldn't face trying to get up on top – I would never have made it down again. All I wanted to do was make sure we got off the hill in as good a time as possible – so we got about three photos and that was it. I wanted to get back across the snow before everyone else in case there was someone who freaked out. I needn't have worried – Lisa and Liz sprinted across and it was me holding things up because stepping down the snow steps was murderous on my right knee. The other two people who had summited with us were then off and past me. It was all I could do to keep Simon Roberts behind me with his bad knee. Although I was on the summit with Adam Connor, he managed to beat me by about 4 minutes. I had actually spent a fair bit of time with everyone who was in the few places ahead of me throughout the previous two days!
Something that Liz told me was that when I get near to a deadline or a hurdle, I switched off. That certainly happened with 1km to finish. I kept falling asleep and it was all that Dave could do to keep me on the straight and narrow and not go crashing into the wall on my right, or off the cliff on my left. I really wanted to try and keep my place – I didn't want to get caught towards the end so I did try and speed it up. Which must have been laughable for Dave because it probably wasn't as fast as I thought it was! I kept hoping it was just around the corner, but as with everything in the latter stages of the race, 1km felt like 1.5km and five minutes felt like ten. When I saw the finish line I did try to run. I really wanted to, but it was more of a shuffle into Paul Every's arms over the finish! They got me a chair and a brew and that was it – I had finished 240Km that I never thought I would attempt, leave alone finish.
As my brew was handed to me I tried to stand up to get into the car but my knees were non-existent and I had to get lifted into the car by Diane and another lady. I do remember making the effort (it felt like I was making an effort!) to thank Billy for his wise words that got me to where I was.
But the race wasn't over – it was a hell of a drive down to Jindabyne and I felt like I didn't have the strength to move in the back of the car. Liz and Lisa did a great job driving down and keeping us on the road. It felt like the drive took forever – I thought I was sleeping although Liz assures me they were just micro naps. She must've been threaders with my attempts at crap chat to keep her awake. Although the stench coming off me should have been enough to keep anyone awake – I stank like the dead wombats I had seen by the side of the road!
It certainly took a fair bit of effort to get undressed that night. Point to note for when I crew in the future – get your own room so you don't have to worry about the smell or the snoring or anything else that you do annoying your long-suffering crew. I made some very strange noises through the night when I got up for my old man wee. It took about 5 mins to get 3 metres to the toilet.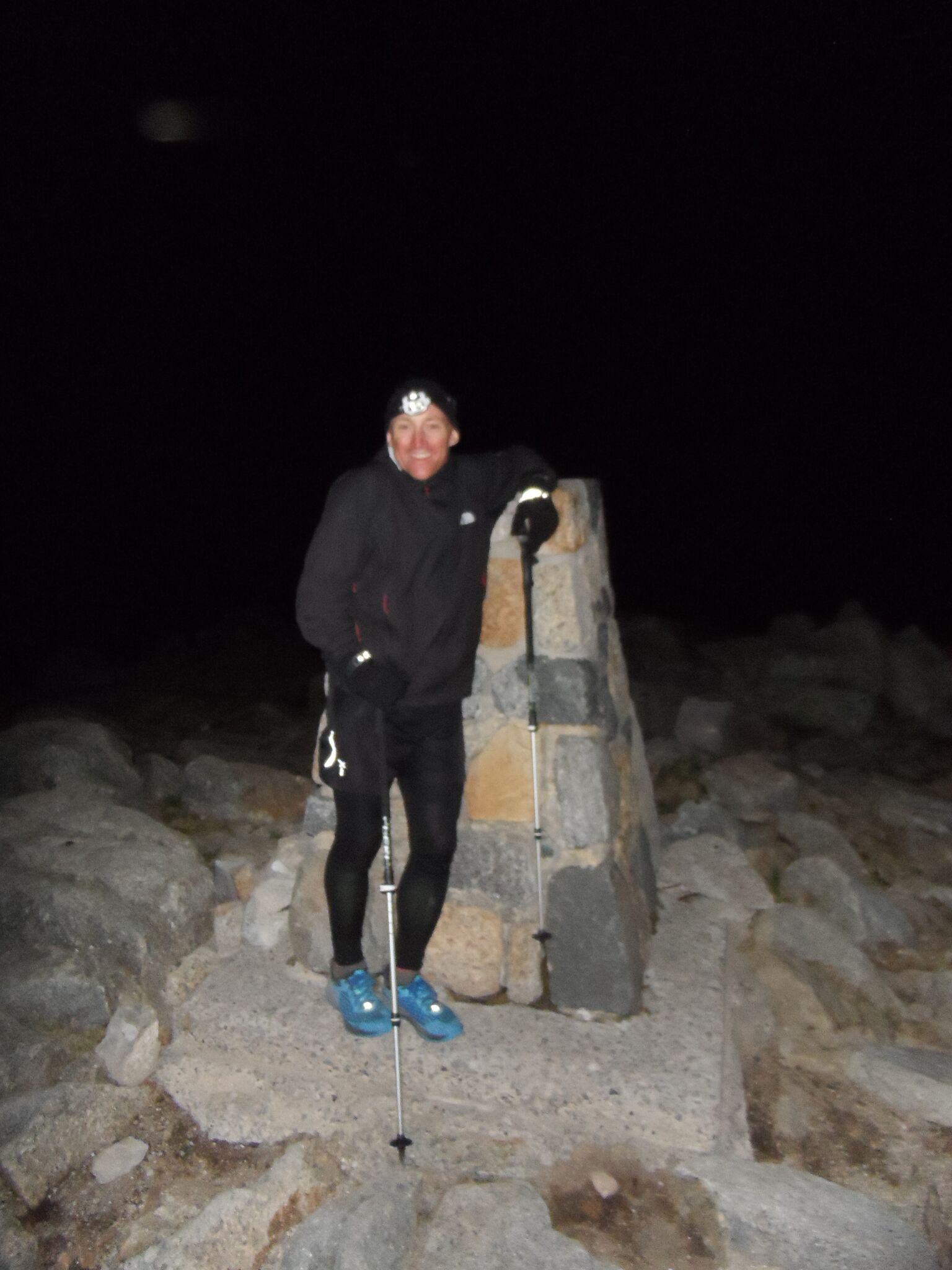 Lessons
SO aside from a new hat and some confused memories, what did I get out of the race? A new found appreciation for what is possible when you are working with a great team who are as focused on the outcome as you are. Probably more focused in fact as they had a little bit more rest in order to be rational about things. Some actual lessons:
If you feel like crap – do one – it will probably help.
Never pass up the opportunity to use a loo.
Never use Vaseline again – not down there. Never use bum vas on your lips, either.
Always carry an umbrella in your car
Always be polite to your crew – and everybody else around you. You can't do anything without them. If your tired plans don't come to fruition – listen to theirs – it'll be better.
It has taken me two weeks to write this – I'm sure it will have taken you that long to read, as well. I'm still a bit overawed by what we did together. I take every opportunity to wear my hat now – much to the style chagrin of Kathryn. I have to wonder what is acceptable though, do I wear it everywhere as a crew cap? I said I would never do it again – but I can't say that now. I would love to go under 40 hours and I think with the knowledge I have now, that I would be able to achieve that. Although I think I would rather crew for someone and give them the opportunity to complete this undertaking.
I need something to train and aim for. I've not got the training motivation at the moment. Which is probably good as it will give me a chance to rest. All I have done in the past two weeks is eat drink and sleep. I didn't have an appreciation for how tired I would be after the race. I nearly got a migraine on the Tuesday at work, which hasn't happened for 15 years.
All that remains if you've gotten this far is to say thank you very much for enabling me to say I finished Coast to Kosci in 2016. A Miler and 240Km this year. What next?