GNW Race Report
I thought it might be therapeutic to write down my learnings from the GNW miler on the weekend. Perhaps it will stop me from rocking in a corner in a foetal position for the next 12 months. Which surprises me, because yesterday I was REALLY REALLY HAPPY with my first ever choice to DNF a race, at the 132km checkpoint. I secretly congratulated myself for making the best bloody decision I have ever made in my entire life.
What a difference a day makes
Indulge me as I summarise the 25hrs leading up to my decision to pull out.
Nervous, started cautiously, enjoying running with friends, getting hot, bit hotter, really hot, SO DAMN HOT, I HATE THE HEAT! WHY DID I ENTER THIS HOT RACE!! HOW DID PEOPLE EVER DO THIS RACE WHEN IT WAS IN NOVEMBER AND IT WAS EVEN HOTTER!!!! Head spins, nausea, vomiting (on constant rotation), got a bit disorientated and tried to go back down what I thought were the Basin stairs, met Kirrily who turned me round again. Got mobile reception – woo hoo! Rang my pacer Leah to tell her she would have a much better time staying in Sydney and watching TV, rather than drive all this way – oh and I could also stop at the 100km mark like those other more sensible people. Devastated that she didn't seem to be listening – she said my story would have to be a lot better than that to convince her. So work on my story I did. I worked on it for the next friggin 12 hours.
I will say the lows were interrupted by amazing support at Checkpoints where heavenly creatures put ice packs on your neck, poured you Coke, salted your potatoes, asked you questions to check that you weren't as delirious as you appeared, and gave hugs – I didn't want to ever leave.
Somehow I made it to Yarramalong (also the 100k finish line) where with Leah and Russell's help I carried on. After turning onto the track at Cherry Lane I had really had enough. I tried everything to persuade Leah to go back to the road. But no-one in Yarramalong has phone reception so who would pick us up? What sort of place is this!! Dumb ass town. Who came up with this GNW course anyway? I thought about setting off my personal locator beacon without telling Leah but decided it would be a bit (OK a lot) frivolous. Leah worked her magic and got me over the hump and with the cooler night air I was feeling much better. Our spirits were boosted by seeing Marty, Jen, Ross and Justine and we loped along together.
Got to Somersby not long after the sun had come up. I said in a very calm and sensible voice that I was keen to pull out, but that I would follow advice I had given to others and first lay down to nap and decide if that was the right thing to do. Ha-ha I fooled them – I'm never going to carry on, I just need a final few minutes to work on my story. 30 mins of snoozing and scheming. So up I got, confirmed that I was going to pull out, everyone argued, I ignored them, THE END.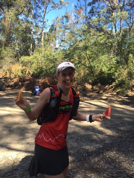 Key learnings from this simultaneously sublime and torturous experience:
If you are going to do a race, have an absolute water tight reason for doing it – one that is going to pass the test when you are at your lowest possible point. My reason for doing GNW was to get points towards UTMB. The trouble was I knew once I had passed through Yarramalong that I already had secured 3 points, so I could no longer see the value of getting one extra point for another 9 hours of pain. I should have had a much more robust goal – to finish THIS epic race, not only to qualify for another.
A whole lot of little excuses cannot be added together to justify why you should quit.
If each one isn't reason enough to stop, then discard it, don't combine it with all of your other floppy, sucky, limpy, saggy, flaccid, feeble and risible excuses. At the time I quit at 132kms I wasn't injured and my nausea had subsided significantly. My excuses, and why they were crap are as follows :
Snivelling excuse # 1 to 6
Why they are crap
What I should have been thinking
I can't cope with hot temps
I don't get to choose the conditions. Don't enter the race if I'm not prepared for whatever is thrown at me.
Yes it's hot. If I take my time at checkpoints I still have enough buffer to fast hike the whole way home if needed
I have been sick all week
Probably the closest to a valid excuse.
Yes I've been unwell but another 9 hours won't kill me
I don't want to feel like I did yesterday
How I felt yesterday is irrelevant to how the rest of my race will pan out
Stay in the moment. I feel good* right now – lets keep soldiering on.

*good is a relative term

I won't get home until about 10pm by the time I finish the race, have a sleep in the car and drive home
If I was worried about late nights/ lack of sleep I shouldn't enter any ultra's. Think this gets top prize for most wretched excuse
Won't my kids be chuffed when I wake them in the morning and tell them I finished.
I'd rather be with my kids right now.
The few extra hours I will be away from them will be nothing compared to the hours of training Í will need to do if I decide to enter this race again to get even
See left and above
My legs are sore
Of course they are!!!! What do you think they are meant to feel like after 132kms you moron.
This is tough but I am tougher
Rotated between :

–        I already have 3 UTMB points by getting to Yarramalong

–        I don't even need points for the next draw

–        I don't want to do any ultras ever again so you can stick your stupid points

My goal of gaining points was too easy to dismiss when the going got tough
Have a goal that still works no matter how low you feel. With the wonderful and absurd benefit of hindsight, one motivator could have been "Do you want to be the only NRG runner not to finish?" I'm pretty sure this would have had me kissing that finishing post!
So with all that said and done I still took a lot of enjoyment and learnings out of the race. And so many amazing people helped make my experience what it was. And before you ask – no I really don't need to go back to even the score!
Photo credit : Pip Candrick