2018 was the year that I wanted to make it to the start line fit and un-injured. 
I managed that bit quite well. 
During the race however, was a different matter.
Training began for the race with Andy DuBois of Mile 27 Coaching and Kathy Widjaja of Aequilibrium about 5 months ago.  Andy looked after the running side and Kathy is my strength (and coordination!) trainer. 
These 2 people, plus visiting my wonderful chiropractor Dr Adrienne Leahy at Spine and Health Crows Nest, were my A team.  My mantra whilst training was 7 hours, 50k. I wanted to get a finish time starting with a 7. 
I did most of the hills and stairs on my own. The long runs I did with my running wife Julie and the Summit Sisters to keep me company. Cass and I did Friday morning training and put the world in order most Friday mornings over coffee after the run. 
All was well and I managed to race a few shorter distances as part of my training – Knapsack 3 hours, Mt Portal 17k and Jabulani 22k. 
They day before the race dawned bright and sunny, so packed up the car and drove to Katoomba.  
Adam was up there already doing media work for UTA as well as volunteering for check in on the Friday night. 
We checked into the hotel and I started to get ready for the race. It was then that I discovered I had forgotten to pack any running socks. In fact any socks except the ones I was wearing and a pair of thick socks for after the race. 
Sped back to the expo and thanks to Find Your Feet, found a pair that was close to what I liked. 
Saturday morning started at 4.14am when my body decided that it had had enough sleep …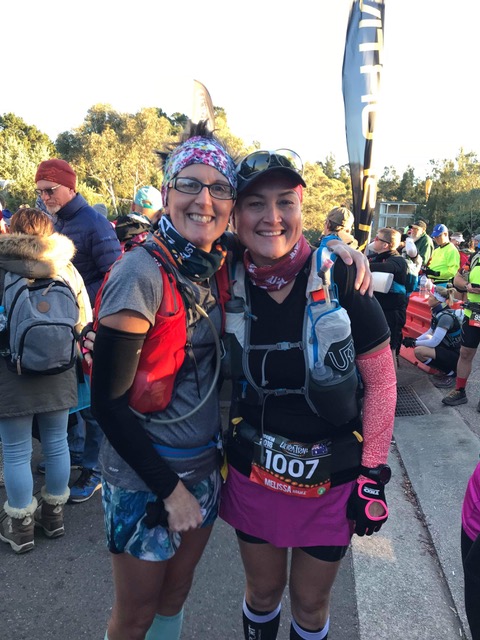 Adam left around 530am and I decided to go up to the start about 645am. I'm not very good at the start of big races. Too many people, and too much emotion. I managed quite well this year to ignore the anxiety and got to my start time of 731am, cold but ok.   It was lovely to see the Summit Sisters Cheer Squad and many others at the start line – thanks to everyone for your kind words and help, as Adam was not around due to media commitments. 
Kerry Suter counted us down to the 731am start time – and we were off. This year, the RD Tom had alternating wave of the 100k racers and 50k racers and it definitely helped keep the congestion down to a minimum. In fact, I really only noticed at the 18k mark coming down to Lillian's Bridge and back up the Nature Trail. 
The first 6k is on the road and you swing back past the finish line and there are lots of supporters there – this bit is cool.  There were heaps of people I knew and the ladies that I was running with said " We need to change our names to Sarah, you know so many people! "  I was a bit embarrassed but very proud of all the friendships I have made over the years of ultra running.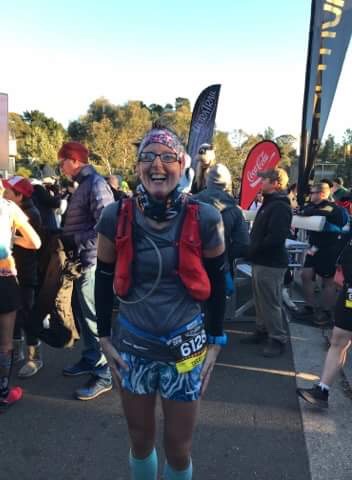 Towards Echo Point, I was running with Anne- Marie from Newcastle and she had not done the course, so I gave her all the important tips, like where the proper toilets are with toilet paper… it's the small things in an ultra that make life easier.  
Andy's instructions were to go easy through the first half, don't smash your legs down Kedumba and power up the hills through the Jamieson valley. 
I followed this to a T.
Ran through the 17k Fairmont water point grabbed chips and checked my water and all was well. Anne-Marie stopped to tape her feet so I said good-bye and took off at my own pace.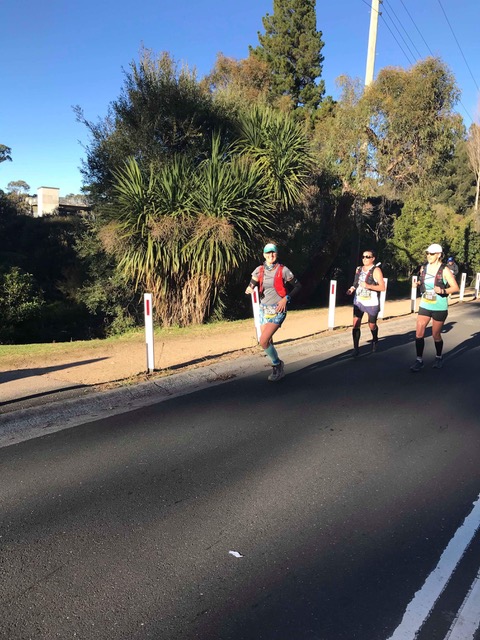 Through to Conservation Hut was easy going and I was starting to feel as though I was easily going to do under 8 hours. Crossed over Wentworth Falls, up the little goat track onto the fire trail. I wanted to take a selfie at the 25k mark as proof of life. Well that did not happen. About 50m before the 25k mark, found the smallest rock on a groomed fire trail and fell flat on my face.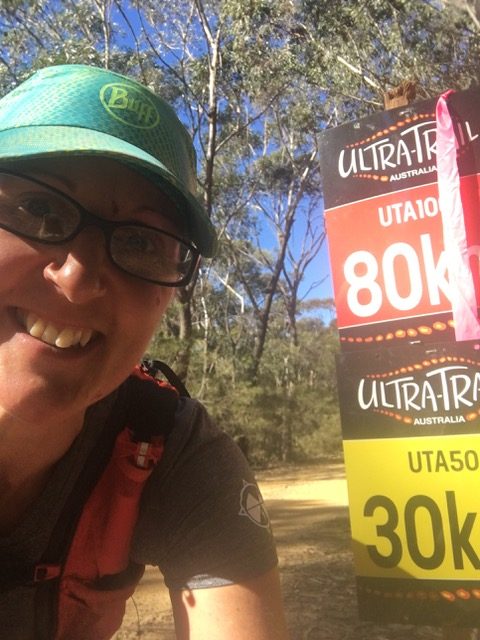 All these wonderful runners stopped and made sure I was OK. I'm sorry I did not get any of their names, but thank you to everyone single one that helped me out.  There was blood dripping from my noise, I had 2 very sore knees but my head was OK and my glasses intact. I did the first aid DRABC on myself and found nothing more than pain.  I picked my self up, found my Buff to clean up my face and I was off walking within 1 – 2 mins of stacking.  Within 500 m I was running, albeit a little gingerly. 
 I ran in with Joanne and another lady to the QVH checkpoint, where I made sure that I had enough water. ate some more chips and grabbed a muesli bar, and then visited the medic, Jake. He had a feel and a good look at my nose and said it might be broken. I was so focused on finishing the race I did not even ask if it would unwise to keep running and he did not tell me to stop. He cleaned up the road rash on my knee with iodine – I was hanging onto the chair saying – this is not as bad as childbirth and the other female runners were laughing! 
I rinsed the Buff and there was a fair bit of blood in it.  I cleaned myself up a bit whilst leaving the checkpoint and then chucked it in my new Salomon pack where it stained the pack. Good thing blood comes out in cold water…. 
I called Adam on the way down Kedumba to tell him what happened – he could tell that I was OK and reminded me of shock that would hit a bit later. Then the media team wanted photos of my face – so I obliged them by taking a selfie at the 30k mark. There was no blood and they were most disappointed. So I took one of my knee instead and that was much better received. 
I RAN DOWN KEDUMBA! This is the first time in 4 UTA's that I have been able to do this. It was never going to be fast running as per Andy's instructions, but it was running.  
Then just as I crossed the Jamieson creek (which is 8.5k from the QVH checkpoint), shock and anxiety hit.  Oooh it was a bit nasty, but I tried to use it to my advantage and power up those hills.  Passed and chatted to an old orienteering friend, who helped me more than he will ever know (Thanks Chris!).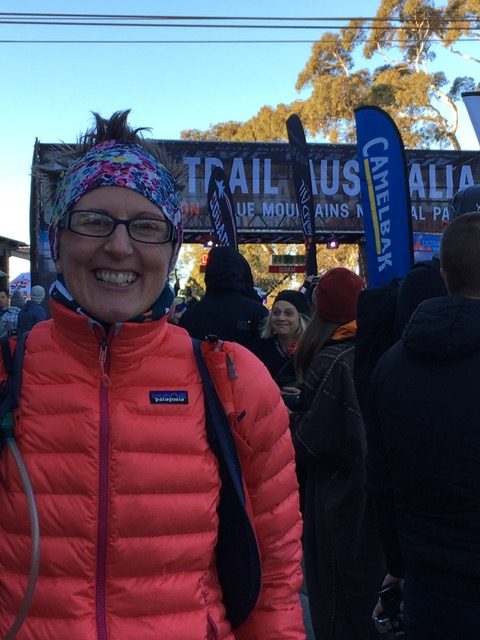 Powered up those damn hills and ran down all the downhills and kept passing other runners. Normally I'm the one getting passed, so this was a new sensation.  Saw Horrie who was not having a great day, but could not stop to talk as I had a goal and I just wanted to achieve it – sorry Horrie I know it was hard for you out there. 
Got to the helicopter pad water point and almost burst into tears when Gemma (I think) was filling up my bladder asked how I was.  Managed to hold it together, grabbed more chips and ran off to conquer more hills. At this stage the anxiety was threatening to turn into nausea but I held it off. 
At the sewerage works, which is the end of the fire trail and 6 k to the finish point, I had 90 mins to get under the 8-hour mark. I hooked up with some runners who had similar ideas and ran the whole way through the Leura Forest and along the Federal pass track, I wanted to get to the Furber stairs with 30 mins to spare.  Somehow I found myself at the head of the conga line and the runners behind were really good about keeping me going. 
Got to the bottom of the Furber stairs 7 hours 35 mins. I had 25 mins to climb 951 stairs, I just kept going. Majell Blackhausen was coming down the Furber watching for the leading runners for the 100k. He was really positive about the conga line and cheered us all on. I concentrated on what he said and kept pushing up those stairs.  
Passed a guy who was not feeling well and offered him a lolly.  I did try to say that if you are gunna chuck, at least it would taste ok coming back up. Not my finest moment. 
The conga line was starting to drop off, so I yelled at them all to keep going! Not sure why.  Guess I thought I was determined for them all to finish with me! 
With about 400m to go, Mike Delgarno with Sophie Brown and another lady were cheering us all on. I got a big hug from him and all I could talk about was I had 9 mins to get to the finish.  Mike pissed himself laughing and said you have 400m to go – you will make it!!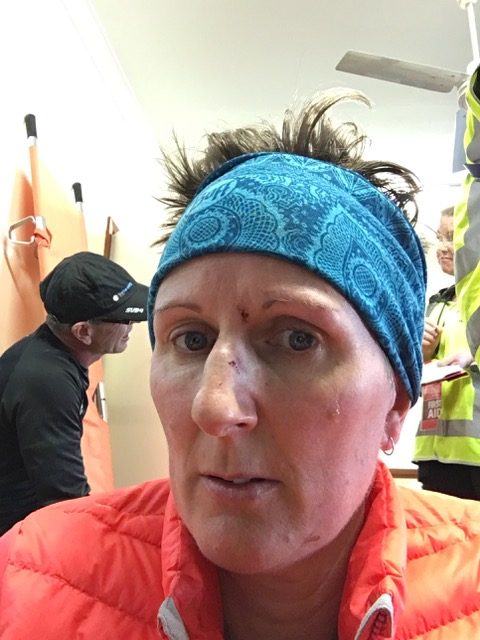 And then the next step, my left calf muscle cramped. I may have said out loud "fuck this I'm not going to walk the finish". There was only 1 guy behind me at this stage and he kept me going to the point where the stairs meet the track to Scenic World. You can hear the crowd quite clearly and all the cow bells going off – its quite special .
Dave Meyer was perched on the fence and said – "Sarah – 3 stairs to go!" 
That was it. I was off, I came around the corner where the crowd can see you and there was this roar from all my friends – it was amazing.  I started to get teary, and just ran as hard as I could without the cramping, crossed the line, gracefully sat down and checked the time – I had done it – 7:56:45.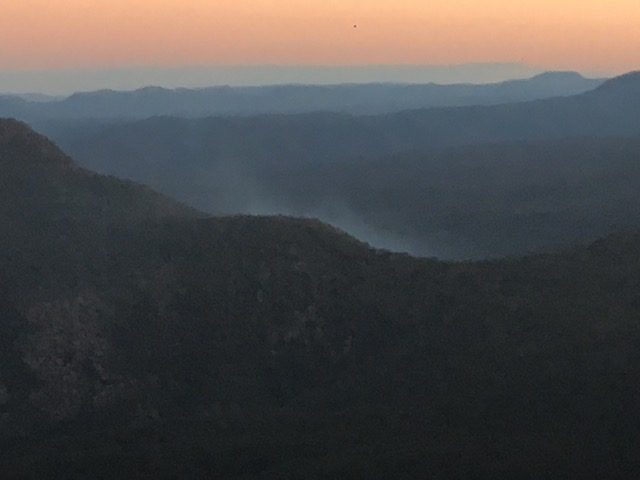 Roger Hanney has some awesome video footage of this part. Hailey and Roger got me off the ground and Hailey walked me to Adam for a big hug over the fence where I burst into tears. Kathy found me and gave me a big hug too. Just what I needed! I was a bit speechless.  Gear check all done and then off to the lovely medics. Lucas Trihey found me going in the wrong direction and very kindly got me to the right place. The doctor checked me out and gave me instructions on what to do. Got my knee cleaned up – now that hurt more than the nose examination. Gillian got me soup and Adam made sure that I was warm.  I took this selfie as I had not seen my face since the stack and I could see why the doctor was looking at me funny…. 
And that was that. Sort of. 
Adam took me back to the hotel and fussed around me. I am a fairly independent soul, and wanted to get cleaned up and head back to the finish – Adam was not happy about that. He had another volunteering stint to do, but was concerned about me. Had another cry, a shower, and another cry and then Adam dropped me back at the finish so I could see friends, eat chips and compare war stories.  After about 2 hours, I lost the will to talk and Hailey very kindly dropped me back at the hotel.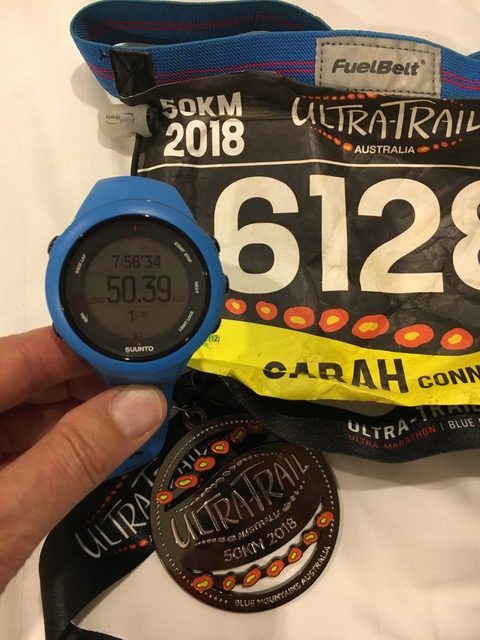 Got about 4 hours sleep and lot of tossing and turning – and then headed back up to the finish for my volunteering stint at UTA kids 1k. 
The UTA kids race is totally the best thing ever. They all get numbers even the littlest ones in prams. It's such a joy to see their faces when they get a race number.  And then handing out the medals at the finish was so cool. Their faces when you put a medal around their neck, its just amazing. They all have such different reactions.  
And then after all that excitement, my brain finally gave up the ghost and I was done.  Headed home where the bruising is setting in nicely and my knees are very sore. Great NOSH in 2 weeks – that might be a struggle! 
Now the most important part – the thank you's
Andy DuBois of Mile 27 Coaching – best training ever for a race. I even started to enjoy those Furber stairs in the race because of you!
Kathy Widjaja of Aequilibrium – all those damn squats and Turkish get ups and dead bugs plus numerous other exercises, did their job. 
Dr Adrienne Leahy of Spine and Health Crows Nest – kept my back where it should be and minimised the pain of my damn spondy L5. 
Adam and Alex  – my family who put up with exhaustion, grumpiness and all the things that come with being an ultra runner.
My running family  – Julie, my running wife, the Summit Sisters, Mel T. Leah and various others who I trained with – thank you one and all for putting up with me. Everyone who cheered , took photos, ran with me, supported me via emails, Messenger, Facebook and good old fashioned chatting on the phone – you are all the best. 
AROC – Tom and Alina – its been said before – you guys put on an awesome race – thanks for making this 50K very special. I'll be back for volunteering duties next year as there are other races calling that are too close to UTA for me to do for a couple of years. I may do the 22k so then I can say I have done all the races!!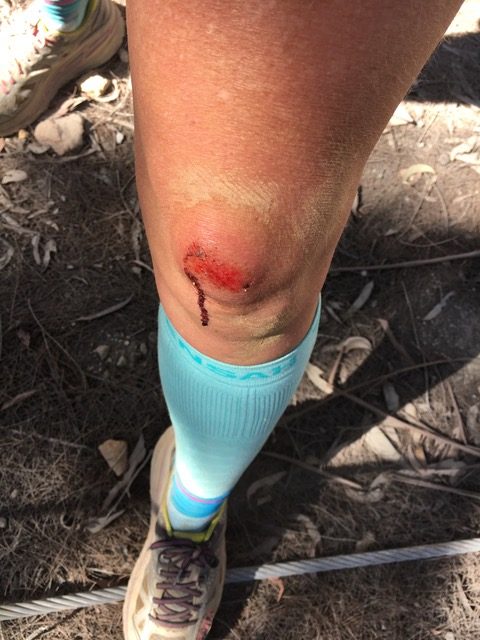 Gear used
Salomon ADV Skin set 3, 12L in go fast red. 
New Balance t-shirt 
Buff headband 
Buff hat 
UTA 2016 50k Buff which doubled as a hanky when the face plant occurred and it has fully recovered from its unintended use !
Patagonia arm warmers
Patagonia 9 trails shorts 
Lululemon bra 
Zensah calf guards
Hoka One One Stinston ATR 3's 
Suunto Ambit 3 
Save our Soles socks – brand new – these were awesome. 
Food carried with me 
Promite sandwiches – eaten
Carmens museli bar – eaten 
Em's Power bar – eaten 
GU electrolyte – put in water at 28k mark
Planes and frosty fruit lollies – ate some 
Pizza shapes – ate some 
Peanuts – did not eat these 
GU stroopwaffle – did not eat this 
Dried banana – did not eat this 
Other food/drink eaten at checkpoints
Chips
Coke
Water – filled up at 28k and 41k