25th June 2016
Western States 100miles
Note to self: "Do more down hill training next time you do Western States, your quads will thank you" Well at least I can say there could be a next time.
Here is my WSER 100 race report
A 100mile race report starts well before gun goes off. The training and support of people around me deserves a report of its own but so this isn't war and peace, let's get in to the business end. There's a whole lot to think about and months of admin to get to the start line. I wish it was easy enough to rock up to the line and start running when the gun goes off but in the months' prior the following has been outlined with last minute tweaks and decisions
– Race nutrition strategy
– Crew Strategy
– Pacing Strategy
– Gear Strategy
– Hydration Strategy
– Race week plan
– Race plan
Sorting the admin is more stressful than the race itself
The alarm went off at 3am and I slipped straight into my race gear neatly folded on to a chair. Months of gear choice anguish sat in a small pile on the chair. I had decided on:
–  soft flasks
–  a lightweight race pack (as opposed to hand helds),
–  Hoka Speedgoats (shoes)
– NRG singlet
– North face shorts
– Arm sleeves with gel pouch
– Injinji inner sock
– Features outer sock
– Trucker cap
– Buff (to start)
– Squirrel Nut Butter (Californian for Lubricant!)
– Sunscreen
My crew would have ready
– Ice scarfs
– Nike Kiger shoes to change into
– change socks
– Half buff (for headtorch)
– Ay-up head torch w/ spare battery
– Petzl Tikka heard torch
– Petzl mini (back up) head torch
– Sunglasses
– Hand helds with hard bottles
Louise, Marc Phil and I piled into the Chevvy and drove the short distance from Tahoe City to Squaw Valley at 3.30am. I felt pretty calm as we pulled up to the Olympic village. It's funny how there are far more nerves at the beginning of a half marathon or marathon where it's on for young and old right from the start. In a 100miler it's all about preserving yourself in the first 50k's or so and I feel less angst.
A Breakfast of coffee and pastries is served and athletes are milling around putting on race numbers, tweaking their kit and wishing each other well. We find Andrew Tuckey who is very relaxed, has a couple of handhelds, no crew and a strategy of relying on food at aid stations! I'm thinking he's a little too relaxed but then he did come 9th last year so maybe the rest of us have just over thought?
Suddenly these 5 minutes to go before the start and we make our way to the line. There's no point in jostling for a position as we'll all run the first 50meters for the cameras and then start walking up a steep ski slope!
The starting gun goes off at exactly 5am. It's the same hunting rifle that's been used for the last 43 years and is one of many traditions the race adheres to.
I pinch myself at the realisation I'm actually racing in western States then buckle in for a 24hr ride For the first 8k's we weave our way uphill. I know when it's the top as I had listened to the "Ginger Runner" podcast from Australia and knew he would be there to greet us at the top wearing Lederhosen and playing alpine horn.  Runners run/walked, taking it easy settling into a powerhike. I was intent on running to feel as we hit snow level and slipped and slid our way through patches of snow and icy streams. I found myself running with a number of the favoured female athletes and chatted to a number who had ambitions of top 10.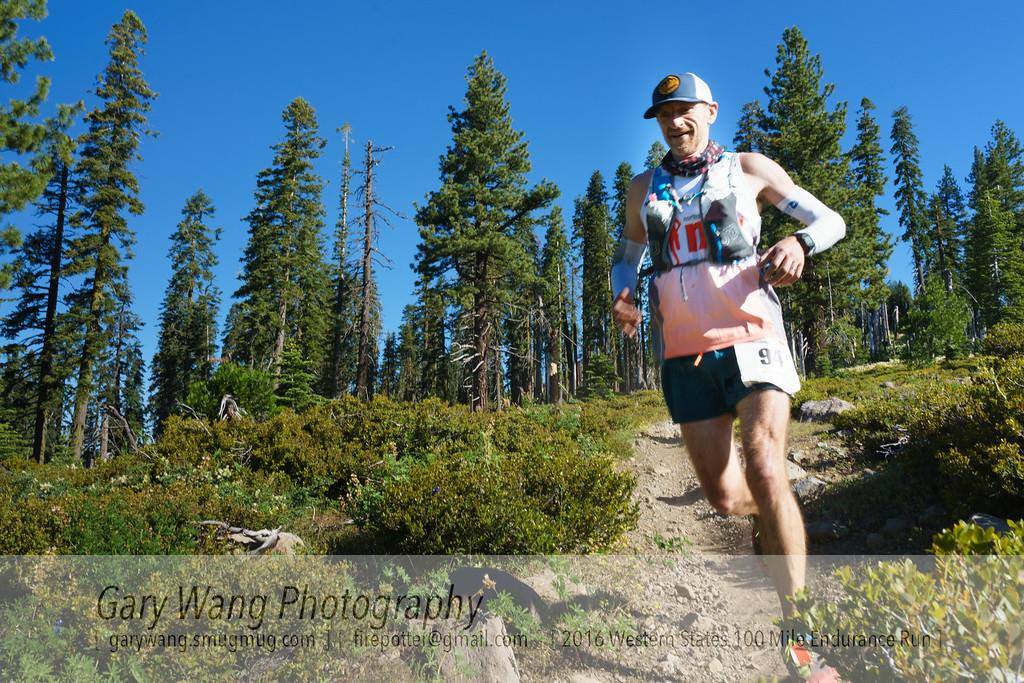 We were in the high country and the trail was simply beautiful.  When the sun came up there was this sudden warmth and the morning chill dissipated. It was a warmth that was to get a lot warmer. We ran 11k of single track to Lyon ridge, and  was startled by a huge deer jumping across the track. I felt incredible at this stage and echoed the comments from runners as we chatted "I wish we could feel like this for the rest of the race" but we just had to enjoy the good times on the fresh legs for as long as we could. Just be in the moment and enjoy the trail; pinch and remind yourself that you're on the WS course – it could be a once in a lifetime experience
At Lyon ridge aid station I grabbed some watermelon, re stocked gels and  as checked out of the aid station by  two lovely volunteers in bikinis. "Enjoy the beauty", one said. I was still lucid enough to reply, "Ladies, I just did" = giggles and cheers – this race is going to be fun!
The trail was nice and runnable to Redstar ridge where we enjoyed another speedy pitstop thanks to the expert volunteers. Let's talk about the aid stations and the volunteers for a minute – They make the race the most fantastic experience. Each aid station has a captain and between the captains there's 300+ years for experience. Seeing as there's only 360 competitors and some 1700 volunteers, the competitors are made to feel incredibly special. Their brief is simply to look after the runners, whatever it takes. A typical experience at one of the 23 aid stations "Runner number 94 approaching"
"Hey Richard, I'm Jess, I'm here to help you" "and I'm Bob, can I fill your water bottles" water or sports drink" "Food is over here, we have chips, water melon, gels, candy etc etc, what would you like" "Can I take any trash?" "You're going great; 5.5miles to next aid station, 2.8 climbing and 2.3 down hill"
"Do you want ice- in your hat, your arm sleeves or in your water bottles"
You want an ice "carwash" ?(iced water sponge bath – trust me, it's fantastic).  Sometimes you would have the attention of 5 or 6 volunteers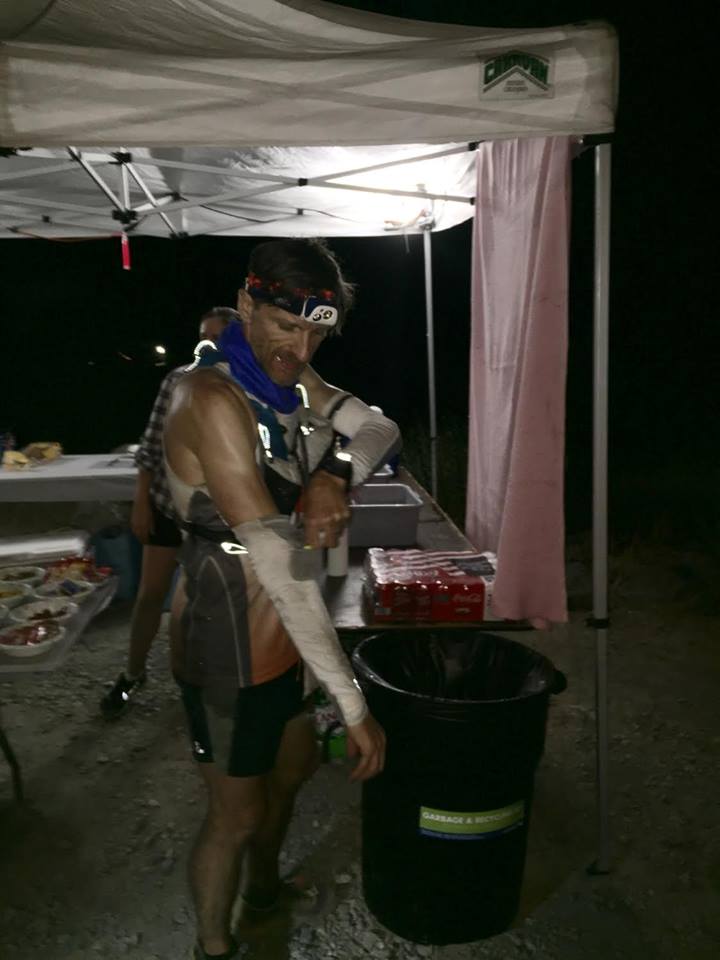 More of the same to Redstar – enjoying the trail and feeling the heat starting to rise.
2 mile climb and some nice down hill to Duncan Canyon – trying not to over do it on the quads but, hey, I felt good so just opened up the legs and enjoyed the feeling of being fresh and race fit.
We ran through wild forest that was obliterated by the 2008 wildfires .  There was little cover and the sound of woodpeckers could be heard tapping in to the hollow trunks. We really were in wilderness and it was stunning.
It was all downhill to Duncan Creek and then 7k pretty steep trail to Robinsons flat. At 47.5k (29.7mile) I was looking forward to seeing my crew for the first time. Now the crew have, on 24hr pace, just over 6 hrs to get here which is easier said than done. The time  flies pretty quickly for them as they have to get on the road after the start and travel 3.5 hrs on freeway, almost all the way to Auburn (the end of the race) before taking a trail road back up to Robinsons flat. My crew had the additional hurdle of dropping Andrew Tuckeys car off in Auburn……………and I was ahead of schedule. Louise had planned the crew strategy  and with the help of Phil and Marc had a military style plan to follow. So I arrived at Robinsons flat………..whilst Phil was parking the car Louise and Marc were running in at the same time. It was a bit of a mad dash but they were true professionals and handled the pressure – it was great to see them. We refilled with Tailwind and I was off – no time to hang around and chat.
(Incidentally Robinsons flat was like a circus with many 100's of crew and volunteers – incredible and moving).
I was still running with some of the elite females, mainly Sally Mcrae who I had been reading about in pre race reviews. She was striving for her 3rd consecutive top 10 finish and an automatic entry to the following year. She would get extra cheers running through aid stations which made the energy even more electric.
Steady descent down to Millers Defeat, a blend of single track and dusty firetrail. Continuing down to Dusty Corner – I was working out a system for aid stations.  I would be a sign a certain distance out and then a volunteer who would radio my number through: "Number 94 coming through". I'm thinking: 'Got the softflasks ready, now what do I want? Do I need a gel? I need to eat something. Remember to drink…' (you would be surprised how easy it is to forget to drink at aid stations and just fill your flasks!)
'…Ice in the arm sleeves, Ice in the hat. Refresh my ice scarf (rolled up special fabric bandana tied together with one of Louise's hair bands) with new ice, ice wash down' I'm asked: "Do you want ice water down your back?" "You bet ya I do" – OMG, it was heaven…………………Did I say it was heating up – would have been at least 35degC by now
More dusty trail, up and down through a few canyons and creeks. I'm starting to  be aware of the heat but the "cover me in ice" at the aid stations strategy is working well. My hat dripped with cold water but the ice melted quickly. My arm sleeves stuffed with ice, initially my fingers go numb with cold and I get "the burn" but 5 minutes later cold water is delightful. Ice slips from my scarf down my top and into my shorts – BLISS.
We have done 69k, I'm still running and feeling pretty good
Now it's time to descend into the first big Canyon on the way to Devils Thumb. The down reminds me of UTMB i.e. 4 miles (6k) of steep down hill. Ouch, the toes are taking a battering in the HOKA Speedgoats and I decide that a change of shoes is definitely on the cards at Michigan Bluff. Every step I'm banging my toes against the rigid toebox of the shoe. My 2 big toe nails are going to be black and swollen. I can feel the pressure building under the toenails. That was a 550m descent.
Thinking there was no aid station until the top of the ascent out of the canyon I conserve my fluids only to be greeted at the bottom by another friendly bunch of volunteers and a very well stocked aid station! I grabbed a can of Ginger Ale, more ice and straight into 550m ascent. I had been keeping my place and yo-yo running with a number of runners I would see throughout the day. I pass them, they pass me and so-forth. Incidentally Sally Macrae had got her A-Game on and had left me after 60k's. I did however pass Magdelena Boulet (Ranked #1 female and last years winner) and offer her some assistance. She was not in a good way and her race looked over. She wished me well in the race and I left her to pull out at the next aid station.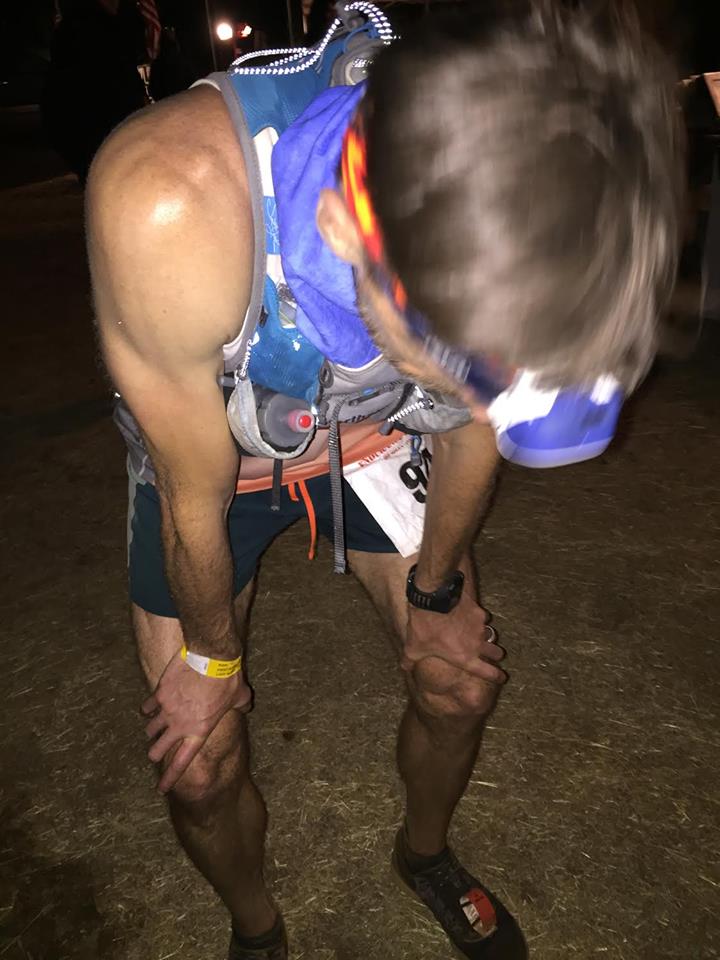 I was enjoying the uphill, more than the down. I can just grind out the uphill with the knowledge I typically go slightly faster than similar competitors. One guy did however charge through and I realised there was still work to do in strength conditioning for future races – how can he go that fast?
36 switchbacks later I was at Devils Thumb, an energetic aid station with bubbly helpful volunteers and some pumping music.
From Devils Thumb it's 8k of quad busting downhill to Eldorado Canyon. I was starting to cramp and my toes were killing me. For the first time a negative thought came in. If I'm cramping at 76k's how and I going to do another 84? Do I need to re assess my goals just to finish? Just run through it was the answer; I've done it before. Don't stop, just take the pain. My stomach was also starting to shut down and I knew I needed to get a gel inside me. When I get to this point, it's a 5 minute build up to prepare for the gel. Open packet, get water ready, squeeze a bit out and consume with water. Gag, try not to vomit and repeat until consumed.
The downhill went on for an eternity, every step slightly torturous. El Dorado aid station was a blessing, the end of the descent but I didn't feel too good. It had to be 40+ degrees. I ate some water melon then a half can of Ginger Ale. One of the volunteers noticed I was going to burp "He's going to burp" came the call. I then proceeded to vomit like an 18 yr old who's just had his first 10 beer session – Gels, Ginger Ale, Banana, Berry Shot Bloks, it was all there………..and now I'd cleared the system I felt a million $$'s. Excellent, press the reset button and go again – I grabbed a can of Ginger Ale, a handful of Watermelon, a quick gel and I was ready for the biggest climb of the day in the  hottest temperature of the day, to Michigan's Bluff.
It's important to note, I had been taking 2 x salt tablets at least once an hour and dipping fruit in salt at aid stations – The salt goes straight in to the system and for me is my antidote against cramp.
If I thought the climb to Devils thumb went on forever, the climb to Michigan's Bluff went for ever and a day. OMG, it refused to end but the reward was triumphant. Here I will see my crew and they will have been here for hours preparing. I was about to experience a Formula 1 Pit stop.
Louise & Phil were  there to greet me and tell me where they were set up (the crew area is always beyond the aid station).  Went through the normal aid station ritual and then I got to my crew. Marc changing shoe and sock on one of my feet, Phil on the other. My big toes were throbbing and swollen. The nails were already going black and the skin was stretched tight and bright red with the pressure. I winced as the pitcrew changed my tyres but this was no time to complain. I was asking a lot of these brave men to go near my feet! Louise was taking care of the top half of by body with ice, rub down and fresh sunscreen. New socks, running shoes, ice scarf, massage, rest in chair. Filled up with coconut water in one flask. Some words of encouragement and I'm out of there. I'm well ahead of 24hr pace and been running for 11h48mins and 90k.
The next section to Bath Rd and Foresthill starts on a dirt trail before descending in to Volcano Canyon and ascending to Bath rd where I will meet my pacer John. I was running on my own again. I hit some single track that turned into firetrail, all very runnable. In a world of my own I kept descending, ticking off the k's one by one. What happened next was a pivotal point of the whole race. From the trees above the firetrail a woman's voice called out "you're going the wrong way, the trail is up here" Somehow I had missed a marker and was off the course. And then she was gone so I bush bashed my way up to what looked like a single track and continued along it moving away and upwards from the firetrail. I didn't see that woman again but had she not have caught site of me I would have kept running on that trail and heaven knows where I would have ended up. I dread to think. "Ok, that was a lucky break. Time to recalibrate, remain alert and concentrate" I thought. I hit the dusty trail, descended into and ascended out of the canyon which was beautiful (and freaking hot!).
At Bath Rd 1.5hrs later crew member Marc and Pacer John were there to greet me and run  into Forest Hill. This is one of the only parts of the course crew are allowed to run with their runner. They said I was doing well and ahead of 24 hr pace and I thought to ask what position I was in?………65th came the reply. ….65th??? I thought I would be in the top half of the field but I had no idea I was in the top 20%. This gave me a real boost of confidence and I found energy to charge the hill and up the pace to Forest Hill. "Ok, it's on – let's do this thing".
Forest Hill is on a main Rd before you enter back on to the trail and consequently there's 100's of spectators and crews who clap and cheer every runner as if they were their own. I had a cheer squad of Aussie, Aussie, Aussie, Oy, Oy, Oy – it was amazing and I felt strong. My crew were there ready for another Ferrari pitstop. My hat came off, replaced by head band and Head Torch – it was about to get dark.
This is where Pacer John Zerbe, 3 x silver buckle and 3 x pacer came into his own and took control of the strategy – I just now had to run, eat, drink and not fall over – John would do the thinking for me.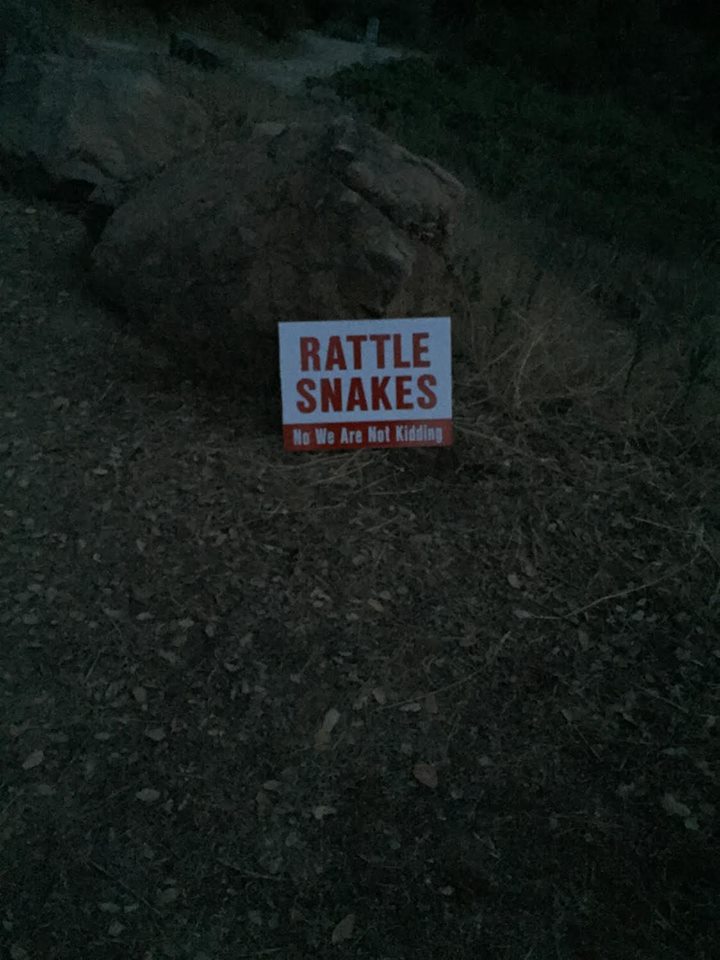 John had all the splits in his head and had calculated how much time we had to do each section. We had 10 hours and some change to run 60k's. I had run the first 100k in 13hrs. John advised we could run for 4hrs and powerhike for 6 and make Silver Buckle cut off easily. Now I was thinking top 50………..but only briefly! As we started running again, I took check of the situation and reminded myself of my race goal which was sub 24hrs and every minute less a bonus. Now is not the time to blow up, cramp up, bonk or fall over. Stick to plan but go confidently and assertively.
We began the descent into the American River Canyon, the infamous California Street. This 25k section of the race is one of the most important and deceiving sections of the course. While it is, indeed, true that it is "all downhill," it is the uphill sections along the way that make this the crux of the race.
On the way to Dardanelles (Cal 1) aid station I popped 400mg of Caffeine as tiredness was starting to kick in. We were passed by a few runners and their pacers and despite feeling ok I was amazed at how strong these runners looked. I was content with running the flat and power hiking any gradient. These 2 runners came up behind us and tailed for a few 100m's before we let them through. 10 minutes later we arrived at the aid station. The normal fanfare, not so much ice as the temperature was dropping but this time we got extra encouragement to run strong through the next section "Lance Armstrong is just in front of you guys………Go get him!" Lance must have been the last runner to pass us and turns out he was pacing Eric Byrne the Baseballer.
Looks like the race was back on again!
John advised he had us planned at 1hr 5 min for the last section and we were 1h3min. He had us at 50 min to do the next section……………The caffeine tablets kicked in and I also kicked, with a really strong few k's. If John had me at 50, we were going to do it in 40 and put 10 minutes in the bank.
We hit a short exposed climb and powered up it. John would just tuck in behind me. If I ran he ran, if I powerhiked he powerhiked. We shared some good conversation, although I did draw the line at discussing Brexit. It just wasn't the right time or place and I needed to stay calm! But for the most part we were in the zone, only speaking when necessary. Cresting this hill, we ran 2.6k's of relatively flat terrain before beginning "the rollers," a series of 15 short climbs that I was told would kick you in the teeth if you're not ready for them. If you're not too brain dead, you can count these rollers and when we got to the "red roller" (so named because the soil there is red), we ran one more before we hit the Elevator Shaft. The Elevator Shaft is a .3-mile steep descent on rugged trail that can drain the quads out of just about anyone.
The next section is a bit of a blur. It got dark as we ascended Six Minute Hill, we passed a couple of runners (unfortunately not Lance) and I was feeling a bit rough. John would tell me we're on track with some time in the bank. I was now confident we were going to make it.
We descended to Cal aid station where I thought a quick vomit would help with the nausea. I stuck my fingers down my throat and had some good reaches but alas no diced carrots. John kept an eye on me and just let me get on with it – I admired his easy attitude and felt he had me under control. He'd seen it all before and this was just what happens in a 100miler. So we just moved on and started the 8k section along the river to Rucky Chucky, just grinding it out. No one pulls out after Rucky Chucky, so I had been told. This was a pivotal aid station to get to. As we neared Rucky, we were in pitch black – I had chosen to use my Petzal Tikka XP head torch. It's powerful with reactive light but I wasn't sure the battery would last the night. My other option, the Ay-Up would light up a runway with better battery life but the torch itself was much heavier. I hoped I had made a sensible choice!
We passed another female elite, Nicole Kalegoropolous the US 100mile record holder who looked to be struggling with cramp.
As we neared Rucky Chucky, it was lit up like a football ground and we could feel the energy. I was looking forward to seeing my crew. "Runner # 94, Richard approaching" announced our arrival. Marc was there and I got a hug and a kiss from Louise – it was really great to see them. By now my stomach had pretty much shut down and I could only get liquids and soft fruit inside me. Ginger Ale had become my life force! It was 10pm and I had been running for 17hrs. Phil was taking photos and offering encouragement…………and there was Lance – we had caught him. Everyone was telling me there's Lance Armstrong, "you have to get him" – I sort of felt a bit sorry for him!
Rucky Chucky is the famous river crossing .  Depending on the level of the water they put you in a raft or let you wade across. This year we were wading through chest high river. There are 10 or so Marshalls in wetsuits hanging on to cables and light sticks on the river floor highlighting holes or rocks to step over. After 125k's it's difficult to negotiate holes, rocks and moving water – every step I was worrying about cramping. It was pretty damn cold too! We put on life jackets and took good instruction to hang on to the cable and follow the calls of the marshals.
Across the other side I could hear my crew and random volunteers calling out my name "Go Richard, you can do it"
A number of runners seemed to have come together at Rucky Chucky – this is game time and the busiest hour for the finish line is 23 – 24hrs. All these runners were now running/walking/powerhiking/stumbling, just putting one foot in front of the other to get in. We're all in pain and gritting it out.
We went straight into a 3.5k climb, Lance was just in front and it was now time to take him. We strode past, wished him and Eric G'day and never saw him again.
Less than a marathon to go
John had asked me how many times I had peed during the race and I had only gone to the toilet once. John was slightly alarmed as I had been drinking gallons and when you stop peeing it can lead to Hyponatremia, where the body stops being able to release liquid, i.e. you stop sweating, peeing and get a build up (sometimes fatal) of Potassium/Magnesium in the body. I sweat a lot and often don't pee in races so I wasn't too worried………….until about now when I realised I wasn't sweating and I still didn't need a pee. I upped the pace a little to see if I could start sweating and there was just the slightest hint of moisture. I checked my wrists weren't swollen. They were not which was a good sign. I wondered how long it took to get Hyponatremia and whether I could just get to the end of the race and jump straight into a medical tent. There was no way I was going to mention "my condition" to anyone in case they pulled me from the race. I had Summit Fever!! Was I really going to run another 30k with a potentially fatal condition? Simple answer was yes………….there was no way I was stopping!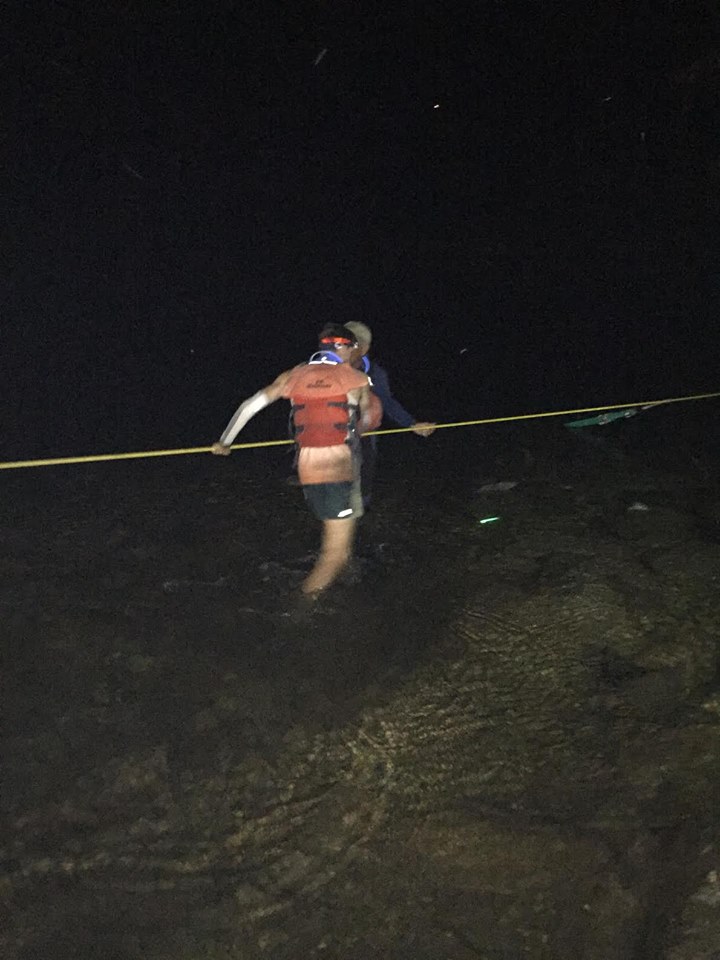 The next 10k's were fairly gruelling – across creeks, grinding short ascents. We passed a small memorial, (created in memory of a woman who was attacked and killed by a mountain lion here back in 1994 on a training run) and arrive at Auburn Lakes Trail (Mile 85 or 136k). I am stuffed and feel nauseous. I shoved my fingers down my throat again but can't bring anything up. I have now stopped drinking purposely so as not to compound "My condition". I filled up one soft flask with Ginger Ale to sip occasionally. This would be by fuel source and my hydration to the end. John was great and just let me do what I needed to do – he seemed to have a knack of not being overly attentive but his calm nature gave me confidence all was ok. We just had a job to do and we were getting it done.
The 7.5k stretch to Browns Bar is very runnable and on another day we would have skipped across it. Now every small stone was a hurdle to trip over and every tree root could bring on a cramp. My head lamp was weakening and John ran behind me to give me more light.
We reached Browns Bar. We were passing some runners and others were passing us – often we would pass and then get repassed by the same runners. It just depended on who felt good when. In my head I thought I was a net 5 runners down from Rucky Chucky – it didn't matter. It was the time that counted and I just needed to get to the finish in under 24hrs. It was here I really knew I had this in the bag. We could powerhike in from here and still have time to spare. If I wasn't running for a few hundred meters, I was powerwalking with purpose. I took a moment to stretch my cramping quad. This was a bad idea as the stretching action caused my calf to go into full cramp. I was going to have to tough this one out and just run through the pain. I had a mantra going on, over and over in my head "Pain is temporary, failure is forever"
Next stop Highway 49 and the last time I'll see my crew before the home stretch. The California Highway Patrol guide us across, it's 2:30am and the local bar has just been kicked out. Apparently in years gone by drunken young lads have hidden in the bushes to scare runners but not today thankfully. It's mile 93.5 miles (149k) and I feel like the Death March is coming on. The crew is there to greet me and like true professionals have the full crew kit laid out, ready to give their runner whatever he needs…………..what I need at this point is to keep moving and finish! I acknowledge and thank my crew but don't stop. Only 2.5hrs to do 11k's but I'm hurting.
We head straight into another 1.5k climb that leads to the Cool Meadow. After 150k of dusty firetrail, mountain single-track, wild forest and canyons,  the Meadow is exactly that.  A beautiful grassy pasture. I made a point of gathering my thoughts, forgetting the pain and putting myself into a positive space "How lucky am I to be able to experience this" I stood tall and regained my form "let's enjoy these final 10k's"
Pacer John told me he too had done the death march through the Meadows on a previous Western States with less time to get to the end than we had up our sleeves. I knew we were going to make it but these little anecdotes from John were always inspiring and he seemed to know exactly what to say to keep me going.
We now had a 300m descent over the next 4k's to No Hands Bridge. 4k's going down hill was torture. I felt like my legs were going to cramp with every step. The treeroots were becoming hurdles and small stones were becoming landmines! But with every kilometre ticked off we were 1k closer to Placer High School running track.
We cross No Hands Bridge and start a gentle climb which steepens and crosses 2 creeks. John tells me we have 1 qtr mile to the top and as we near I can hear the good folk supporting at Robie Point where it is only 2k to the finish, the famous Mile 99. I can hear Marc calling my name, there's hollers and whoops as the partying crowds become aware another runner is coming in. Louise had joined us and the next 300meters are a steep incline and hands on thighs I start my final push and catch up to a runner and his crew. It's a guy I've been yo-yoing with for 40 odd k's. I pass him on the hill and then turn my power walk into a jog, this increases to a run which took my crew by surprise. Time to leave nothing on the track. In front of me I can now see down Brook Rd as it undulates into Marvin way. There are another 4 runners and their crews and it was now time to make up a few places. I just keep increasing the pace and my crew are running hard to keep up. We pass one runner at a time until all 4 had been reeled in. The Voice of God (or Norm Klein) can be heard commentating on the track. The flood lights of the track are a heavenly site as we make our way to the corner that once turned will show me the entrance to the track………."And heerrree comes Richard Bettles from Allambie Heights Australia, he's a sales manager in the coffee industry and is supported by his long suffering wife Louise" It's 250meters of joy as I forget any pain and charge around the track to the finish line. I had read that this 250m is the most memorable ¾ lap of a track I'll ever run and had been envisaging this moment for a long time – It was. I was elated to cross the finish line under 24hrs and joining a relatively small club of Silver belt Buckle owners. I finished Western States 2016 in 23h:21m:42s in 79th place and 1st Australian (Andrew Tuckey was registered under GBR!) It was 4:21AM and after watching Howard Norton come through in 23:46 I could only think of bed as we planned to be back at the track for the Golden hour, 29 – 30hr finishers. As my legs were now going into full cramp I suspected sleep was going to be difficult and it proved to be so as every time I moved my calves, quads, hip flexors, glutes and feet, muscles would contract with stabbing pain. I had a strange feeling of elation, pain and acute tiredness but all things said and done I would not trade this feeling in for anything. I had experienced something very special and even in this delirious state I rationalised I would do it again in a heartbeat.
Richard Bettles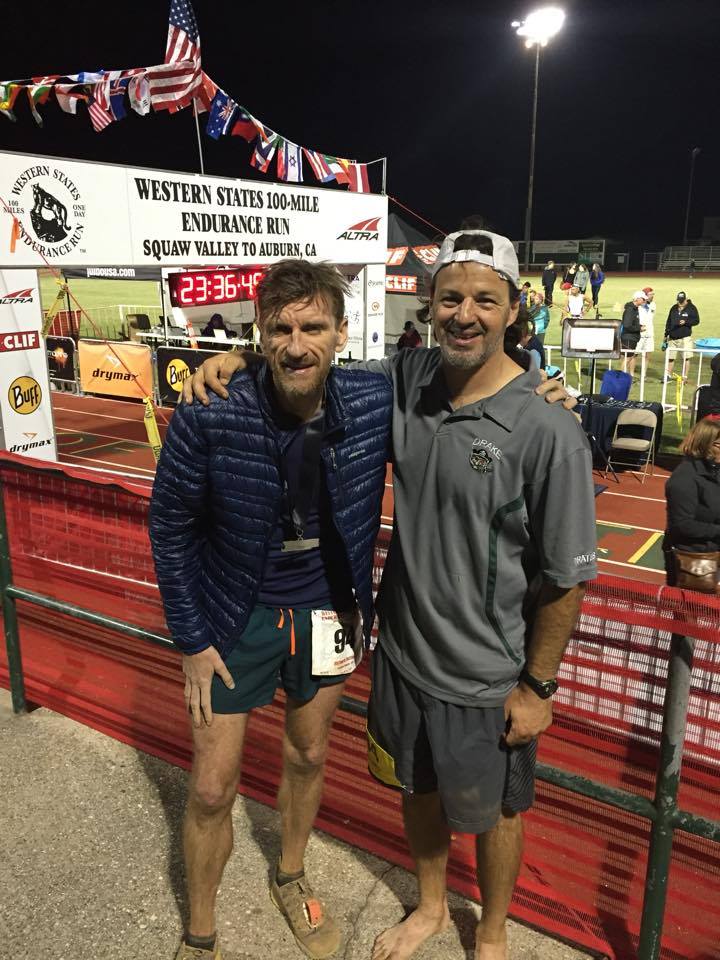 Message from John Zerbe my outstanding Pacer: "I received your message and I appreciate it.  It was a pleasure running the final 40 miles with you. Our running styles are the same, "keep moving and don't complain".   If I do not get in next year and you do I would enjoy pacing you again.  I felt your pain on several occasions and I never heard a complaint from you. It was inspirational, you are a strong and tough runner."