When you're running this event, your whole body hates you.
If you're crewing, it's only your liver.
At around 9am on Wednesday Jane Trumper and Sally Dean arrived at my place and we made a few last minute decisions about what to take and leave and headed off. Then headed back again because I had forgotten my laptop. Sometime much later we arrived at Hailey Maxwell's place and added her stuff to the amazing assortment of crap in the car.
The trip to Eden was uneventful except for 2 things- somehow we didn't go via Berri- and hence missed the fresh donut van, and we managed to talk openly about bodily functions for quite a long time. It became obvious I was going to enjoy spending time with these lovely ladies…..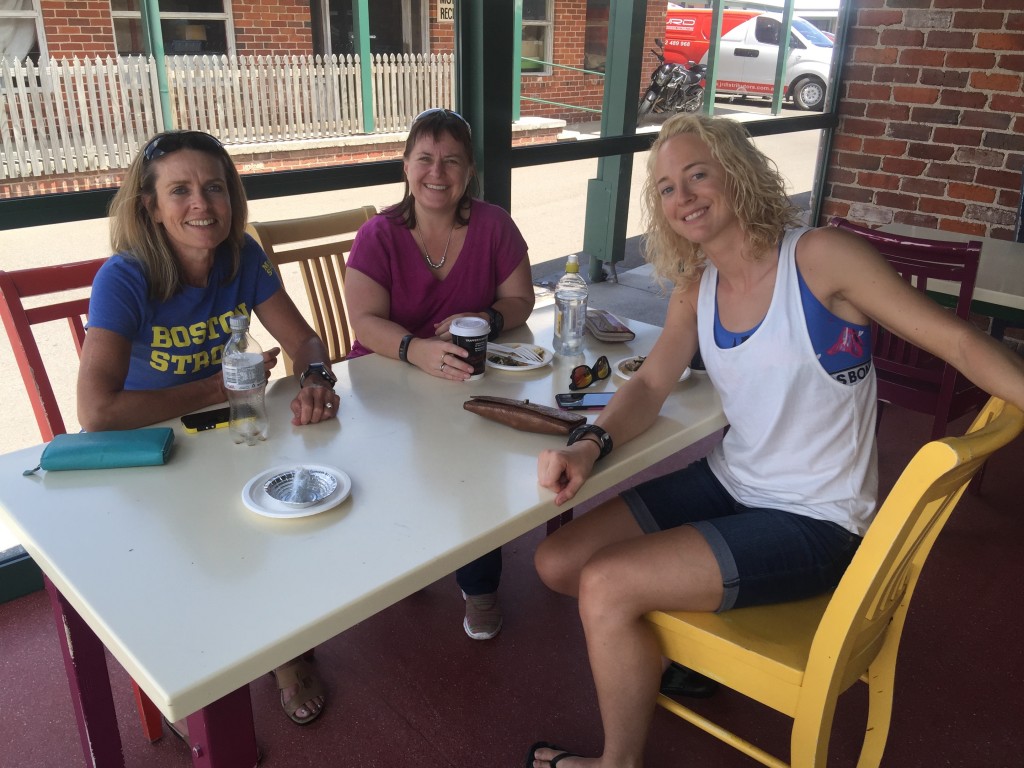 A quick stop to dump our crap at the caravan park and it was off to dinner at the Fisho's- Eden Fisherman's Club. It's like going home. Well, a gaudy home that sells delicious fried things. And beer. Wayne 'Blue Dog' Gregory was there with his team so we added Mick and Bernadette along with BD, coming back after 4 long years in the injury box.
Getting back to our new waterfront trailer, we were pretty happy and took a few selfies with beer and decided to head off to bed. At that moment Wayne turned up with a bottle of red wine, and the ladies ran away and shut the room doors. So Wayne and I sat up and talked about nothing, nursing a few middies of red. Nice way to finish the day.
Thursday morning and strangely I wasn't feeling 100% but I wasn't worried about getting sick, as alcohol kills bacteria. We popped into town for breakfast and met Joe Ward and Anderson, who would both be running. After that we hit Coles for supplies and everything looked delicious. Poor Jane was made to pay for our soft drink and chip habit, then we handed the big job of re arranging the car to Sally while Hailey and I checked the course for Cossie to Coast.
If you've never seen this race it is hilarious- the crews all wear a swimming costume and run 7km from near Boydtown Beach back to the caravan park. This year we had 29 starters, and for some reason I ended up as the RD, but it went smoothly and we didn't have to send out a search party for Annabel Hepworth like last year. She was in a gorilla suit so I'm not sure if she'd have been able to hunt down any food……One person this year wore a 'Gafkini'- a bikini entirely made from Gaffa tape. Just be glad I'm not posting a photo of that one…..
Back to the Fishermans club for the race briefing and pre race dinner- it really is Christmas for ultra runners- almost every ultra runner you know is in that room. Handshakes, backslaps and sandbagging is the order of the day, before an early night and even earlier morning for the race start.
We shuffled down the beach in lovely mild conditions to start the race. This year my running club (NRG) had 5 runners accepted into the race, but sadly 2 were out with injury. Would have been an amazing thing to have 10% of the field, but alas it wasn't to be. On the upside we did have Robyn Bruins, Chantelle Farrelly and Rocco Smit- all of whom had amazing performances at GNW. I snuck in for a pic with team NRG, got one with my crew + runner and suddenly they were off!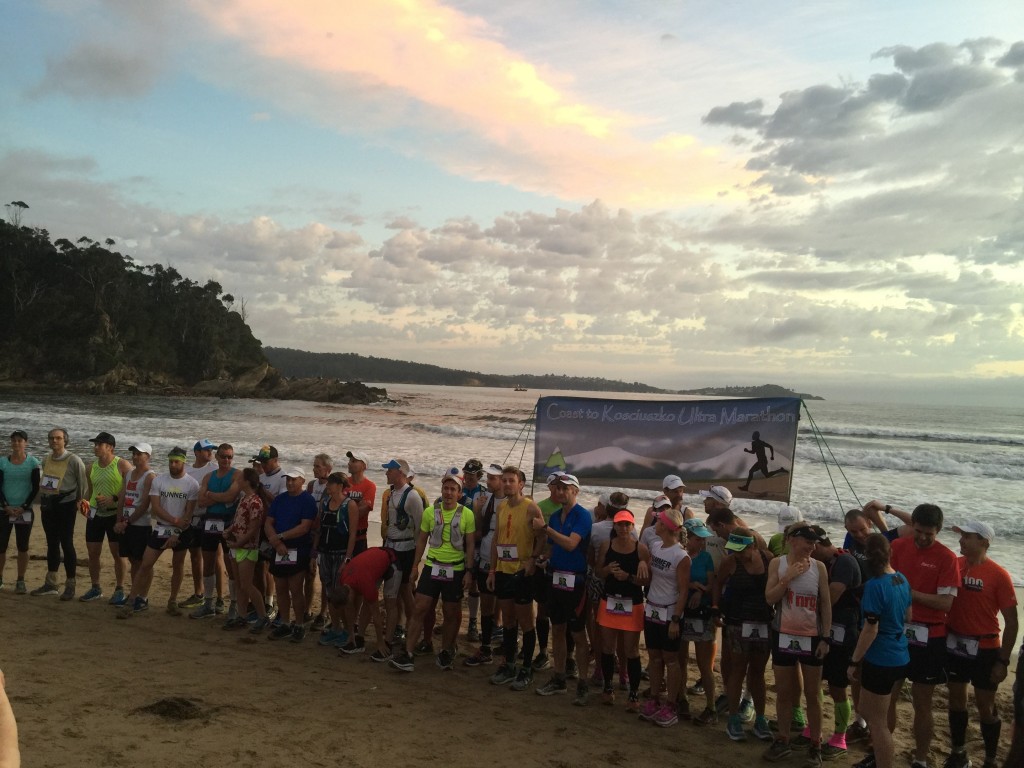 The last few years there has been a rule that everyone must head off to the Pericoe Rd meeting spot directly from Boydtown Beach. Makes a lot of sense, and prevents runners breathing in heaps of dust from cars going past. We arrived there to see the locals making coffee and bacon & egg rolls. They were delicious, but I had a few things to set up too….. I planned to be the only car on the road with wifi, aircon, and an espresso machine. OK air conditioning isn't that special in a modern car, but I figured good coffee and access to Facebook would make the crew very happy……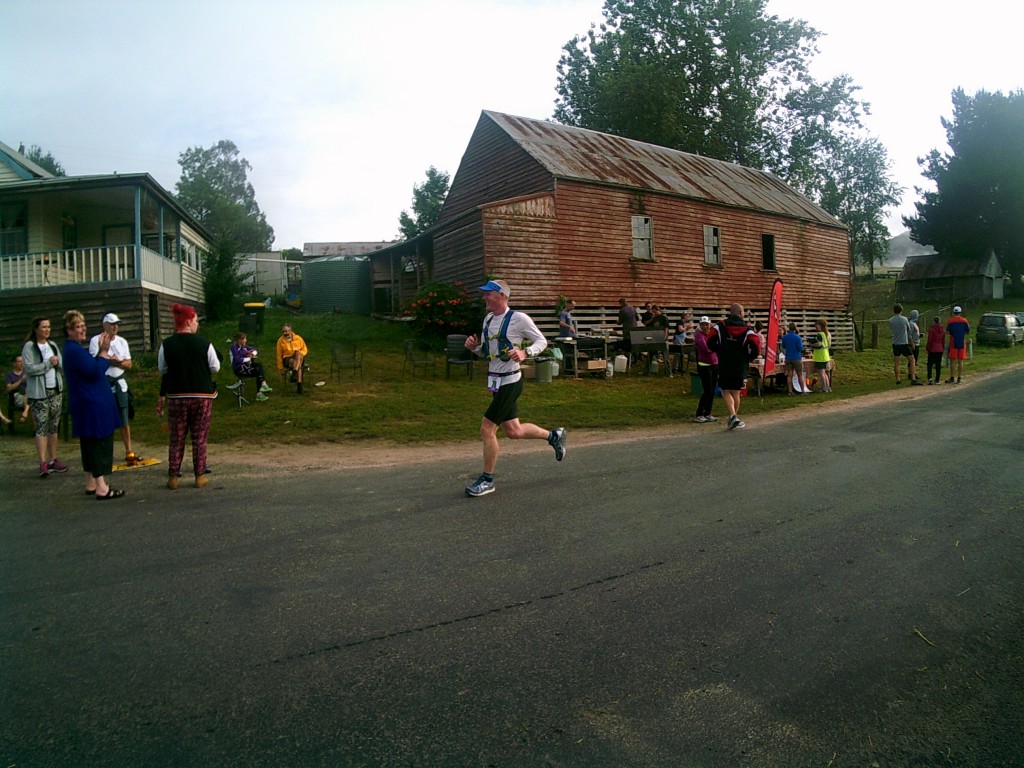 At Pericoe Rd we 'serviced' our runner for the first time and started to get into the rhythm of the race. Jane had been a bit worried about a niggle she had picked up during her race in Manislu and had brought her own moon boot. That's a new level of sandbagging. I hoped. However she seemed to be moving well when she came through. In the early stages of the race you get to see pretty much everybody, and it's a real party for the crews before the field starts to stretch out. Trevor Allen came through first at warp speed, followed closely by Joe Ward and others- not sure it's a good idea to make your 10km pb in a 240km race but I have full respect for those who can 'go out hard and hang on'!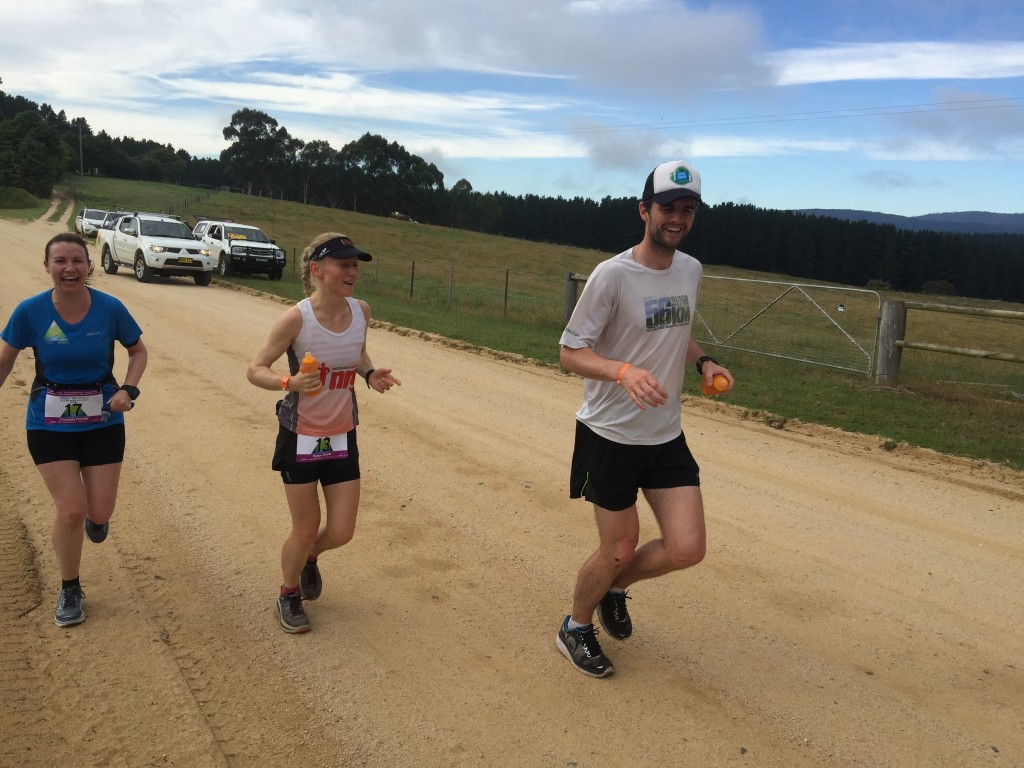 From there the next major moment is at Rocky Hall, 50km in and designated Checkpoint 1. Jane made it here at 11:55am or 6:25 race time. This was 19 minutes slower than her PB in 2013, but the day was getting hot and certainly no reason to worry.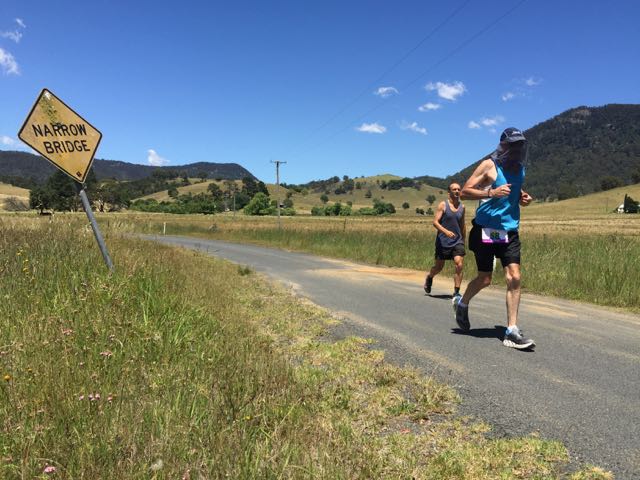 We designated Hailey to walk up Big Jack with Jane, and I went up in the car with Sally. It's the first time I've been up there in a car- twice pacing Jane and once running the event. At the top, we figured we had enough time to sneak into Cathcart. It puts the odometer out of whack, but we wanted to buy lunch, get ice (we were using a lot in drinks etc because of the heat) and make sure there was something good for Jane (she likes a mango Weiss bar at Cathcart, but we already knew they didn't have any).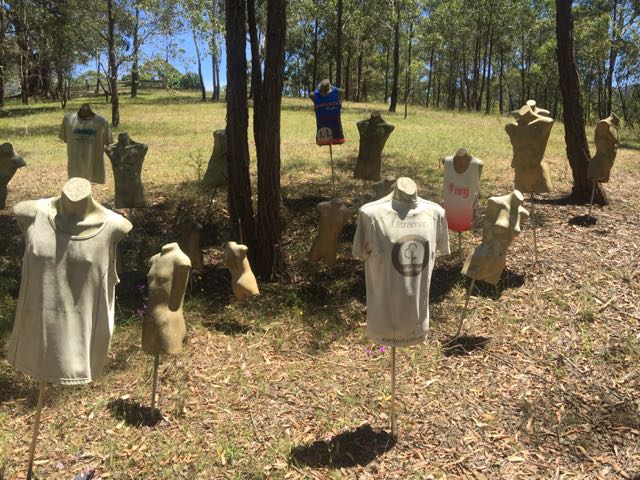 Back to the top of Big Jack and no one was any wiser, except for the pie stains on my shirt. Jane checked her feet, and it was here that we started to hear about the carnage unfolding on the course. Jan Hermann (11 time starter, 9 time finisher and bloody legend) had pulled out at Big Jack- we found out later that he had recently been knocked off his bike and was still injured from that. Tough guy but poor luck this year. It was a big blow to all of us to hear this.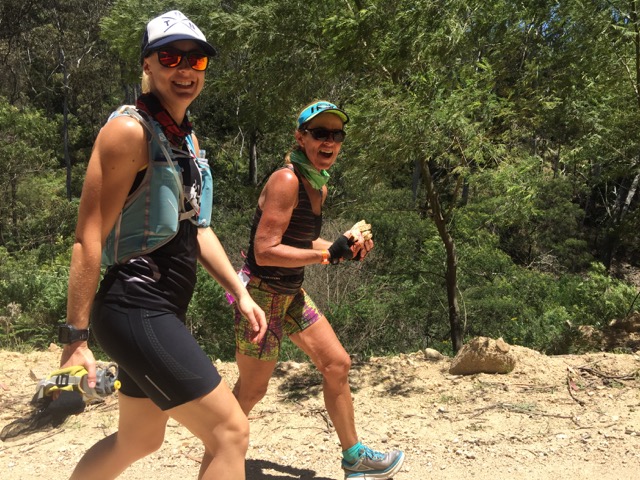 Another to pull the pin was Billy Bridle. I really wanted to see him finish, he's worked really hard for his place and lost 50kg over the last few years. Alas it wasn't his day but I hope he'll be back.
Into Cathcart and it turned out that the earlier trip was worthwhile- they'd run out of ice! It would bean extra 20km into Bombala to get some if you needed it…… Jane was now running 45 minutes behind her PB but still looked comfortable. Blue Dog had his game face on but looked like he was in pain, and Sabina Hamaty was way back in the field and looking unhappy- but 240km is a long way and like someone said 'if you feel good during an ultra marathon, don't worry- the feeling will pass'.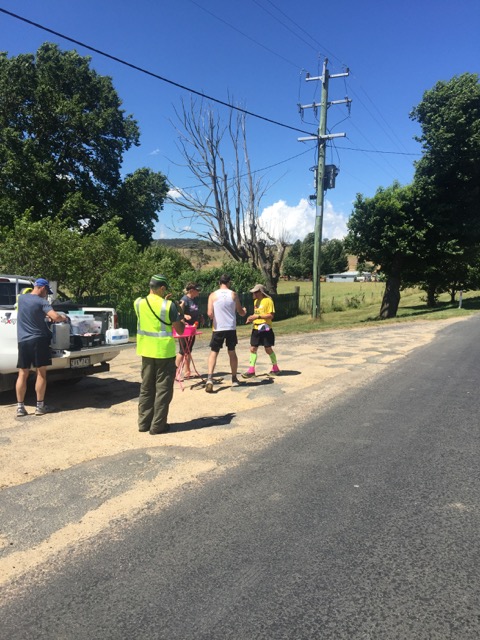 Jane asked us to meet her 4km up the road outside Cathcart, so we went out 4km, I laid back for a nap, and the ladies sat at the rear of the car and talked quietly. Just as I drifted off I thought' we haven't seen any runners or cars for a while' but it wasn't enough for me to wake up…… and shortly after this my mobile rang and it was Andy 'Whippet' Hewatt the race medic using Jane's phone to find out where we were……. she had run 6km and figure we had gotten lost. Oops. Yes, we'd missed a turnoff.
Back on track and Jane came up to the window and absolutely tore strips off us. The air turned blue and all I could manage was a weak apology, then I looked around and Damon Roberts crew (who had helped Jane while we were indisposed) were filming us! We'd been set up!
So I called her a bitch and she variously said she was fine and we were a bunch of er whatevers, and we all trundled merrily down the street. Next thing I'm being interviewed by Damon's team again about our 'mishap' and Billy Pearce (race medic) comes up to give us shit too. It seems runners can't keep secrets….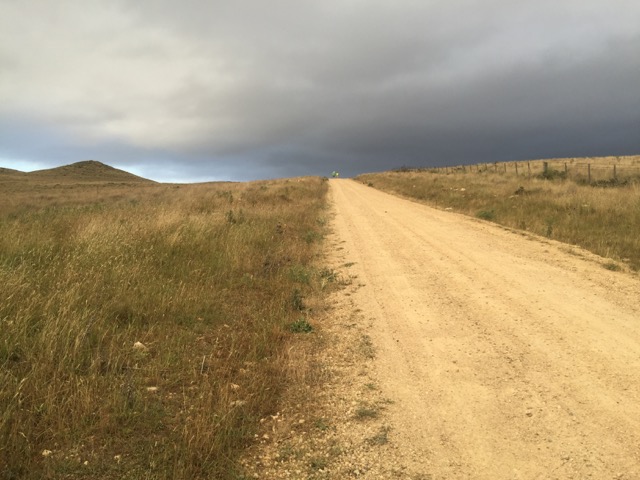 It's a bit of a slog from here to the dead tree at 102km, and we were all a bit sombre after getting lost. Your runner really does rely on their crew to be on top of everything at all times, it could have been much more disastrous than it was.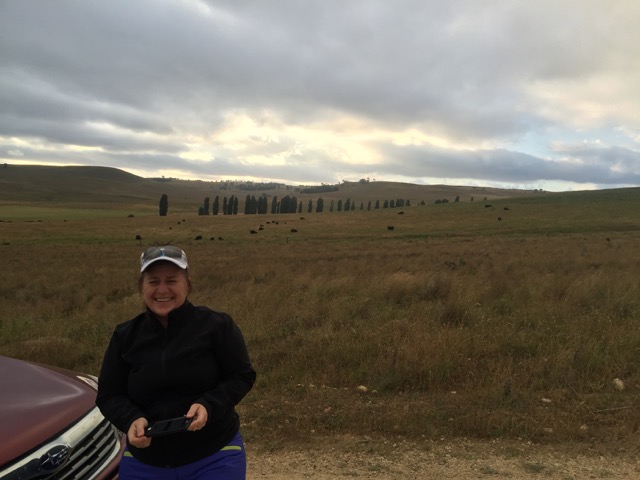 We'd decided that I would be first pacer and would start at CP3. Cup noodles were ordered from the finest chefs in the land but unfortunately our stove kept on getting blown out in the wind. They eventually solved the problem by using hot water we had in a thermos from the morning. Nice!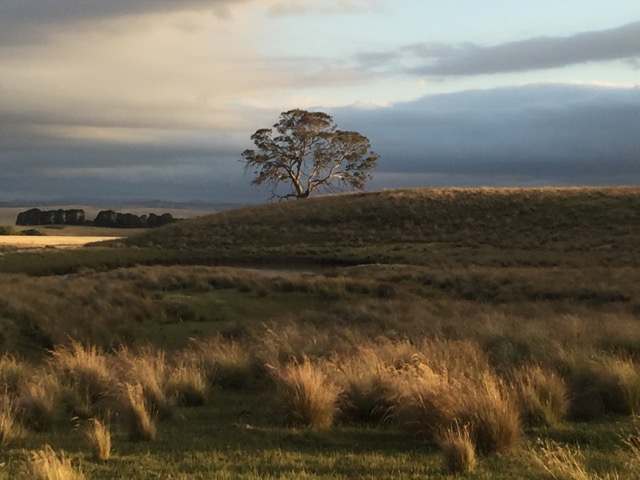 By this time it was obvious that Jane was not having an easy time and it would be a matter of minimising losses rather than killing her PB. I saddled up for a 6 hour shift and we headed out into the night. Previously we had done a big 8 hour shift to start, but this time we had only 2 confident runners on the crew (Sally would have been fine but our job was to keep Jane moving, and Sally more than makes up for not pacing by being super organised and nice to be around!)
I like the night shift, it's quiet and you can see stars and reflect. The trip into Dalgety can be a bit soul destroying because it is pretty long at 42km but there's nothing for it except to keep going. I insisted the ladies get a bit of sleep as I was carrying everything that Jane needed for the next few hours. So we left the clipboard on the windscreen of the car and I wrote the time we went past, allowing them to get a bit of sleep. I did turn into a bit of a Nazi though, yelling at Hailey for not being asleep! Sorry Hailey!
Hailey took over pacing around 2:45am and I settled in for some sleep. Amazingly I was pretty relaxed and actually slept for a while- massive win!
Somehow I managed to arrange things so that Hailey had to pace Jane up Beloka Range. I awoke in the early morning, and as men do, needed to wee. First problem- there was about 5 cars up there! So I spotted a tree a discrete distance away, but just as I was about to drop trou, Damons team command parked right in front of me. Given their previous treatment of us I was pretty tempted to urinate on their nice clean car, but figured it wouldn't really make things better. You'll keep, you cheeky bastards.
In another stroke of brilliant luck, Jane told us to go ahead to Jindabyne and get coffees, breakfast and supplies. So I got a couple of hours sleep, coffee, breakfast and plenty of rest. Heaven.
I took over pacing duties again in a car park on the outskirts of Jindabyne, and we headed out of town towards the big climb. It was around here that we heard about an issue that had come up. I don't really want to go into it here but several teams were warned about having too many crew cars serving their runner (you are allowed only one), and subsequently a time penalty of 2 hours was issued to Nikki Wynds team. It must have been gut wrenching for both Race Directors and runner (and crew), but anything that jeopardises the running of the race must be dealt with harshly. I can't imagine that the race would get approval in todays nanny state environment, and we must do everything to preserve it's viability.
Jane is typically very strong on the hills, and we started catching up to Kirrily Dear- eventually passing her by the side of the road with her legs in the air. Sorry that didn't sound right- her all female team were attending to some nasty blisters. I'm sure Kirrily thought 'game on!' but when she got past again a few km later Jane told her there would be no contest and she could have the race placing with her blessing.
This made us aware of how badly Jane was hurting. You always hurt during these races, and Jane has a higher pain threshold than most humans I've ever met. And probably most I haven't. However she was getting slower and slower. I'd paced her in 2012 to a PW and 2013 to a PB. I'd seen her really sick in 2012 and still finish. This year she was in (slightly) better physical condition (i.e. not spewing for 8.5 hours) but much more pain from a back issue. There were a few worried looks from the other crew so I had to chat to them privately about our strategy. Which boiled down to- don't mention the injury, get Jane to the finish. We never discussed the option of pulling out in front of her, but it was quite distressing to see her like that. It became a task to make her as comfortable as possible, with loads of massage and stops, which she normally wouldn't do.
Hailey had another stint at pacing and I took over again at Perisher. We had a long stop at Perisher to massage Jane, get some food on board and make the last 9km to Charlotte Pass. We had a couple of runner service stops and sent the crew forward to get our mandatory gear checked off. I'd spent a fair bit of time schooling Jane so she could pass a cursory medical 'just stand up a bit straighter and make sense when they talk to you'. I went to Paul Every to ask if we could allow Jane to hold on to our packs to keep her a bit straighter but he wasn't keen and said 'you have to ask if you need to keep your runner upright if they should be going up the mountain at all' and looked pointedly at Rhiann Blackwell, medic. Luckily we had already convinced Rhiann that she was ok. So, she'll have to do it herself then, no problem. We were super organised but somehow it all turned into a complete clusterfuck once we arrived. Nobody could get their shit together for the final assault on the mountain. Even me. In fact the NRG'ers waiting at the finish line laughed when I yelled at the team to get moving and then spotted Ngaire and had to run over for a hug.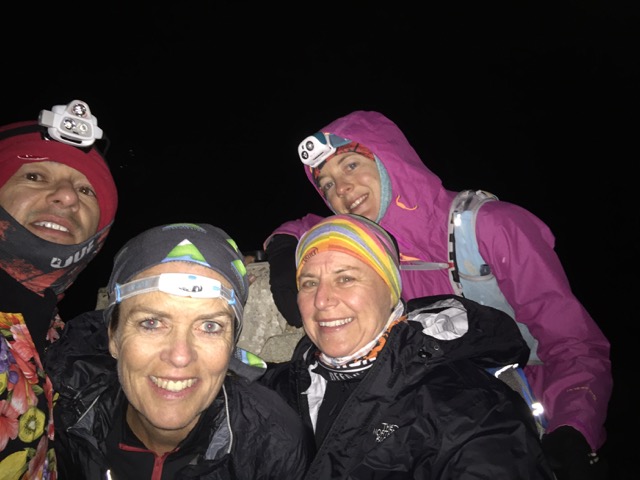 ……. And then it got very, very ugly. If you're in good condition you should be able to do the 9km up and 9km back from the summit in around 3.5 hours. It took us nearly 6 hours. We'd been explicitly told to get assessed by Andy 'Whippet' Hewatt at Rawsons Hut. We were lucky enough to get (for Jane) a more professional massage and hot chocolate, which she promptly threw up. But I was very glad that she'd had it- I'd been pushing her to eat and drink for hours with little result.
With 1.3km to go I asked Sally if she would go ahead and get the car- bring it up towards the finish line and out the heaters on full blast. It was pretty cold and I wanted to bundle Jane into the car as quickly as possible after crossing that line.
And so it happened- 42 hours and 39 minutes after leaving the shores of Boydtown Beach, Jane crossed the finish line for the 6th time. She'd been telling us that this was her last time for the last few days, let's see what happens next year when entries open….
I drove us all down the mountain, not as fresh and awake as I'd hoped, but still ok to get us back to Jindy. Once we got inside we were all so shattered that showers were about all we could manage, and the thought of going out to the car for another pot noodle filled us with dread.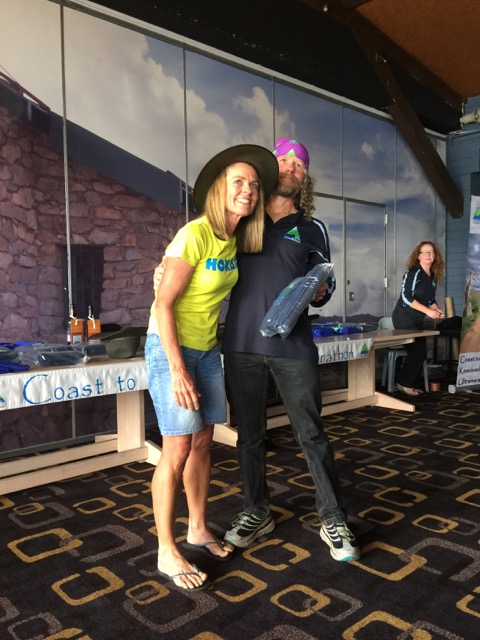 The next morning we all attended ultra runner church- the presentations. While the entire event is special, there's nothing quite like it when Paul stands up and gives a little speech about every single finisher, and yes, while we've heard most of the asides there's still not a dry eye in the room. You wouldn't want to be anywhere else.
After this I had planned to have a sleep but somehow got caught up shopping and drinking. This went long into the night- in fact when I flamed out and went home, Jane stayed until she got kicked out at closing time. Maybe I'll have to develop that kind of stamina for next year!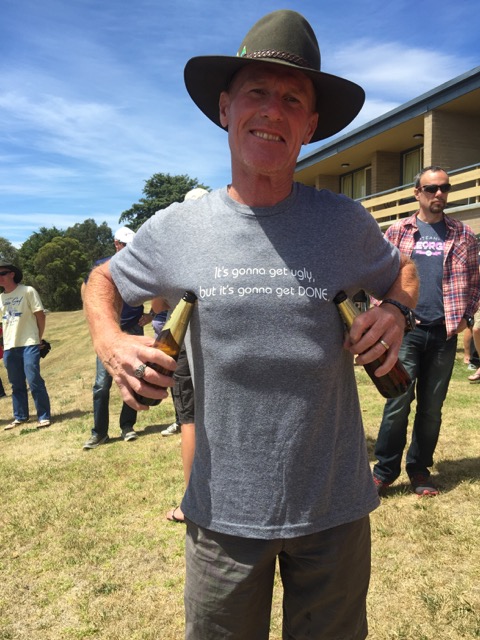 Monday morning breakfast was quite sombre, at least until Roger turned up and started doing jokes. Somebody at the table said 'Roger, what's going on in that head of yours?' and 4 other people at the table simultaneously screamed 'DON'T ASK!'
Final word goes to Paul Every. As I was leaving breakfast he asked
'So, will we see an application from you next year Adam?'
'try and stop me!'
Paul 'Oh, we can stop you…..'
"OK, PLEASE don't try and stop me!'