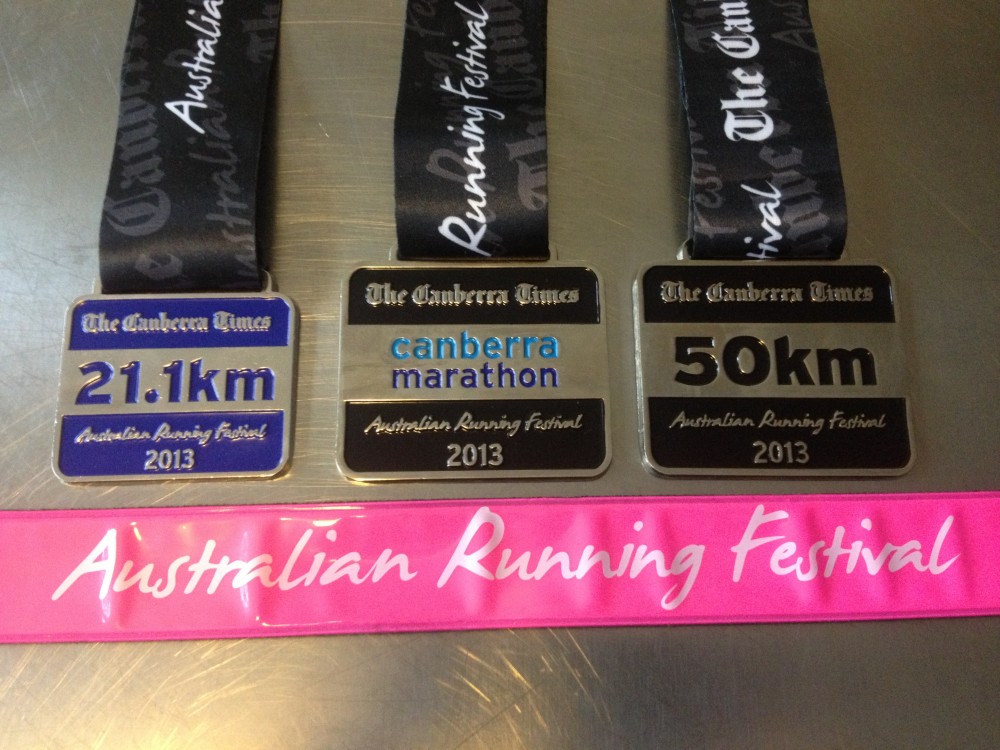 Every now and then in running you get a slap in the face. This time I deserved it too!
My preparation for the marathon had been going pretty well, I felt fitter than last year and happy about my training. Then I had a look at my splits from last year and started worrying that I couldn't make it. So on the Friday night before when someone offered me a glass of wine, I probably shouldn't have had 5 (couldn't have been more than 10 anyway). But that was totally my fault. Was I overconfident or under confident? Both!
So I wasn't terribly surprised to turn up to our hotel in Canberra to find a craft beer and cider festival in full swing. To a bloke with a force 3 hangover this could have gone either way. What do you think happened when we discovered that as guests of the hotel we had free entry to the festival and 10 drink vouchers. We had a little wander around……..
Later that afternoon it was time to meet the other NRG'ers who had made the trek to the capital. Great pick of restaurant, lovely big servings of pasta, and a bit of mild sledging.
Race morning we hopped in the car to the race- Rocco Smit was the 3:45 pacer for the marathon, girlfriend Sally and my wife Sarah both in the Half. Both races start at the same time and share the course for about 10km. I was about 50m behind Rocco at the start but could not get any closer- then when the gun went off it took me 90 seconds to get across the start line, and by then he had disappeared off into the distance. A word about my goals- my pb in the marathon is 3:46 from 2012 and I felt I should be able to go under that by a couple of minutes. Next closest to that was a 3:43 from Jennie Sharland- Riggs at Great Ocean Road last year, and a stretch goal of sub 3:39.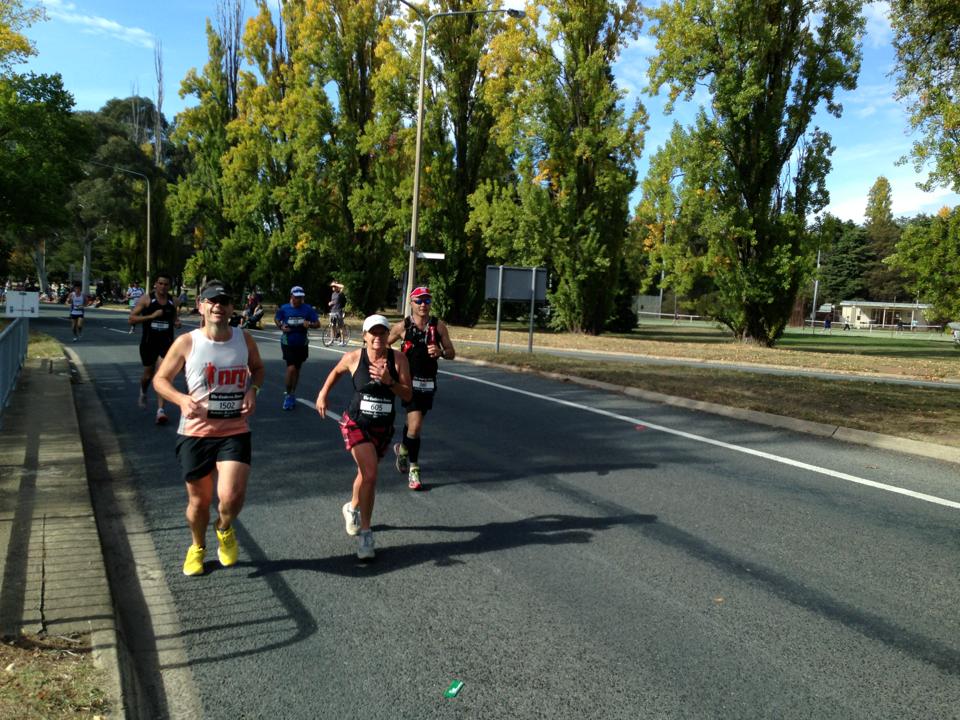 So my time last year was an average 5:21 pace, if I could make about 5:17 I could be a smug bugger when I saw Jennie next and a 5:07 average would get me under 3:40.
Rocco had done his calculations for a 3:45 finish (exactly 5:20 average pace) and decided he need about 5:15 pace to make his time. Lots of reasons for this- apparently most marathons measure a bit long and needing to have a bit of wriggle room. I wasn't convinced, but he turned out to be exactly right…….
So we set off amongst thousands of people, trying to pass lots of human speed bumps while not going too fast. I settled into a decent rhythm, talking to Leah Evans (don't tell anyone, she's a Strider- and also the one I told to 'harden up princess' at Six Foot Track. Princess Leah, geddit? Actually it took me a while……) and watching the speed. It took us 40 minutes and about 8km to catch up to Rocco. Who was having a leisurely chat with Michael McGrath. Obviously Michael needed a stern word, so I politely asked him to run a bit faster, and he obliged. Easy.  Now the plan was to stick with Rocco for at least 15-20km and then see if I had anything else to go with. However there was such a crowd with Rocco's train I couldn't get behind him. And I didn't want to be in front of him in case he actually started to race. He is much more professional than this, but I was also feeling pretty good and so I took off. Who knows what would have happened if I stuck to my plan?
At 13km I overtook Jesus. No not a Mexican guy- a bloke with no shoes, a little cheesecloth over his naughty bits, no shirt. And a crown of thorns. A bit too early for hallucinations. I also had a chat with Graeme 'The Riddler' Ridley. He's the one who, during the same race in 2011, wore his Riddler outfit and kept on running up to spectators yelling 'does my bum look big in this?'. He was happy to let me go, planning to keep a nice consistent pace. Apx 1:48 for the Half, and mildly impressed. Maybe I could pull off a 'win' despite thumbing my nose at the running gods? At this point I was happy, settled into a rhythm and keeping the pace pretty even. One of the advantages of an out and back course is that you get to see the fasties. I got to yell at Alex Matthews, Rob Mattingly, Geoff Evison and others as they went past. All were having outstanding races.At about 26km I was wondering what would happen at 28km, the 2/3 mark of the race. For some reason this is an important mark for me- perhaps not a good thing because this is where it all fell apart. There's only 14km to go, and I noticed that I was slowing down significantly. I guess if it had been down to 10km I probably would have just stuck it out, instead I just carried on letting my pace slide, wondering if it was worthwhile pushing harder.
I got my answer at 36km. Race time exactly 3:10 minutes I figured that if I could sustain a 6 minute pace, I could still make 3:40 with reasonable ease. About a minute later I realised my calculation was wrong- I would need to be at 5 minute pace to make my time. I knew that wasn't going to happen, so I let my 'killer' instinct lie down again. In fact it's pretty hard to wake up at the best of times. My splits blew out to 6min/km and I just concentrated on running easy. Rocco flew past and said 'come with us' but I just didn't have the will. Sarah and Sally met me about 400m from the finish, I asked Sarah not to take any photos, which was lucky because about 10m further on I had a bad cramp attack. Through the finish chute in 3:48:40, and 2:40 slower than last year. Not bad, but not what I wanted- suppose I should have either tried harder or stuck to my plan! Rocco finished in 3:44:50 gun time, couldn't have done it better!
I had a little rest then continued on for the last 7.8km to make the 50km. At this point The Riddler glided past like he was on a 5km fun run, so I sucked it up and trotted on up the path alongside Lake Burley Griffin, giving encouragement to other runners whether they liked it or not. It's a little bit special doing the extra bit because so few people do it. I saw Pam Muston (2nd female at C2K last year, ultra running royalty) coming back looking comfortable, then caught up to Rocco a bit further along. He was walking, but looking happy, which was obviously wrong. I asked him to run slowly with me, and we made it to the turn around point without too much drama. He put on a slightly better pace than me and for the next couple of kilometres I watched him slowly fade into the distance. His time of 4:45:55 was nicely in front of my 4:48:05, during the last 7.8km I was comfortable at a slow pace, much more comfortable than in the first 42km- but I was completely trashed after the 50km.
A couple of other things I did wrong- looking through my sock drawer I saw a barely used pair of Thorlos and thought they would be great to run in. They were- until I started to get a hot spot on the little toe of my left foot. A bit of a surprise, I don't get a lot of blisters these days. Second problem was that I wore a new pair of my favourite Mizunos- I love the bounciness of new shoes. Unfortunately I'd forgotten to take all of the cardboard out of the shoe. Whoops. Never mind, I'm getting pretty good at ignoring foot pain……..
So a hard lesson learned. It's a real pity I'll have to wait a year to redeem myself, but honestly it was a great day out. On the way home we stopped at Moss Vale to visit some friends, and in a stroke of irony of epic proportions- the male of the house asked me to help him carry into the house a treadmill/ running machine he had just purchased. I was barely able to walk and had to decline……
for the data nerds, here's some food-