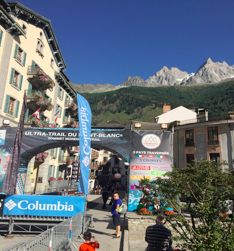 The Loop UTMB 2015
Rather than start from the beginning, I want to start from a place where it almost ended.
I was in a public rest room just outside the check point of Courmayeur, throwing my own pity party. My legs felt like they were shot, my chaffing was cringe worthy and it was 28 degrees and climbing; not the ideal state when one still has 93km to go.
It didn't start off that badly. I had arrived in Chamonix on Wednesday afternoon with the start being on Friday night. My strategy was to make the jet lag work in my favour; I was going to be awake at night and sleepy during the day. For those that don't know, Chamonix is in the foothills on the French side of Mount Blanc. Everywhere you look there are great vistas of the Alps, and every view is a postcard. The tough thing about being in a new place is that you want to explore, but walking around endlessly would ruin my 6 months of training, so I basically stayed at the hotel only going out for food and registration. One observation when I got to registration was that everyone nibbling on a baguette, perfect carb option I think I went through 3!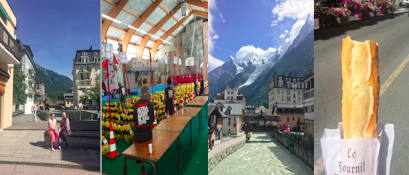 The race starts at 6pm, forcing the elites to go through one night section. I had strategically taken Stilnox to knock me out till about noon on race day. I left the hotel about 5:30pm and started to walk to the start. The town was buzzing! People notice your bib and yell "Allez! Allez!" with passion, for today I was a rockstar.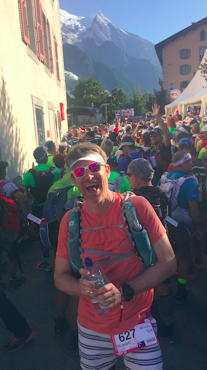 Getting near the start line I found a patch of grass and sat down in the shade and only got up when I heard the countdown. It's hard to describe the start, but the streets are lined with 6+ people deep. The announcer gives words of encouragement, some along the lines of "Once the body gives up, the mind takes over. When the mind gives up the heart gets you to the end", (which I quite liked)…… You hear the theme music in the back ground (Vangeelis Conquest of Paradise), which still gives me goose bumps, then the gun goes off and you basically walk the first kilometer till you are able to get a slow gait happening. Even after 3k's there are still people lining the path cheering you on.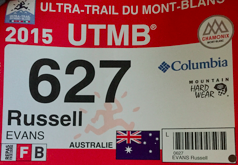 Basically the whole course can be described as: go up a hill, go down a hill, go up a hill, go down a hill, then run some flat area………..just kidding…..there are no flat areas, you go up another hill and repeat!
La Houches is where things start to get pretty messy. You start climbing up a ski hill, basically 800m of elevation in 4km, (this was a baby compared to those that followed). I pulled out my sissy sticks, put my head down and started the climb. The thing that really surprised me is that the hill was lined with supporters all ringing cowbells; reminding me of the scenes of the Tour de France. I understand the race is a big deal for these small towns, as the UTMB gets more popular so do these small towns.
The encouragement was appreciated and before long I had made the pass of Le Delevret. One down, seven to go! (Croix Bonhomme, Col De Seigne, Col Des Pyramides Calcaires (new this year), Arete Du Mont-Favre, Grand col Ferret, La Glete, Catonge and the monster Tete ux vents).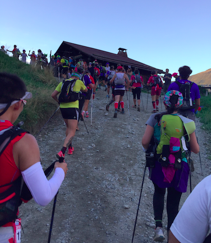 So far the trail was a mixture of single track and fire trail with nothing too technical. Being not the most coordinated of runners this was a good thing. The trail up to Croix Bonhomme was more or less a test of strength: one foot in front of the other repeat until you reach the top. Soon enough I had made the second summit and began the decent, this time the decent was very technical and steep. Many runners that I had passed coming up the hill were overtaking me on the way down. A general observation about European runners is that they are great at descending tough technical trail even when they have ran 120km.  The tough single trail decent gave way to an easy fire trail and I was able to make up the places I lost. As I came into Champax-Lac, spirits were high as I was running well and had an overall feeling of well-being.
A little note about the checkpoints: They are filled with water, coke and a drink similar to tailwind (called Overstrim). The food is a mixture of salami, cheese, and crusty breads. I found them extremely easy to navigate and the volunteers were extremely helpful provided you were polite.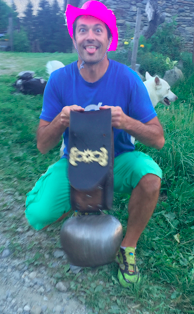 I stayed away from salami and cheese but in hindsight I possibly should of given them a go. There was also a clear distinction of which country you were in, based on the types of cheese, salami, and bread. For what it's worth, I had the best time in Switzerland's checkpoints. They were so pumped to see you and nothing was too much trouble for them.
The climb to Col Seigne was epic. A fair amount steeper than the previous climbs and for the first time I noticed the altitude. I was becoming short of breath when above 2000 meters. The chit chat among runners was fairly scarce, however I did come across an American runner who I exchanged a little banter with and who had some great advice for running at altitude: sharp short breaths in. This seemed to help a little, as I was able to maintain a good pace up the climb. Once reaching the top, the next point is only about 500 meters away; you can almost reach out and touch it. However you have to descend about 400 meters, and then climb about 450 meters to reach Col Des Pyramides Calcaires, which is a new section of the course. This section was not friendly and the most technical of the course. It was to take about 2 hours for around four km, it didn't really feel slow but that is about a kilometer every 30 minutes!
This peak was the second highest (about 2550m), and the toll of the race was starting to show. It was about 5:30 in the morning and I saw numerous people asleep on rocks at the top. When I asked if they were ok, they said they were just going to take a nap for 20 minutes and continue to run. But I guess the truth was, their race was done. The next decent was where things started to come unstuck. On unstable and rocky trail, basically I had to navigate this terrain on all fours. What's worst was that my calves were starting to cramp and I decided not to take gels – WTF? (I knew this was bad but for some reason my brain said don't take any more gels – I still question why my brain said "No").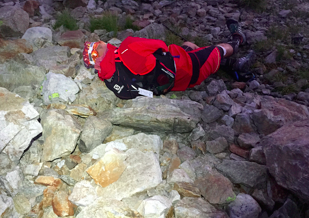 The only blessing on the decent was that the sun was rising and I had survived my first night! The trail into Courmayeur was pretty much the same one epic accent and some brutal down hill segments. My condition continued to deteriorate; I had stopped taking gels, I was cramping and I had developed some nasty chafing in my nether regions. To make matters worst the temperature was climbing. Being a ginger, I tend to think of the sun as the devil, and anything over 25 degrees means I basically stop, find some shade, some beer and pass out. But I still had 93 km to go and for the first time I thought that I wasn't going to finish. I still went into the checkpoint with the best intentions: go through my drop bag, get what I needed, and get rid of what I don't and get out of that checkpoint. Courmayeur had everything though: beer, pasta, soup an array of snacks and just 2 male toilets for 2000 male runners. The queues were massive and although it wouldn't have bothered me so much, except that I had to make some adjustments……….. But I will say a little nudity is ok in ultras.
Out of the Courmayeur checkpoint and into the frying pan, it had risen to 28 degrees and it was still climbing. I took refuge in a public toilet barely 500m out of the checkpoint.  It was time to make the call to tell my wife that my race was over. When she answered, she was full of praise and letting me know how well I was doing. But I was broken, and I was only 90 minutes above cut off and I was falling apart.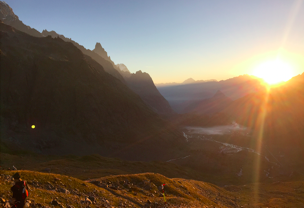 Everyone should have Leah as a 'phone a friend option' in an Ultra. She is specialized in the craft of having an answer to every excuse known and also (a little unnerving) she said I was "skirt" if I didn't continue. Ouch! With that I gathered what was left of my soul and started the climb to Refuge Bertone. Before you get to the nasty part of the climb you get to walk through the public square of Courmayeur, where I kid-you-not some guy announces your name and what seems to be the whole town gives you cheer. I remember the announcer said "It's Russell and he's all the way from Australia, Aussie, Aussie, Aussie!" He expected a retort with "Oi Oi Oi", but I just kept my head down and thought that he could go screw himself, (gives you an idea about how low I was at this point of the race).
On the way to the base of the climb I saw people turning back, hopes and dreams were being killed off with the 30 degree heat and a relentless gradient of the climb. When things were at their toughest, a little sign of encouragement came in the form of a gentle cold breeze, which gave me hope of making it to the next checkpoint. I thought to myself, I would just go on until I didn't make a cut off. (I could live with that excuse.) The cramping had gone as soon as I got onto stable ground and the only thing that was slowing me down was the pain from the chaffing, which I was maintaining through applying ultra glide every hour (advice from Leah on the other side of the world). Randomly the night before the start I had spoken to a guy that had been timed out at the last check point, he told me it was devastating for him but I kind of liked the way he was back to give it another shot this year.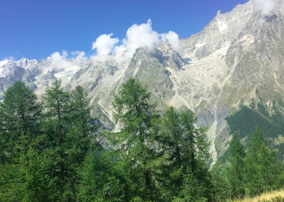 The next 75km were purely about putting one foot in front of the other. I still hiked the hills and shuffled along the down hills and flats, (coach Andy would be proud). Highlights included the climb to highest peak at Grant Col Ferret where I had a really pure feeling of just existing.
The massage I had at Champex-Lac……. I popped my head in the medical tent and asked for some deep-heat, next thing you know I'm horizontal on a massage table with 3 physio's working on my legs, two on my quads and one on my calves. I really did enjoy the Swiss side of the race.
By about 9:30am I had survived my second night and made it to Vallorcine, the checkpoint before the last climb to summit Tete aux vents. When you get to the tent, it kind of looked like a treatment facility for Zombies. The run had made our skin flake, various cuts and bruises having had a chance to weep and swell, and the sleep deprivation had completed the look. The cure was easy either finish or pull out.  Strangely though, this checkpoint is where a lot of people pull outWith only 21km to go, you are so close – why would you pull out?!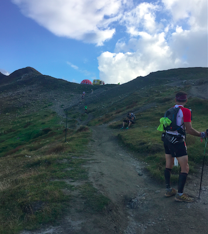 For the first time in 24 hours I thought I could finish. I got out of the checkpoint and started the walk to the foothill of the climb to Tete Aux Vents. It soon dawned on me the reason why people pull out at Vallorcine: they know what is to come. I remember reading a race report from Anton Krupicka and even he said that the climb was pretty messed up. On this climb you don't count stairs, you count switchbacks. It's also completely exposed so one is forced to do battle with the elements. Climbing these monsters one learns there is a certain etiquette to the climb. You try to tag on to a group and hope that they are going slightly slower than your pace. Groups form and disappear throughout the climb; you do your best to drag along people who are suffering. At this part of the race there is a kinship between the runners where not a word is exchanged but only a passing glance or a slight hand movement to let people know to overtake you.
Up till this point I had been pretty good on the climbs. I would find and maintain a good rhythm, but for this climb however I decided to make myself hurt. I flew up the first 10 switchbacks only to realize that I had made an epic schoolboy error and blown up. The climb should of taken me 1 hour, instead it took me 3. I would try to cling on to groups but I would always fall behind and before I knew it I had 10 runners behind me wanting to pass. Throughout the run I was constantly trying to repress thoughts of finishing and try to stay in the moment. You have never finished this race until you've crossed the line in Chamonix. The last check point La Flegere you can see Chamonix below, only 7km to go with 800 meters of decent on technical terrain – oh so close!
I shuffled my way down and lost a couple of places on this section as once again my downhill technical skills were being shown up. I did see a girl roll her ankle badly on this section; she got up instantly and didn't cry, didn't yell out in pain but just continued to throw her body down the mountain. Acts of courage were the norm on this section and I really hoped she finished.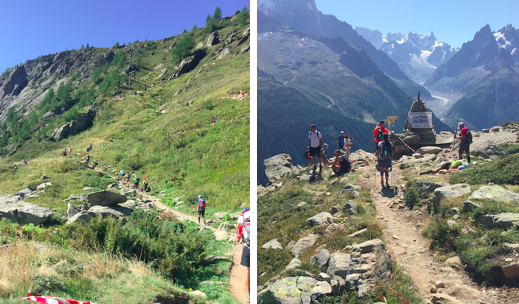 With about 3km to go the path begins to line with people and the great thing is, these people worship you! Yelling praise, offering you food and water; one girl even offered to carry my bag! She was hot and French and sadly, I had to politely decline. The sacrifices we make!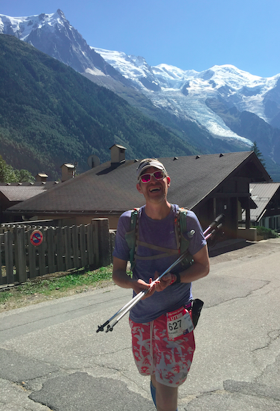 1km to go and all I could do was call Leah to let her know that we had made it. I really mean that, had it not been for that ruthless pep talk on the phone from Australia 28 hours ago, I would not be on the streets of Chamonix approaching the end. My mind turned to how I would celebrate crossing the line. I looked at my poles and remembered the song that was tormenting me for the whole run: Y M C A. Pretty sure I could turn these poles into larger than usual letters? Awesome, I would become a Youtube sensation! However, I got to about 10 meters till the end where it is six deep and people are cheering you on. All I could think about was what a privilege it was to be able to participate in such an event and how lucky I was to be there. All I ended up doing was bowing and I'm happy I finished it that way. I crossed the finish line met the announcer; for those who know him from the net cast, yes he really does look like he is on speed! I shook the hand of the runner who finished behind me, grabbed a beer (free for finishers) and sat on the same patch of grass I had sat on 45 hours ago and just enjoyed the moment.
For those of you even remotely interested in this run, it is a must. Get the points and go into the lottery. Just make it happen! One of the hardest and most satisfying things I have ever done.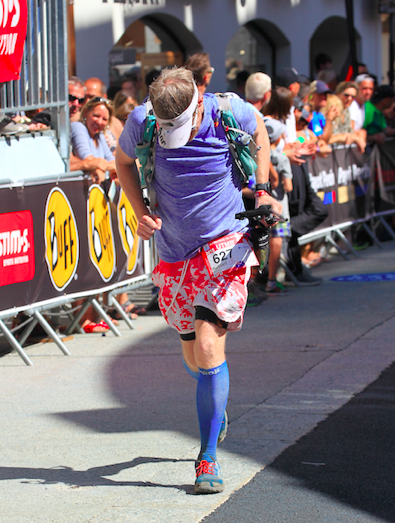 What I learnt and what worked for me:
Napping
I had 3 naps: 10, 20 and 15 minutes at Arnuva, Champex-Lac and Trient. Without these naps I wouldn't have finished. When you start talking to living wooden sculptures, you knew it was time to take a nap.
Maintenance of the body
I think I could of run a 40 hour-ish time had I not got chaffing. My cramping was unfortunate but was overcome with a change in terrain.  Once you are running for 12 plus hours its time to lube up again. Just do it, even if you don't think you need it, this mistake almost cost me my race. Also, look after your feet and legs as much as you can. Be careful with compression, I wore compression Injinji socks, it almost been a month and I still don't' have all my feeling in my big toes.
Caffeine
I used it sparingly and only when I was broken. It was like having an escape route every time I got in a bad situation.
Panadol
For the first time I had used painkillers in a race but it really helped manage the pain from the chaffing. I'm not a big fan of taking painkillers as part of me thinks it is cheating, but under the circumstances I did what I had to do and I don't regret the decision.
Food
Although I never did this during the race, get used to eating bread, salami and cheese, which was at every check point. This would help break the monotony of taking gels ever hour. Make sure you indulge in the soups and pasta, custom made for the run. I remember have a Bolognese at La Fouly and feeling like superman afterwards.
Training
Coach Andy at Mile 27. The training gives you every chance to finish the run. I would also recommend paying a little extra and getting the strength exercises as well to help run more efficiently.
Gear
Kicks: INOV-255 rocklites
Socks: Injinji Compression
Shorts : Speedo Board shorts over skins
T Shirt: Nike Dry knit
Sun Glasses: Julbo Powel
Hat: The Northface Sun-visor from finishing the 2013 100km
See you on the trails!