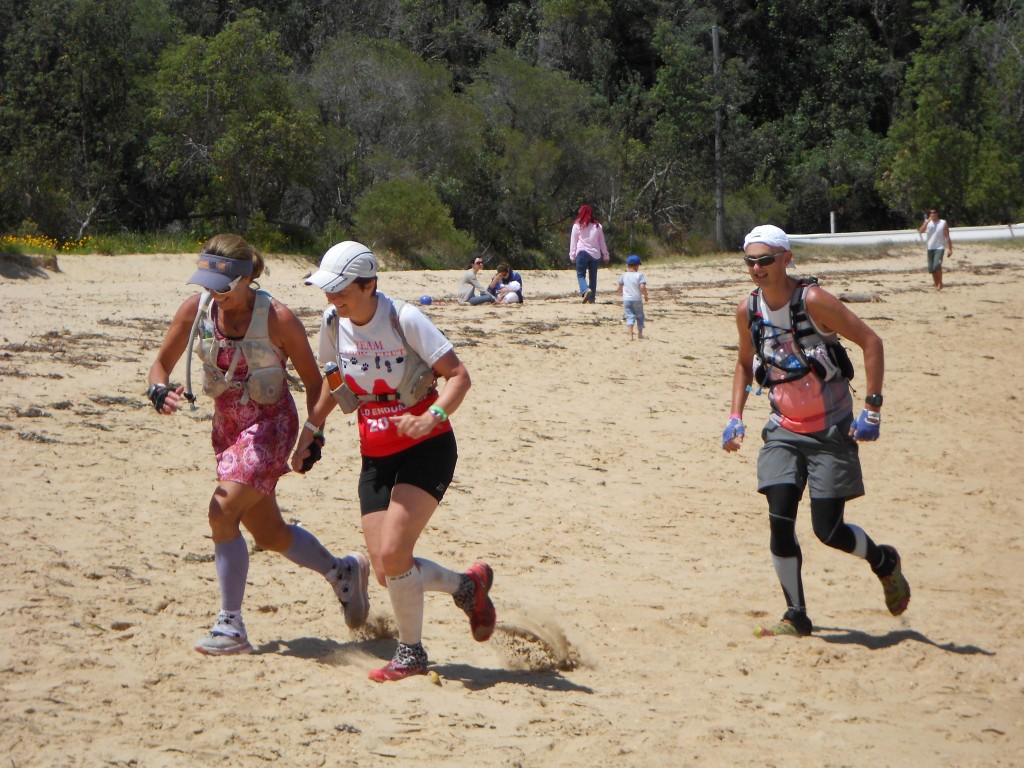 'So let me get this right- you meet a runner in the middle of the night. You run with them for 70km through some fairly remote and tricky bushland, you finish sometime the next afternoon, you don't get a medal, T-Shirt or an official time, and yet you consider it a great honour?'
Well, yes! I can't exactly say I'm an experienced ultra runner, but the attraction of running 100 miles has always escaped me. I've given people the flippant excuse that 'I can't stay awake that long' to explain why 100 miles is not on the bucket list. And truthfully, I'm pretty sure I could run/walk the distance, but doing Trailwalker in 2010 and taking nearly 30 hours made me fear for my sanity due to tiredness.
So when I mentioned to Jane Trumper during the Glow Worm Tunnel Marathon that I'd like to crew for her if she was doing the GNW, she immediately accepted. I thought I'd be meeting her at checkpoints and making cups of tea, but she had other ideas. The course is not marked at all, so after the first 100km runners are tired and looking for a little help getting the right route. I became the guy who was going to steer us through the last 70+km of this epic trip.
Which meant I had to train for a 70km walk/run and more importantly- know the course! I only did a couple of training runs out there, and by race day I'd only missed covering about 10km.
Adam Darwin was doing exactly the same job for Michael McGrath, so we headed out together for Checkpoint 4, Yarramalong Public School. Luckily we went out early because both of our runners were about an hour ahead of schedule. Yarramalong is approximately the 103km mark of a 175km race (about 108 miles) and it's the finish line for the 'shorter' race. Now I have to apologise to my wife here- as all of the runners came in, all I could think was 'you look bloody terrible'. Honey, if I look like this at the end of 100km, I'm sorry. It's not a good look, jerky movements, slow thinking, staring eyes and those hollow cheekbones of the truly insane. I couldn't believe that many of these people were going to willingly go out for another 14 hours or so of hideous punishment. Now I have a new reason for never doing a 100 miler. Sure enough they fueled up, checked out the misshapen things they use for feet and headed out into the night up Bumble Hill Rd. How appropriate.
Michael and Adam had left about 30 minutes ahead of us and Jane dragged along Kirrily Dear and a random bloke called Michael. Michael looked to be at risk of sticking to the chair and not making it out of the checkpoint so it was a great move for Jane and a brave move for him to come along. It turns out that doing a 100 mile race was not the worst thing that had happened to him that week, and we all tried to think of things to make him feel better. Getting to the top of the hill under the electricity towers was one good thing, but getting completely freaking lost in a gully named Dead Horse Creek was probably not a highlight. Trouble is the trail is not well used and covered with leaf litter, so if you concentrate you can sometimes see footprints, but if everyone else gets lost, you're stuffed. And stuffed we were. Luckily I had loaded the course on to my iPhone, I managed to find the trail again (it went unexpectedly downhill). Another runner was not so lucky- getting lost in the same spot for 4 hours meant she was disqualified from the race.
Eventually we came out to some lovely flat roads near some farms and opened up a bit. Michael was not doing so well and we agreed to give him some tips about the last 6km of this section and took off. I was pretty happy to be heading towards the shop- we'd been told it would be open from midnight, so I raced ahead and ordered a short black coffee and a couple of greasy scallops- yum!
Back to the checkpoint to meet Jane and then off again into the rapidly dying night. We were entering the shortest section at 16km, and it was an awesome feeling with the birds just waking up, feeling the coffee buzz and seeing light streak across the sky, just amazing. Kirrily caught up to us and we dived off into the scrub again. I'd been quite worried about Kirrily, as she seemed to be having periods where she couldn't keep going, but she always surprised me by turning up looking fresh and ready to attack the course, she's one tough chick. If you want proof, check this out. She's 'Trailpuddin' from Coolrunning………
At the Mooney Mooney checkpoint it's about 8am and my coffee is wearing off. But they have no hot water, oh well it's time to make sure Jane has everything she needs and get out of there- next stop Patonga Beach! It's about 26km and runs the full gamut of steep climbs, crawling over hot rocks, white reflective sand and fire trail, with a waterfall and a garbage dump thrown in. I've checked the clock and know we are looking good for a 33 hour finish, which is Jane's stated aim. Everyone is slowing down now, and I've got to keep thinking about my job- get my runner home!
The sun is getting hotter and the heat is reflecting up from the rocks too- it was meant to be 19 degrees and overcast, and I didn't think to put on sunscreen at 11pm last night…..
We climb down a big rock hill just past the dump, cross the small creek and stop for a rest in a section where the trees bow over our heads, creating a 'secret' covered walkway. Jane shares her last can of Coke, and we wander off to do the last 6-8km. I'm counting them down to try to give a bit of motivation, but I can't tell if anyone cares. I know Jane wants to finish with Kirrily, who seems to be slowing down again, so I ask if she's eaten- 'oh yes I've had some Gatorade and some Apple'. I'm not 100% happy with that answer but I figure she's not going to eat more if I get grumpy so I leave it. Unfortunately she gets further behind- I'm fairly calm, but I can see a sub 32 hour finish that was so close 10 minutes ago fading like my sanity in this heat. I won't disclose what was said, but let's just say there were tears, hugs, joy and finally a decisive 'let's get this done' and we clambered down from Warrah Trig point to Patonga beach. It's a long way, but nothing is more welcome than the sound of that bell welcoming the runners home.
Jane and Kirrily finished hand in hand in 31:43. I don't know exactly how they felt, but I felt wonderful- I'd managed to keep up with Jane, get her to a personal best time and (we learned later) an equal 3rd placing (with Kirrily) in the Female category! It really could not have gone better.
Another thing that makes this race so special is the party atmosphere at the end. It's a small race (only about 50 people finished the 100 miler) and I was surprised to see Brendan Davies, Shona Stephenson, Andy Bowen, Andy Dubois and a whole bunch of others just hanging around chatting at the finish. Big props to Michael our mate from section 4-5 who made it to the end in 34 hours, congratulations!
Interestingly Rob, Michael and Jane/ Kirrily all finished within the same half hour. At the last checkpoint (number 6) we entered the checkpoint only 4 minutes after Michael had gone, but we never caught him- he finished 15 minutes in front. Shona Stephenson had to pull out at just over 100km, when I spoke to her at the finish she still didn't sound great, but I believe she'll be back to conquer a 100 miler some day, she's been on fire this year. Geoff Evison pulled off a top 10 finish by placing 8th, wow. Special cheers to Brendan Davies who finished in under 19 and a half hours and in doing so took 2.5 hours off the course record. Incredible. And to Gill Fowler, 4th overall, 1st female, and first ever female to come under 24 hours and get a gold medal (she made it in 23:58)
Place           Name                           Time
1                  Brendan Davies          19:27
=8               Geoff Evison                27:43
=13              Andy Bowen                28:48
18               Todd Hayward              29:41
20               Andy DuBois                30:05
24               Rob Mattingly              31:15
25               Michael McGrath         31:27
=26             Kirrily Dear                  31:43
=26             Jane Trumper               31:43
36               Michael Hardie             34:12
43               Ronald Stevens             35:30
As you might gather, some extremely tough people did not make it. What an insane race.
Other Race Reports
Brendan Davies (winner)
Shona Stephenson
Andy DuBois
Jane Trumper
Andy Bowen
Peter Colaguiri