when the invite to 3 marathons in 3 days arrived I didn't think much about it, but over the next few months I wondered how it would feel to try to emulate in a small way the achievements of people like Pat Farmer, Mal Law, Seb Perhauz and Jane Trumper. I've got no ambition to do the same, but what's it like to get out of bed each day knowing you have to run a marathon, even for just a few days?
Day 1
We met outside the tourist information centre at Kuranda in the hills overlooking Cairns. I knew this would be a small event, but it struck home that there were just 38 people registered for the event, and only 32 doing all three marathons. And small means friendly- within 5 minutes I had arranged a ride from the end back home with a perfect stranger. Jane Trumper was there being interviewed by the local TV station and about to attempt her 94th marathon. The gun went off and we all descended into a path next to the Barron River. Just beautiful, but I soon learned that the locals avoid vegetation that we would just crash through. They have this stuff called 'lawyer vine' or 'wait a while' that dangles down from overhead, and will rip you to shreds at any chance. I found this out when a bit attached to my arm and tried to rip my face off. By the 20km mark I was talking to a couple of guys
who had entered thinking the event was going to be mostly road. I'm guilty of not looking at some things very closely but what on earth were they thinking? There was no sign of snakes, wild pigs or cassowary, except for some fresh turds that couldn't have weighed less than ~1.5kg. I really don't want to meet a bird that can do that……. The second half of day 1 was much easier, but by the end we'd covered more elevation than Six Foot Track. Ouch. I'd told my father in law that I expected to take 6 hours, and came through the finish in 6:00:23. How's that for timing!
Results- 18th overall, 3rd in age group
http://connect.garmin.com/activity/197722128
Day 2
Saturday started and finished at Cedar Park eco Resort, and looped through the forest around Kuranda. Thankfully there was little of the ankle snapping single track of the previous day, but we'd been warned that it would be harder, with some competitors expected to be out there for up to 8 hours.  This one was like death by a thousand cuts, with little hills constantly sapping energy. Then some big hills that wanted to smash me mentally. Overall elevation was higher than day 1, but I managed to finish a little faster, coming in at 5:49:15 officially. The last 10km were hideously painful, simply trying to keep my rhythm and get one foot in front of the other. It was here that I had my low point, wondering whether it was possible to complete the 3rd day, but conversely thinking 'wow, I just have to tough out one more day, I think I can do it'. I slept in my compression tights, hoping that this would help with recovery.
Results- 16th overall, 2nd in age group
http://connect.garmin.com/activity/197722152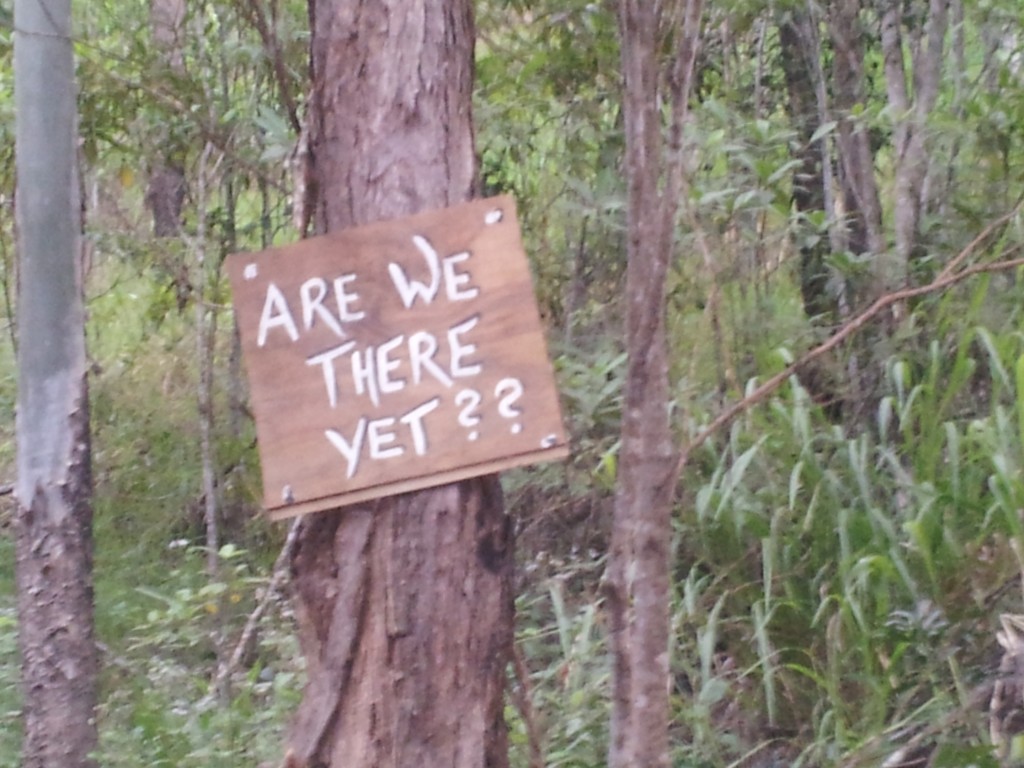 Day 3
This one started at Cedar Park and ended in Cairns, making it a substantially downhill run although we still managed 1200m of ascent on the day. I started with a bunch that I finished in front of previously, simply looking for a finish rather than any glory. This group of 4 were out in front before long, and I actually managed to lead in a marathon a few times that day. It's not really as impressive as it sounds- it was a staggered start, and the fast people were starting 1 and 2 hours behind us. I tried to pace myself against Jane Trumper- she's very consistent (which I'm not) and is happy to walk most hills (which I am too). I knew it would be difficult to stay with her all day, as she can dig deeper than me and can keep going when I'm begging for mercy. This run included a couple of out and back sections to make up the distance with a few rises to the top of Copperload Dam where my wife met us and ran to the end, then about 10km of smashing downhills into Cairns. We lost the other 2 runners on the downhill, and I turned into a zombie, almost unable to speak. This provided plenty of entertainment for Jane and my wife. A drink station at 39km, cross a highway then 3km up a hill for the finish. And yes this last hill had plenty of false summits, there were little pleading sounds coming from my mouth by the time we got to the spectators, only to find we had to run up another rise to the trig point to finish! Diabolical.
Results- 14th overall, 2nd in age group, 4th across the line (due to my early start)
http://connect.garmin.com/activity/197722181
So what did I learn?
You can run marathons day after day, but not well. I felt great on day 4 and ready to go again, but how much of that was knowing I didn't have to? And would I have felt the same after 10km? Out of 32 registered for all 3, only 25 competitors finished. You secretly kind of hope that a few will drop out and boost your ranking, but I'd rather gain places with sweat than others misfortune. I love smaller events, and by the time we finished, I'd made some great new friends. Here's a list of the things on my body that DIDN'T hurt after 3 days of running- ear lobes, some patches of skin, that's about it. The organisation of the entire thing was impeccable- the only thing that went wrong was the checkpoint drop for cp1 did not turn up on day 3. I didn't use the drop service so I didn't care. Pretty amazing when you consider they had water drops about every 5km for the whole 3 days. The food was amazing- chocolate cake and home made slice as well as the usual suspects. Oh, and did I mention the entire 3 days cost me $65?