There are moments when I kid myself that I can run like Adam Darwin. Usually when he's injured, sick or simply not running. But I'll readily admit that he always manages to beat me with racecraft, cunning or actual talent. Still, I was feeling cocky when he flew past me on a minor rise about 2km into this race. In my defence, I had no idea how astonishingly fast this race is. I usually take a few km to get into the rhythm, but after a 4:38 first km I tried to slow down. Bad move. After passing about 100 people just after the start line, they all started to reel me back in. I had a stack at about 8-9km, not painful but an impressive amount of blood. Then after the 12km mark it's all downhill. Wow, I couldn't believe how fast we were running- pulling off a 4:27 at 18km was simply mind boggling for me. Passed a lot of people in the last few k's but it got very painful, I was desperate to see the clearing and some signs to indicate the finish.
I came through the gates in 2:14 to find that Adam D had finished in 2:02. Tony Sharpe, Walter Edgar and a number of NRG'ers finished around the same time as me.
See you next year for a rematch Adam D, and I'll need the number for your speed dealer, er coach. The photo is about 150m from the finish line. Look happy, don't I?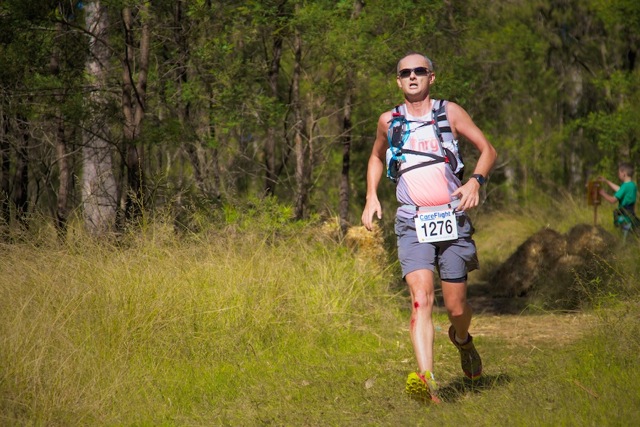 runners
Nicola Darwin 2:37
Adam Darwin 2:02
Adam Connor 2:14
Geoff Evison  1:55
Richard Bettles 1:46
Alison Carlin 2:26
Sarah Connor 2:26
Leigh Reynolds 2:30
Teresa Liu 2:38
Rose Pengilly 3:04
Walter Edgar 2:23
Tony Sharpe 2:26
Also some of you might know Anne Powell, who crossed the line in 2:19 to win her age category!
results
http://www.multisportaustralia.com.au/RaceTecResults/Search.aspx?CId=1&RId=719&EId=2