I was lucky to get a lift up to Bilpin with Doug Richardson, Gillian Russel and her flatmate Wayne. Arriving around 8am we got out of the car to be greeted by progressively more and more NRG'ers! There were only about 4 on the start list in the newsletter (and I wasn't one of them) but it looked like someone had 'put the band back together' and we ended up making up about 20% of the entire field. I wandered around talking to people, had a couple of nervous wees and then we casually gathered around the start line for the race briefing and tun we were off!
I hadn't looked very closely at the profile but it looked like an out and back run. These things normally aren't very accurate the first time they are run so I was interested to see how far to the turn around……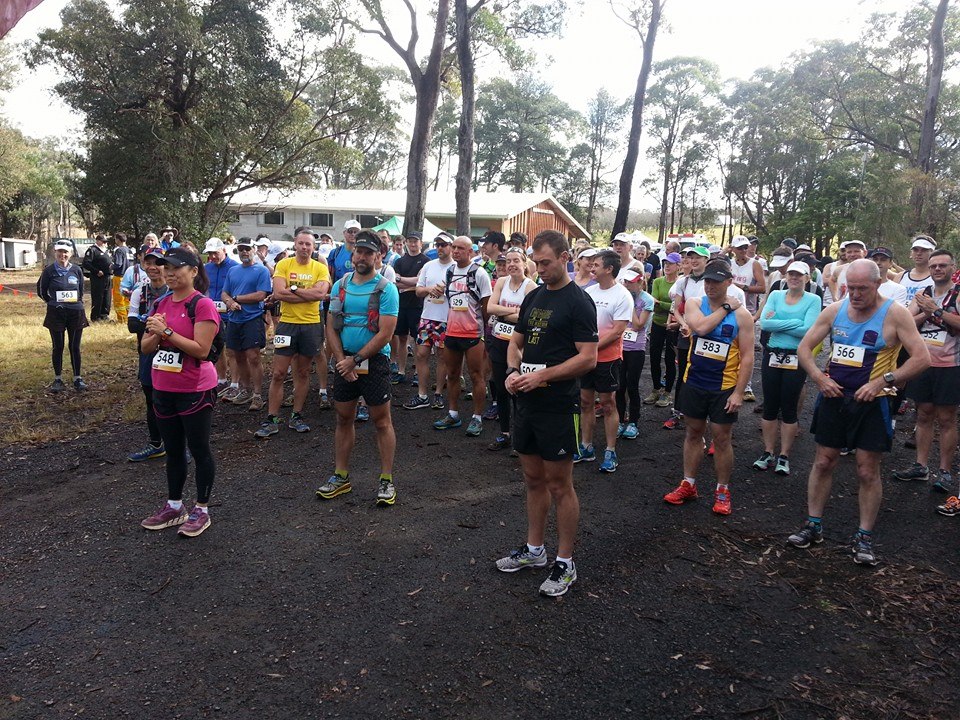 In the first km there was a big descent and the worry started to make itself felt 'what if it's all like this? I was hoping for a fast 32-34km run, don't want to kill myself with 3 races in the next 4 weeks…' and honestly it was a lot more hilly than I had expected, I just settled in and walked the hills, catching up many of the people who passed me on the flats. One thing that has improved in the last few weeks is my fast hiking up hills, a very good thing as this has been a major weakness in my trail running. If I had to call out the guys I would measure myself against in this race it would be Leigh Reynolds, Chris Johnson, David Madden and Chris Dawe. I also expected Steve Bruggemen to glide by at some stage…… Leigh has so much guts and determination and works so hard, he's been on fire recently, Chris Johnson will typically pass me about half way through a race and I won't see him again, David has youth (and natural talent) on his side. And the only way I ever finish in front of Chris Dawe is if he is injured. I thought I'd be able to pick him off today because he had run with the slower group on Thursday, and I had been blasting out some quick ones with a faster group. But maybe we'll come back to that mistake later……
By 6km in I was having a good chat with Chris Johnson and we were passing each other regularly. I figured eventually one or other of us would get tired and let the other one go but I was having so much fun, Leigh called out from a turn a few hundred meters ahead and I thought he was gone for the day. At about 10km we caught up with David Madden and had a quick chat but he didn't seem keen to come with us, and slowly but surely Chris J and I started reeling in Leigh. The three of us leapfrogged each other for a while and we were counting down the k's to the halfway mark. Just before the turn around the front runners started coming past- a couple of guys I didn't know then Beth Cardelli in 3rd outright, Jess Baker not too far back and our own Doug Richardson caning it along the back half.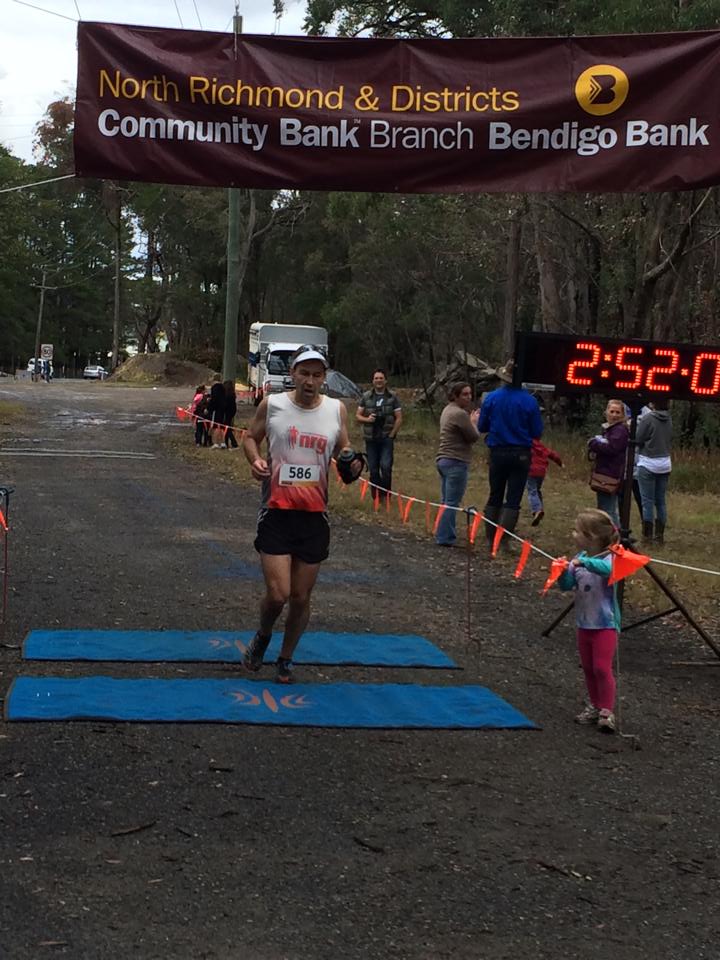 I caught up to Justine Medin along the fire trail and had a quick chat, and 400m before the turn around point we saw Gillian Russel and Chris Dawe coming the other way. This meant that I wasn't too far behind but Gillian looked like she was about to bust a valve and Chris didn't look too comfortable so I vowed on the spot not to try to catch them……The turn around point was at 17.25km by my Garmin so it looked like we might be in for a 34.5km run instead of the advertised 32.xkm, however I did later discover that the return route was slightly different and it was very accurate. Justine is remarkable because she actually runs all of the hills, so she slowly but surely started making a lot of extra progress on me. I put my earbuds in and punched up a John '00' Fleming podcast and prepared to knock out a few km and not worry about my position, just to enjoy the day. I hadn't seen anyone for a while, and I was punching the air and dancing along to a particularly good song when The Man In Black came past- this was a guy who had been struggling earlier and I assumed he would fade away but he came back stronger tun ever and finished well ahead. I only picked up a couple of places in the back half, and I had lost a few more than that so it wasn't my finest race. Going back through the last few aid stations, there was a sign that said '4.7km to go' and I wasn't sure whether I should believe it- they've been wrong before!
Then with about 4km to go I had another nightmare- another bloke coming up fast from behind in the distance! I decided if he got close I would let him go- as mentioned before I have a couple more races this month and can't afford to do anything stupid. Then I thought 'no, let's not be defeatist. You have plenty of gap now, just push a little harder on the hills and you can hold your position'. I did this and the benefit was I started to gain on Justine. But it wasn't early enough and she had me by about 200m at the end. A very well run race from her. I crossed the line at 3:24:57, 27th across the line and 20th male, which means I was only chicked 7 times. 10th in my age group is a nice surprise, you have no idea how demoralising it can be to be a middle aged male in these races, competing with all the other mildly crusty old coffin dodgers.
Although it's a different course, I was about 17 minutes faster than 2011 so very happy. Congratulations to Doug, 4th overall first in age class and 3rd male, a podium!
The volunteers and marshals were all absolutely brilliant, happy to have a chat and a joke, really enthusiastic and the entire day was heaps of fun. You should come next year…..
Thanks to Tony Sharpe and Lucinda Rigby for the photos