Success at last! Well, sort of- we didn't start at the Opera House steps where the 'official' run begins. Here's the story-
Kirrily Dear suggested doing this run as a last big hit out before the Great North Walk 100 miler on November 9. So when she suggested the date I said yes without thinking about it too much. I really only wanted to do about 60km and I thought that if there were a few of us I could run to the top of Bobbin Head and back. I've been doing a fair few long runs lately and I wanted a decent road run to practise 'not stopping'. Most of the long runs had been in the bush and I've been guilty of stopping for dumb reasons. I really needed to whip my mind into  a new attitude of 'relentless forward progress' while not worrying at all about speed.
Kirrily is doing the GNW and has also been accepted into Coast to Kosciuszko– a 240km race along roads in December. So she wanted to practise her all day, all night, all day, etc pace.
Here's the docs- Poor Mans Comrades
So we started on Friday 18th October at 5am from the corner of Shirley Rd and Pacific Highway in Crows Nest. The pace was nice and easy, a big contrast to last time when I was just outside my comfort zone trying to keep Annabel Hepworth in my sights.
Going up the Pacific Highway was a bit of a shock- noisy and stinky during peak 'hour', and Kirrily reminded me that's why she doesn't like the big smoke. I'd have to agree. The run down to Bobbin Head was fun, lots of smiling older people on bikes headed back towards us- if  that's what you get to do when you retire I'd like to retire now please, and after a comfort stop and some food watching the bay wake up, we headed up the hill on the next stage past Kalkari, over the freeway and on to Mt Colah.
The best thing about this section is that there's a whole bunch of service stations and shops – it's like having a checkpoint every 500m stocked with cold Coke, chips and pies. Awesome.
We finally got on to the Old Pacific Highway and a few km later got to stop at Pie in The Sky. Unfortunately we were held up here for more than 20 minutes because I had to make a support call, but it gave me the opportunity to snarf down a sausage roll and some Powerade.
From Pie in the Sky it's a loooong downhill to cross the Hawkesbury River on the old bridge, then a loooong climb out to Mt White. At Mt White we made our last major stop at the Road Warrior Cafe (also known as the Old Road Cafe) and had a brief chat to some guys who were out for a bike ride. We saw lots of people who have nice carbon bikes, but apparently no jobs. It was here that I pulled the pin last time, so from here on I was in new territory. Honestly there was more of the same, roads through bush. We went through Calga and came out at an industrial area near Gosford with about 8km to go. It was here I said goodbye to Kirrily- she had to head elsewhere for a lift home with her boyfriend. I was a little worried- she was wearing tiny shorts and as we said our goodbyes a few local tradesmen nearly had accidents as they drove past. OK they weren't THAT tiny but I was pretty sure the tradies weren't looking at me.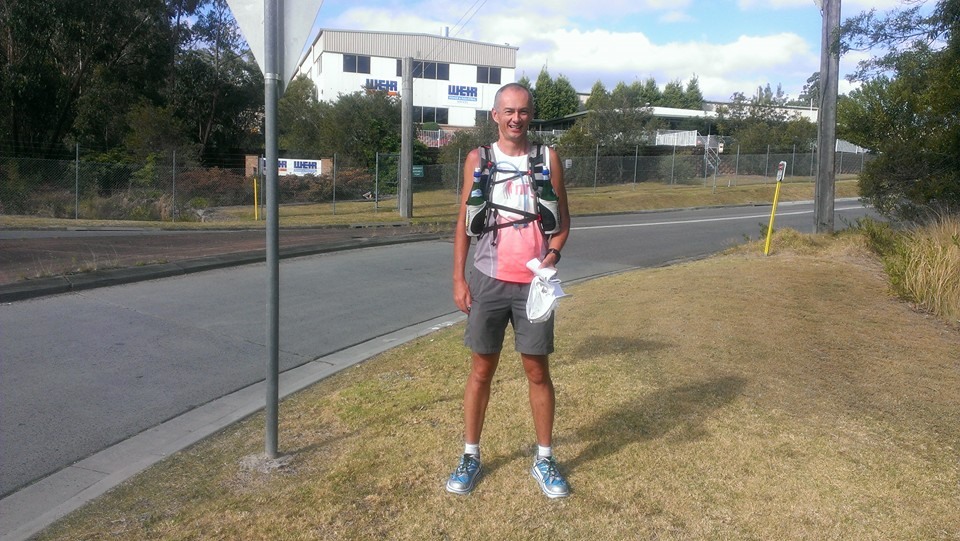 The descent into Gosford was terrifying- it's a little winding road with barely 2 lanes, no pavement, a cliff on one side and a rock wall on the other. And I happened to be there at 4pm on Friday afternoon when everyone was knocking off work. Sub optimal. But the road finally widened out and I came out back on to the Pacific Highway besides Jax Tyres. I'd truly entered the 'suffer zone' by now, and when I looked on the instructions I had 1200m to go! Yay, all I had to do was keep it together for a few more minutes……
But no. It was actually about 4km to the end, so I was a bit grumpy when I finally sat down on the steps to the station. And of course there was no one to tell about my run. So I asked some cops if there was a Subway sandwich shop nearby. They said yes, about 500m away- but I thought nope, I'll eat anything that's close. They told me about a noodle place only 50m away. Should have gone to Subway- it was the filthiest place I've eaten in for a long time- and I'm generally not a fussy person. Perhaps telling the cops later that they mustn't have high standards wasn't smart either, but I escaped without a cavity search.
Oh well, off to the train station where I did manage to tell the people sitting next to me how far I'd run, then a noisy trip home in the train with some teenagers, Coles at St Leonards to buy some random stuff that I didn't really want then a walk home for a shower  and bed.
Elapsed time was 12 hours 14 minutes 59 seconds for a distance of just over 87km. Well under 12 hours if we remove the tech support calls. I didn't feel as if I'd over exerted myself, nutrition went well and overall I'm very happy.
As soon as I posted the details, Andy DuBois posted this article. I have no idea if it was just a coincidence or just a not-so-gentle reminder, but I still feel as though doing that run was worthwhile for me. I was back running fairly quickly afterwards, but the reasons I wanted to do it weren't really about the distance, it was all about consistency. I definitely got a few 'free' kilometres that I wouldn't have chosen to do if I'd been following a strict training plan, but it was a great day, great company and I finally finished a run that I'd previously DNF'd.
but Andy is a great guy who's probably forgotten more about running than I will ever know, so he's probably right.