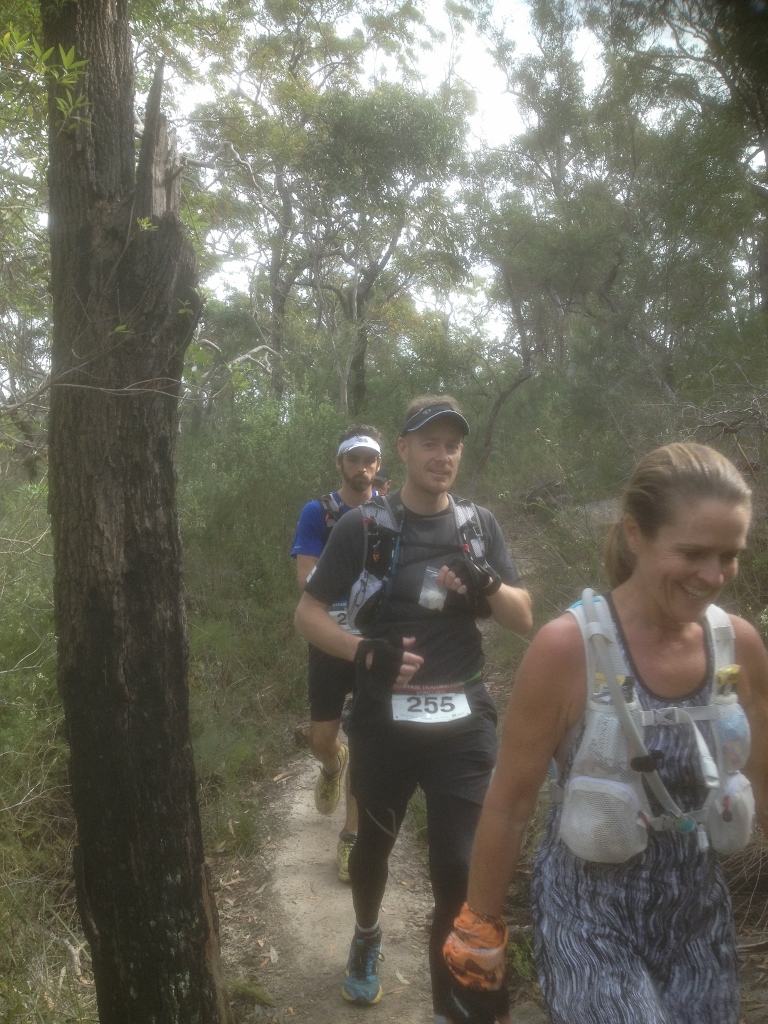 I'd lightened the training load since The North Face 100, took lots of days off for no reason and generally didn't take this race seriously. Big mistake. In my defence I suspect a few others had done the same……….
There was a great amount of sledging between me, Martyn Dawson, Adam Darwin, Paul Blamire, Joe Hedges, Michael McGrath and others a couple of months ago. Then it all went suspiciously quiet. None of us were putting in the hard yards, and we all started to worry that we hadn't done enough. Some of us hadn't! However we all made it to the finish, and here's what happened.
Anyone running the course needs to put together a very strong team- it's all about arriving at the finish with all 4 team members. This year the top spots were wide open, with Quality Meats not entering (they won 3 years running) and Shona doing UTMB instead of fronting a female team. The night before we discovered that Mountain Sports were fielding a mixed team comprising Beth Cardelli, Ewan Horsburgh and a couple of others, they would be tough to beat. I'd decided that we should field a mixed gender team in an attempt to place a bit higher in that category. We'll see how that worked out later shall we?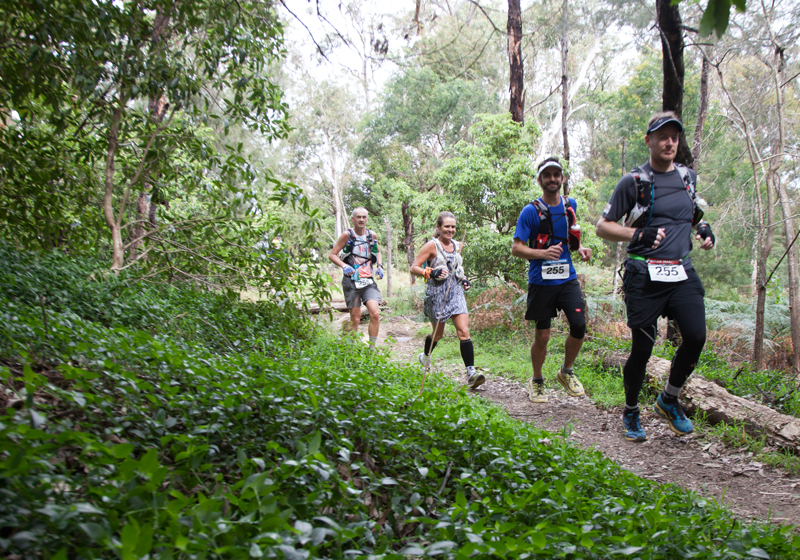 I got in initially because one of Robyn Bruins friends posted for team members on Facebook. He then picked up a random from the singles board (Christopher Beavon), and I was in charge of finding female talent. Note to wife- I mean running talent Sarah! On the basis that you should always choose someone better than you we drafted Gillian Russell and Kate McElligott as our reserve. With the difficulty of this event you tend to go through a few people so reserves are important- and so it proved. Both of our ladies were out injured well before the event. Apparently Kate has filled in her time spilling blood on the streets of Mosman, but Gillian decided she wanted to crew for us. So I drafted Jane Trumper, Queen of the Desert into our team. She spent a lot of time telling me she wasn't interested, but I wore her down. There simply wasn't anyone more perfect for the role.
On race morning I found out that I was the least experienced team member- Jane was about to start her 12th, Aaron his 5th, Chris 4th and me just 2. But I knew that if any of us had issues we were likely to be able to carry on simply because of experience. the gun went off and we all had a little 300m run to the first hill. And it's a beauty. The kind of hill that truly takes your breath away. I knew the first 2 sections were the most brutal and difficult so I resolved to just hang on until they were over. We had a plan of finishing in 19 hours (which I thought would be easy!). Arrival at CP1 at 9:27am was 10 minutes in front of our timetable so very happy. On our way to CP2 I started fantasising about Coca Cola and our fearless team leader went ahead and got us each a can. This pointed out a major flaw in our plans- I had Pepsi in my drop bag, but we weren't due to see our crew (Peter Trumper, Jane's husband) until CP4 St Ives sometime around dusk. To make matters worse, there were sausage sizzles, coffee trucks etc at each checkpoint but NO ONE selling soft drinks. The event itself provided some lollies, tea, instant coffee and water, but no fruit, sports drink or other food (to be fair we were given 2 tubes of Gu Brew at the start, but I had obviously mis read the instructions and thought that sports drink would be provided. I left the Gu Brew in my drop bag, D'oh!). At CP2 we saw Steve Bruggeman (in work clothes!) and Lise Lafferty taking pics. By CP3 we were 30 minutes ahead of schedule and looking like we would A) get to St Ives in daylight and B) finish an hour ahead of schedule. Unfortunately I had been suffering all day and everything was taking a toll. I was getting slower and I'm sure at some points the only thing keeping me going was the caffeine. Up to this point we had been dicing back and forwards with Martyn, Adam, Joe, Paul and Michael. Guys I'm not sure a tap on the bum or a loud fart as you go past is appropriate, but neither made me go faster. Thanks anyway, I think.
We arrived at St Ives to see our crew at 5:40pm, just 10 minutes after official sundown. We hadn't need our torches, but got them out for the death march to Davidson Park, CP6.   At Davidson there's still a few climbs but you know you're going to finish- it's only 20km to the end. By this stage I was grumpy but off my head on coffee and Pepsi, Jane was baiting me by asking us to go faster, we had some instant noodles and headed off into the night. I felt like I wasn't far from my limits and we weren't going very fast, but every time someone talked to me I was surprised when my voice sounded happy and intelligible.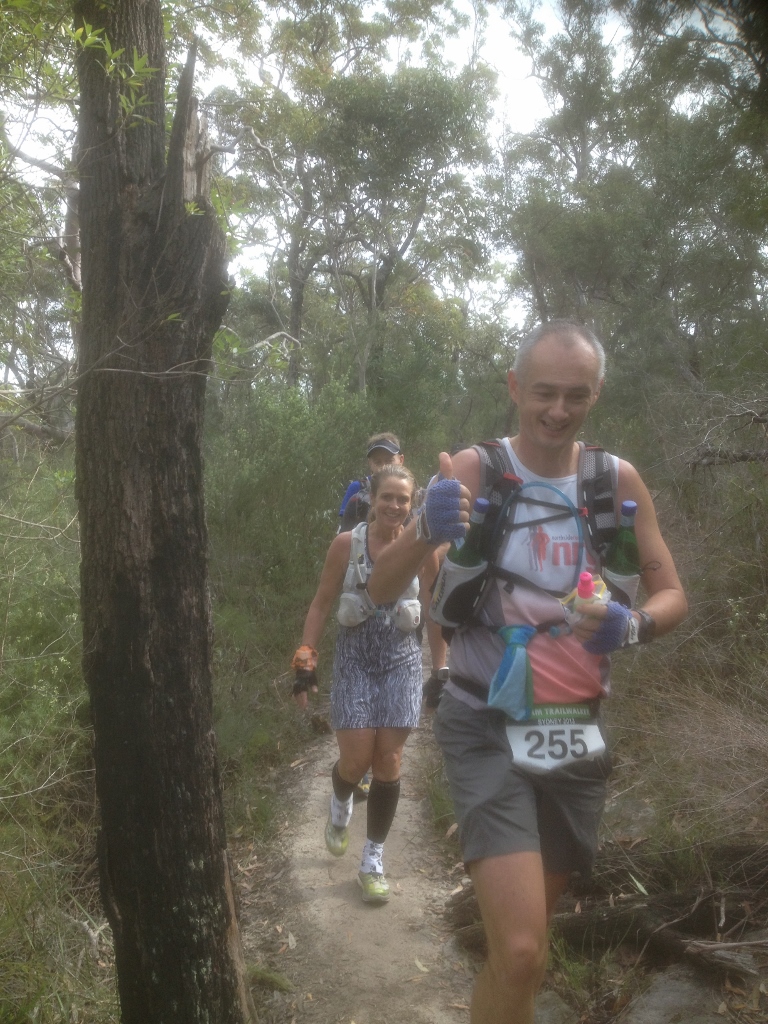 At Ararat we could smell the finish- had a quick stop and slipped out to slay the dragon. We were dicing with 2 teams now- Mike McGrath was pushing his lot along but at Ararat one of them was covered in a space blanket and looking green. We figured that would be the last we saw of that team as a complete set of four- we were wrong! The other team was one with Alison Lilley- you might notice that I have a lot of female runners as heroes, well she is another one! She'd been making noises that we were going to catch her but I think natural justice prevailed when she got her team home a bit over 30 minutes in front of us.
Down at the Spit my guts started to go liquid, and not in a 'you'll be fine' kind of way, more of a 'if you don't find a toilet in the next few minutes this suburb is going to be a different colour' kind of way. So up Parriwi Rd I walked with my butt cheecks clenched and ran down to Chinamans Beach where there was a structure I first mistook for a house. But no, it was a new toilet block, open at 1am, and with clean, gleaming fittings and GASP- actual toilet paper! It was like getting entry into Valhalla and finding a comfortable, ceramic throne. The team were waiting for me at the exit to the park, but there was too many lights- Michaels team had just gone through. Bugger.
Jane wanted to chase them, and I was feeling a bit better, but not good enough to chase. Not far on, they took a wrong turn and we got back in front. Why? Well it seems that Mosman Council won't let Oxfam put up any directional signs. That's just plain stupid for the last 3km of a 100km race. A race that involves 2000 people and raises $3million for charity. Mosman Council- get a better grip on reality you idiots.
Things pretty much unfolded as I expected from there- Michaels team stuck behind us until the stairs then blasted past to take glory 800m from the finish. We managed a little run for the last 300m but they weren't to be denied and used a last burst to have us cross about 20 seconds after them. So we all had a bit of back slapping, taking photos and a quiet little cry inside.
BUT- there's no electronic timing on Trailwalker. Your check ins determine your time, and Michaels team had forgotten to check in so when Jane checked us in she put us in front of his team that had finished before us!
Analysis- I finished Trailwalker 2010 in a walking team in 29hr 36 minutes. This time was 19hr 26 minutes, so a full 10hr 10 minute pb for me! We were 24th 'team' across the line, but when you look at the results, a different picture emerges- many of those 23 other teams were missing 1, 2 or even 3 members. (Please note all results mentioned from here in are 4 team members only). Only counting 'full' teams we were 11th! What an outstanding result. Less outstanding was the fact that me trying to 'game' the results had backfired. We were 6th mixed gender team, but if we'd been all boys we would have been 4th in that category. We were 4th in the 'Family & Friends' industry category, but if we'd chosen to start as part of the 'Advertising, Media, Marketing & Sales' industry we would have smoked all of those long lunchers and come first (they were all over 30 hour finishers). Kicking Aaron and Chris out of the team and filling it with fast old farts would have bagged us second in the over 40 category.
But if I've given you the impression that I'm competitive or ruthless I'm sorry. I would not have changed a single thing about the way we worked together that day. I have the hugest respect for my fellow team members, and thanks for dragging me home!
There were some epically tough people out there- Paul Blamire who struggled home with a bad hip, others with sore feet, knees etc. Any one of those other teams could have creamed us to the finish- all it would have taken was a bit worse luck for us and a bit better luck for them.
What would I change? I would do more training. Not taking this event seriously enough was a big mistake. I would read the documentation more carefully so I wouldn't expect things to be provided that weren't. The stuff not provided this year was in stark contrast to 2010- now they provide almost nothing that we get in most races.  I would have crew a bit earlier. I would lobby the organisers to have a bit of fruit and some sports drink. I would tell Mosman Council to pull their heads out of their collective arses and support the event better.
To my team- sorry, I probably could have run 5 minutes faster to get those bastards from the NRMA, next time. Next time? No, I don't think I can. I think. I think I can, I think I can, I……